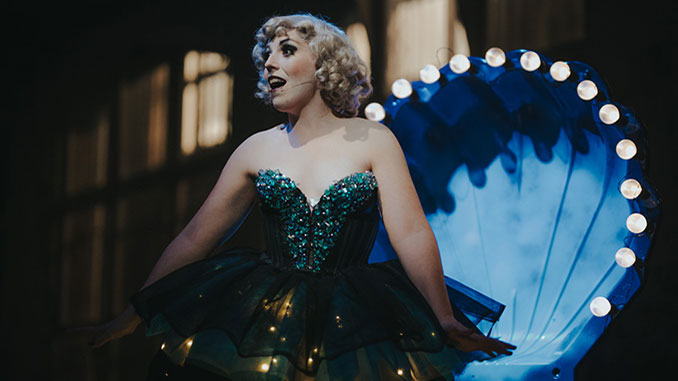 Launch yourself into the swirling currents of a festival like Midsumma, and you might just be swept along to ports strange and wonderful. The Night Creatures offering of eccentric cabaret, Electric Loneliness, is just such a destination.
We begin with a glamorous platinum blonde woman (Alexandra Aldrich), and a bearded man in a bowler hat (Joachim Coghlan), each reading an old book. Each is confined to half of their own large, blue plastic shell, as you'd buy for a kid's sandpit, and has the other half as a backdrop.
Between the pair was accompanist Owen James, sitting at a keyboard, with adjacent effects panel. The eyeliner on each of the trio had run down their cheeks, suggesting an emotional journey ahead.
Aldrich would tell us of a memoryless woman stuck at the bottom of the ocean's depths. As snippets of text appeared in her book, she would narrate the story of The Lonely Lady. Similarly, Coghlan would share the tale of The Lonely Man with the hole in his heart.
The Lonely Woman aspired to stardom, and The Lonely Man journeyed across the seas, hoping to find somewhere to fit in. Passages relating their ups and downs culminated in song, drawing on a range of styles.
Some selections suited the nautical nature of the tale (Sand Dunes and Salty Air by Groove Armada), and all were appropriate to the mood of the scene, whether this was regretful (Radiohead's Creep) or gleeful (Boffalongo's Dancing in the Moonlight).
James acquitted himself well in accompanying the singers (and in a very silly cameo). He showed talent in making notes wobble and warp, which could hint at our characters being in an unsettled state.
There was the odd moment when vocals were submerged in the accompaniment. However, mostly Coghlan would clearly relate longing and relief, and Aldrich excelled in sharing the sweet and salty sides of The Lonely Lady.
The show had good pacing, quality performances, some off-beat humour, a killer costume change, and adorably low-rent props that were deployed effectively. Combine these assets with plot twists as surprising as a slap with a wet tentacle, and Electric Loneliness is an aquatic adventure with a bounty of charms.
---
Electric Loneliness
fortyfivedownstairs, 45 Flinders Lane, Melbourne
Performance: Friday 30 April 2021 – 9.00pm
Season: 29 April – 1 May 2021 (ended)
Information: www.fortyfivedownstairs.com
Image: Electric Loneliness – photo by Jack Dixon-Gunn
Review: Jason Whyte