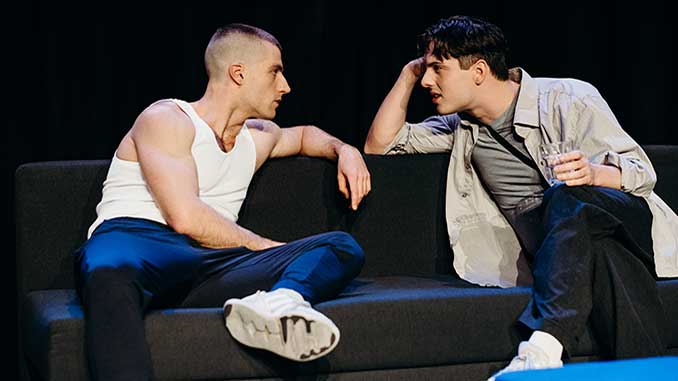 It's not long into Angus Cameron's DIRT before the show's title is explained. A Russian tour guide (Patrick Livesy) tells a group of tourists that dirt is one of Russia's key exports.
A Melbourne backpacker (Will King) believes him. It's a lie, obviously; the kind of national prank reminiscent of Australia's own Drop Bear mythology. 'What is so good about Russian dirt?', King's character asks in earnest.
It's a good question, no matter how tongue-in-cheek its delivery, nor how ridiculous the lie that initiates it. This year we've seen Russian forces invade Ukrainian soil under the guise of Russian proprietorship. Conflating national identity with land, or dirt with ownership, is similarly central to Australia's colonial history.
At the centre of DIRT is Chechyna, a territory colonised by the Russian federation. In 2017, the Chehynan Police Force conducted the first of many large scale anti-gay purges which placed many queer people in internment camps.
Such are the historical, political and conceptual depths that vibrate beneath the surface of this 50-minute thriller at Chapel Off Chapel. Using tightly wound dialogue, Angus Cameron connects these questions of nationhood explicitly to queer experience. 'Is there a queer identity that surpasses borders and cultures?' ask Livesy and King in the programme notes.
The lie that opens DIRT provokes the first of many flirtations between King and Livesy that encounter this question. Beneath the surface of their flirtatious repartee, a power dynamic forms – King is beholden to a lie and Livesy is playing off his ignorance. Tension builds as the lie is revealed. Here, the tension is humorous – dirt is 'just' dirt after all.
But as the show continues, we see similar tensions play out with increasingly higher stakes. The lies that undergird a casual flirtation between a Russian tour guide and a Melbourne backpacker start to pulse with the mysteries of a hardboiled crime thriller. All the while, a socio-political threat looms in the periphery. When these mysteries are finally resolved, the show flounders. But the lead up is magnetic enough to be worth the trip.
DIRT follows these characters over two days as they travel through Moscow's underground queer scene. From the outset, Livesy and King evoke an easy eroticism that charges the air with suspense. As the show continues, a 'will they, won't they' dynamic adds to the tension surrounding wider questions of character motivation, purpose, and intention. Livesy is an expert at manipulating tone, moving from flirtatious to violent with lightning speed.
Their unpredictability is key to the show's suspense, and their accent work cannot be over lauded. King has a harder task on their hands, having been saddled with a character whose intentions are often rightly critiqued by Livesy. If there is a queer identity that can surpass borders and cultures, it is one that requires near constant self-critique. King's character often finds their well-meaning intentions, and presumptions concerning queer experience, lost in translation.
Cameron's writing is by no means lacking in nuance, and one cannot escape the feeling that we are not meant to side with King here. Tension that relies on our investment in their safety is, if not compromised, at least made less effective as a result.
All the same, director Bronwen Coleman handles the show's suspense with ease and the characters move through the space on a knife's edge. A minimalistic set is also used well, transforming from cramped apartment to crowded club in an instant. I do wonder how the show might develop its set further in a longer run. The utilitarian design that works so well in Fringe settings can appear too simplistic in a space like Chapel Off Chapel.
And in a show so wedded to naturalism, having characters move the set in between scenes offers a splash of surrealist meta-theatre that would be interesting to see capitalised on further. A thudding club beat provided by sound designer, MzRizk, makes for seamless scene transitions and thrilling evocations of setting that adds to this surrealist undercurrent.
Additionally, Cameron's dialogue, which begins so tightly wound, begins to unscrew by the show's end. Endings are particularly fickle things in the thriller genre. Once the instigating mysteries have been resolved, there is a sudden emotive hole that must be quickly filled. Cameron toys with ambiguity to try and ensure the show's central mysteries are not wholly lost, but the effect is muted.
Without spoiling the show, we are left with one more question; that of Livesy's motivations. Unresolved, it is a question that compromises tension, or at the very least confuses it. If mystery is not lost it is at least sapped of its initial stakes. This is paired with the loss of any erotic tension between the two characters, making the show stumble to its end.
Yet, to his credit, Cameron always returns to the conceptual, and there is much to unpack in this show no matter its minor weaknesses. Anchored by masterful performances, DIRT grapples with dense overarching questions with a thrilling dedication to nuance. There are no answers here, only provocations. Dirt is never just dirt, in other words, and there is a thrill to be had in seeking out its possible meanings, even more so when on the edge of one's seat.
It should be noted, too, that one dollar from every ticket sold will also be donated to the Moscow Community Center for LGBT+ Initiatives and Insight Ukraine – a worthy cause that amplifies the prescience of this powerful show.
---
DIRT
Chapel off Chapel, 12 Little Chapel Street, Prahran
Performance: Thursday 26 May 2022
Season continues to 5 June 2022
Bookings: www.chapeloffchapel.com.au
For more information, visit: www.patrickhlivesey.com for details.
Image: Patrick Livesey and Wil King – photo by Jacinta Oaten
Review: Guy Webster