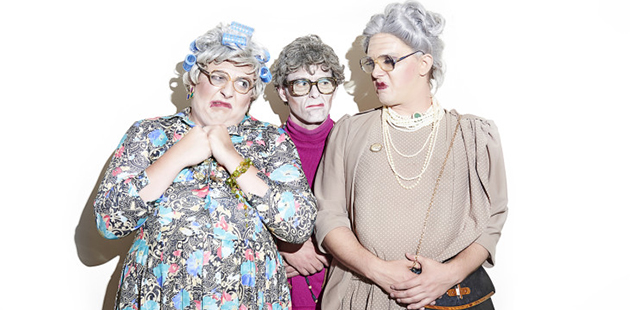 After the award winning A Visit With Nan In A Caravan, Melbourne's most mischievous Grannies are back, turning their whip sharp wit and hilarious brand of satire on Melbourne's Inner City Country Ladies Association.
After leaving the Caravan behind, we find our Grannies at the monthly meeting of the Country Ladies Association – a Club our Grannies are very passionate about, but due to declining numbers, they have had to open their doors in the hopes of attracting new members. This allows the audience a glimpse into a perfectly satirised bygone era.
The writing is smart – blending together witty observations, flawless physical theatre, British sensibilities and old school tongue in cheek Australian comedy. These Grannies have found their niche and they are excelling in it.
What makes this show work is that we are all in on the joke from the start. Are all exceptional performers and bounce of each other with excitement and trust. Their commitment to character is flawless, each with well-honed movements and mannerisms that make it hard to look away.
Kyle Minall is a flawless performer – he can do more with a flick of the wrist or jittery jaw than most can do in a whole hour of comedy. Thomas Jaspers is equally as on point, carrying the performance with all the stoic dignity of a well-to-do country lady. The less said about Scott Brennan's Caroline Springs, the better. She is a stain on the production and a mangy old wretch that is better left at stage door.
It's is great to see these performers tackling new heights and succeeding, making a refreshingly original show that is not only wildly entertaining but is sure to be a highlight of the 2019 MICF.
---
Country Ladies
Mini Merlyn – The Coopers Malthouse, 113 Sturt Street, Southbank
Performance: Tuesday 2 April 2019 – 8.00pm
Season continues to 21 April 2019
Information and Bookings: www.comedyfestival.com.au
Image: Maureen McGilicuddy, Caroline Springs and Edith Vale star in Country Ladies (supplied)
Review: Gavin Roach