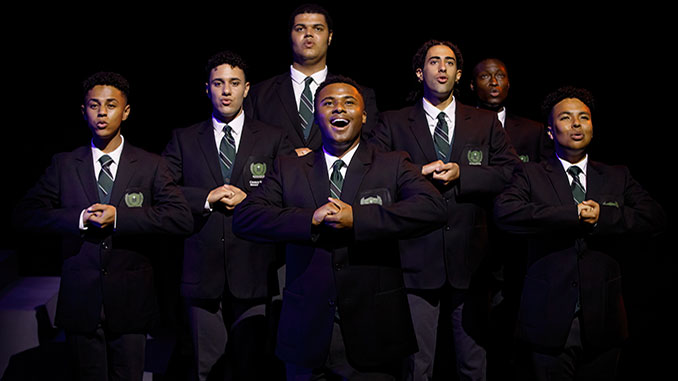 Tarell Alvin McCraney's Choir Boy is a heart wrenching gut punch of a powerhouse work of masterful theatre – so carefully crafted and performed with such passion, it is not hard to see why audiences are flocking to see this production.
Pharus Young has huge dreams to fill and the determination to achieve them. Nothing and no one will stand in his way in his quest to be Choirmaster, and though the world can be fraught with those ready to drag him down, Pharus holds his head high with precocious pride and infectious kindness.
McCraney's script is a beautiful insight into Queer youth, gender politics and navigating the complex historical and political landscape of being a young African-American in the USA.
The language is never verbose but always profound, allowing the character's youth to be maintained while giving insight into their world and struggles. Breathtaking lyrical indurluges deepen the emotional underpinnings of the work and say more than any spoken work could.
Directors Dino Dimitriadis and Zindzi Okenyo are masters in executing their vision for the work – each moment, shift, pause and flourish has been carefully thought out and meticulously woven into a tapestry of perfect storytelling.
Music Director Allen René Loui works in pitch perfect harmony with Dimitriadis and Okenyo, matching their pace and rhythm with a strong sense of sorrow and soul.
Darron Hayes leads the cast as Pharus Young, bringing a masterclass performance to the stage. Hayes never falters in his portrayal of Pharus Young, skilfully driving the rollercoaster of youth and allowing his character to be celebrated in his flaws.
Pharus' best friend and bully are marvellously played by Quinton Rofail Rich and Zarif respectively, who deliver such measured and nuanced performances it is impossible to look away.
Robert Harrell, Theo Williams, Abu Kebe, Gareth Dutlow, Tawanda Muzenda and Tony Sheldon round out the rest of the ensemble, each adding a vast array of talent and empathy to the deeply rich and difficult world of the text.
Choreographer Tarik Frimpong moves each actor with a combined fury and softness, allowing each body to shift in space in their own unique way and further demonstrating the sheer breadth of talent on stage.
Karen Norris' lighting and Brendon Boney's sound designs breathe life into the sparse set and helps to construct a time and place as the story evolves.
Choir Boy is an extremely important work that cannot be more highly recommended. Not only does it shed light on what young Queer people are still confronting each day but the production adds to the conversation around diversity within the arts.
With the mere fact that this work is able to be staged once again proves that there are a wealth of BIPOC performers ready and able to take to the stage and enrich each and every work that they are in with their immense talent.
---
CHOIR BOY
Lennox Theatre – Riverside Theatres, Corner Church and Market Streets, Parramatta
Performance: Friday 24 February 2023
Season continues to 11 March 2023
Bookings: www.riversideparramatta.com.au
Following the Parramatta season, Choir Boy will play the Cremorne Theatre – QPAC, Brisbane from 15 March; the Wollongong Town Hall from 22 March; and the Canberra Theatre Centre from 29 March 2023.
Image: Tawanda Muzenda, Quinton Rofail Rich, Theo Williams, Darron Hayes, Zarif, Abu Kebe and Gareth Dutlow feature in Choir Boy – photo by Phil Erbacher
Review: Gavin Roach