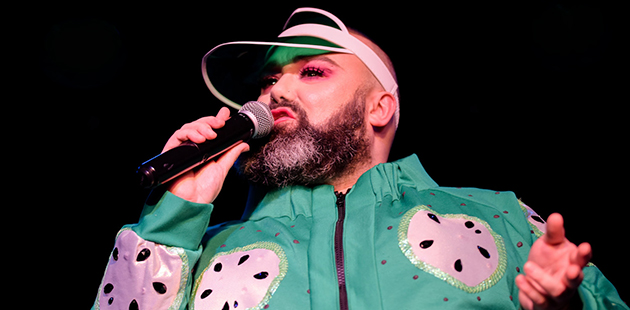 Strap yourself in for a rollercoaster ride filled with joy, sass and, of course, cake. Cake Daddy doesn't take itself too seriously, even though the underlying themes are rather somber in nature.
From the get go, the audience is in on the joke, arriving at a camp and glittery 'weight watchers' type meeting – Cake Watchers. Cake Watchers teaches us to review what we are putting into our bodies, to drill down to the reasons why we must change and embrace the commitment to long term revulsion of 'criminal' foods.
Ross Anderson-Doherty is a powerhouse host, guiding the audience through the meeting with wit and a smirk, always ensuring we are here for a good time. Ross is an expert slimmer and will challenge anyone to try and take his title. Soon the show's songs tell a different story and the audience is blessed with Ross's vocal range and emotive depths.
There is a fragile heart beating underneath the calorie counting and competitive slimming, a heart that is strained, stretched and tired. A heart that is screaming 'ENOUGH' until finally, the body has no choice but to listen. A heart that embraces and invokes Ross, and our, saviour, the deity known as Cake Daddy.
Cake Daddy flips the script, literally. Upon Cake Daddy entering the scene the world changes. Flung to the side are the rules and the notions that 'slim equals healthy' – gone is the shame and the inward finger pointing. Instead it is time for body celebration and cake… no really, everyone gets cake!
Ross and co-writer Lachlan Philpott's script shifts into an almost verbatim retelling of Ross' ascension to self-acceptance and his new found confidence in reminding himself, and others, that the standard of health and beauty is not confined to how you look and that there is celebration to be found in the word fat.
Alyson Campbell's direction is subtle and effective. Tiny moments are made throughout the work that build and curve back to create an impact at the end. Care has gone into this work and passion, a committed team creating extremely relevant and impactful work, a work that needs to be seen more. The venue's limitations are however, pushed to the limit and one hopes that the venue's audio equipment improves for future works.
There is a real need for work like Cake Daddy. This work champions artists and individuals who are oft to find themselves on the fringe of a fringe minority. It is time for them to be heard. Cake Daddy smashes down barriers and makes no apologies doing it. A must see for any and all queer individuals!
---
Cake Daddy
Theatre Works, 14 Acland Street, St Kilda
Performance: Friday 8 February 2019 – 9.00pm
Season: 3 – 10 February 2019
Information: www.theatreworks.org.au
Cake Daddy will also be presented in the Sound Lounge – Seymour Centre as part of the 2019 Sydney Gay and Lesbian Mardi Gras from 16 – 22 February. For more information, visit: www.seymourcentre.com for details.
Image: Ross Anderson-Doherty in Cake Daddy – photo courtesy of wreckedAllprods
Review: Gavin Roach