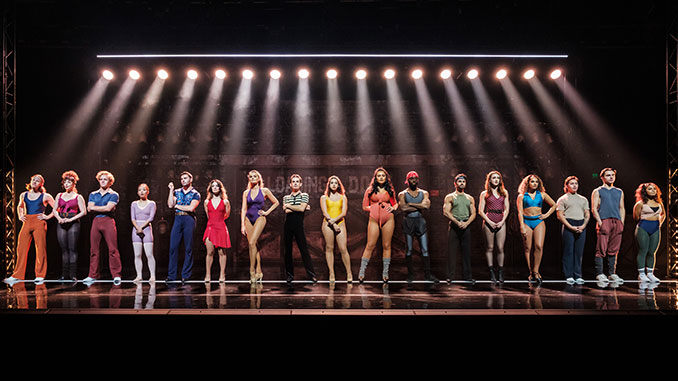 When Michael Bennett conceived, directed and choreographed A Chorus Line in 1975, he was aware that he was creating a show about Broadway unlike anything that had gone before. He transformed the stories of a group of jobbing Broadway dancers into a powerful and moving stage spectacle which became theatre legend almost before its first performance.
Bennett used some of the dancers whose stories form the basis of the show in his original production, and although the show has been reproduced with other dancers many times since, so perfect was the original concept, that subsequent revivals have always adhered to the original template; that is, until Amy Campbell came along.
With an impressive career as a dancer, choreographer and now director, Campbell became obsessed with the idea of creating her own version of this iconic musical, and the story of how she finally got her creation to the stage of the Sydney Opera House is almost as fascinating as that of Bennett's own journey. Little wonder that the atmosphere in the Drama Theatre for the Sydney Opera House opening night was so electric.
Campbell's original concept for her version of A Chorus Line was conceived for the much smaller stage of the Eternity Playhouse. Famously, in 2020, the Covid epidemic caused the cancellation of whole season of A Chorus Line on the eve of its much anticipated Eternity Playhouse opening night.
Similarly, the production was rescheduled again for a 2021, following some relaxation of restrictions, a new Covid strain struck, and again the show was cancelled on the eve of its second opening.
Undeterred, Campbell leapt at the opportunity to finally get her production seen, when a short season was proposed at the Riverside Theatre in Parramatta as part of the 2022 Sydney Festival. That decision lead to this Sydney Opera House season.
How fortunate for Sydney audiences that she persevered, because this production is very special indeed. Campbell has not tried to re-invent A Chorus Line, or replace Bennett's concept. Instead, she's re-examined his choreography, and while respecting his work, riffed on it with a collection of remarkable contemporary dancers.
Drawing on her own considerable choreographic skills, and her experience as a professional dancer, she's showcased their strengths with spectacular choreography which takes full advantage of new dance techniques to pay homage to the Bennett's original, and informs the stories of those original dancers whose experiences were not all that much different from this new crop of dancers portraying them in this production.
The dancing throughout is extraordinary, but that's not the only thing that is impressive about this production. As it turns out, the very wide proscenium of the Opera House Drama Theatre suits her production perfectly, and Simon Greer's backstage setting provides a very believable environment, particularly when enlivened with a few surprises.
For instance, Campbell's use of mirrors to highlight Cassie's climatic solo, The Music and the Mirror allowed the audience to view the dazzling choreography from a variety of perspectives simultaneously. Angelique Cassimatis danced this virtuosic solo with an intensity that was almost frightening.
Campbell's imaginative staging of the confrontation between Zach (Adam Jon Fiorentino) and Cassie (Angelique Cassimatis) has them arguing to a background of dimly lit dancers silently continuing with their rehearsal.
When the entire ensemble sings What I did for Love in a beautiful acapella arrangement, it becomes an unforgettable and unexpected highlight; similarly her restaging of the iconic One finale in which each of the cast is now introduced with a unique individual moment in the spotlight, for which costume designer, Christine Mutton, has dressed them in costumes similar, but rather more glitzier than the originals.
Then there's the spectacular drop of silver curtains which serves no other reason than to add extra pizzazz.
In a virtuoso cast of triple threats, Adam Jon Fiorentino brings a commanding presence to the role of the driven choreographer, Zach. Angelique Cassimatis is equally impressive as Cassie, the star dancer who just wants to dance.
Nadia Coote captures exactly the right mixture of vulnerability and insolence as the hard-boiled showgirl, Sheila, while Lachlan Dearing dazzles as Mike with his acrobatic rendition of I Can Do That.
Rechelle Mansour gives a delightfully cheeky rendition of Dance: Ten; Looks: Three, while Suzanne Steele and Ross Chisari are quite wonderful as the kookie couple, Kristine and Al, who describe their problem in the delightful duet Sing.
But, amid all the razzle-dazzle, perhaps it is the quiet moment when Ethan Ritchie, in a charismatic performance as the gentle Paul, confides his story to Zach, which is most likely to become the recurring memory.
On opening night the only blemish was the aggressive sound design which forced the singers to compete with the orchestra to get their lyrics across. Hopefully this will be tweaked for future performances.
This brilliant production deserves to be seen more widely than this pitifully short season will allow. But just in case that doesn't happen don't miss this opportunity to see a production which will be talked about for years to come.
---
A Chorus Line
Drama Theatre – Sydney Opera House, Bennelong Point, Sydney
Performance: Wednesday 16 February 2022 (Opening Night)
Season continues to 11 March 2022
Bookings: www.sydneyoperahouse.com
For more information, visit: www.darlinghursttheatre.com for details.
Images: A Chorus Line (Full Company) – photo by Robert Catto
Review: Bill Stephens OAM