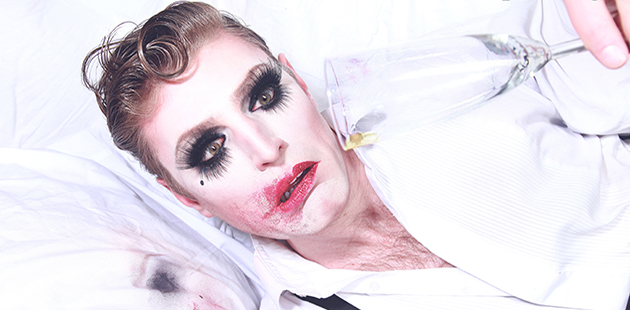 Beautifully filthy, obscenely funny and with the voice of a fallen angel, Reuben Kaye is what happens when you tell your children they can be anything. With costumes that would give Liberace a haemorrhage, the world premiere of Reuben Kaye: Success Story is an explosion of sequins, lashes and haute-couture humour.
Reuben Kaye: Success Story is in no uncertain terms, his original story to becoming the gay superhero necessary for the modern age. Described by the British Theatre Guide as "the evil love child of Liza Minelli and Jim Carrey" – Kaye sweeps his audience away on a journey from tears to hysteria.
His delivery seamlessly blends lavish storytelling and sensational song, incorporating an impressive repertoire that ranges from Kurt Weill to Kate Bush. Switching between rich cultural critique and delicious filth, Kayes superiority complex makes Donald Trump look demure. You know Mum cannot meet this man, but you love him anyway.
Kaye has residencies at London's historic Savoy Hotel and at London's West End home of debauched cabaret, Cafe de Paris as their regular host and performer while still travelling to perform in Berlin's Wintergarten, Tipi Am Kanzleramt, Ohh La La Cherie in Zurich, Cabaret Lune Noir in Bern, The Savoy Theatre Helsinki, The famous Sodra Theatre in Stockholm to name a few.
Kaye has also graced the stages of the Berlin Opera House, State Opera of Hamburg and Royal Albert Hall, alongside luminaries such as Barry Humphries and Meow Meow. Feted as a "quintessential cabaret performer" (Herald Sun), a blink of his long lashes and a twist of his painted mouth will have you gagging… for more.
"A comedy star… Beautiful, hilarious, knowing, wicked, you can't take your eyes off him!" – Times, UK
Reuben Kaye – Success Story
The Shambles – Fringe Central, Perth Cultural Centre, Northbridge
Season continues to 12 February 2017
Bookings: www.fringeworld.com.au
Le Cascadeur – The Garden of Unearthly Delights, East Terrace, Adelaide
Season: 17 February – 19 March 2017
Bookings: www.adelaidefringe.com.au
For more information, visit: www.reubenkaye.com for details.
Image: Reuben Kaye – photo by Ayesha Hussain