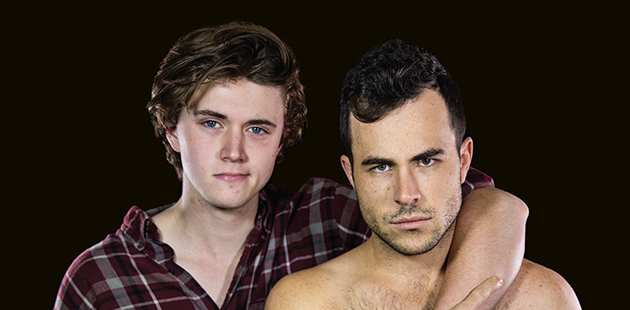 Lambert House Enterprises and LHE Agency are thrilled to announce a 'lightning' return season of the much-loved classic Australian play Relative Merits by Barry Lowe at El Rocco Theatrette, Kings Cross from 10 July 2019.
Relative Merits is the story of a football hero who suddenly and mysteriously retires from the sport. It is also the story of his homophobic brother and their difficult – but ultimately loving – relationship. The play, set in 1993, is a historical reflection of the times but is made timely again by the current controversy surrounding another footballer under different – but equally disturbing – circumstances.
The one-act two-hander has had remarkable success over the years, written in 1993 as a vehicle to showcase the talents of a very young David Campbell, Relative Merits went on to tour nationally followed by a further life as a theatre-in-education staple – always to enormous box office and critical acclaim. During this time actors such as Scott Fergusson and Anthony Cogin joined David as the co-lead.
The play was revived in 2013 at Newtown's King St Theatre for a short season (twice extended) this time starring Jeff Teale and James Wright. Now at the intimate El Rocco Theatrette in Kings Cross, in the post-marriage equality world, it will feature Sam Welsh and Isaac Broadbent, directed by Porter James.
Celebrating the 26th anniversary of Relative Merits, this production features two outstanding new Australian talents. WAAPA graduate Sam Welsh, who has been making a name for himself of late in the 78 / 91 Treehouse shows, is joined by recent NIDA graduate Isaac Broadbent as his naïve but well intentioned brother. Isaac has most recently starred in Jungle Book at Vaucluse House.
Barry Lowe is an acclaimed Australian playwright and fiction writer whose credits include: The Death of Peter Pan, Dragon Fly, The Great Gatsby, Indecent Exposure, Homme Fatale, Relative Merits, The Barricade, Sal, Dutch Courage, Tokyo Rose, Seeing Things, Rehearsing the Shower Scene from 'Psycho' and The Extraordinary Annual General Meeting of the Size-Queen Club.
---
Relative Merits
El Rocco Theatrette, 154 Brougham Street, Kings Cross (Sydney)
Season: 10 – 25 July 2019
Information and Bookings: www.trybooking.com
Image: Isaac Broadbent and Sam Welsh star in Relative Merits (supplied)