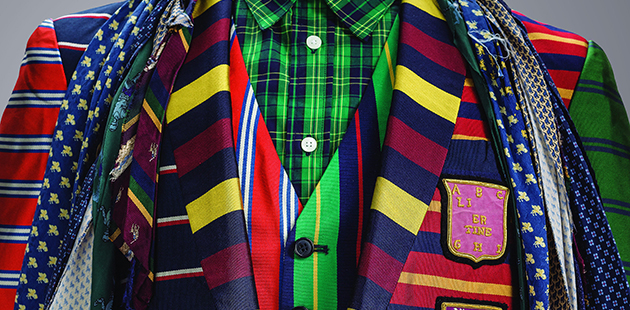 Exploring the history of men's fashionable dress from the 18th century to the present, Reigning Men: Fashion in Menswear, 1715–2015 – a new exhibition at Sydney's Powerhouse Museum celebrates a rich history of restraint and resplendence in menswear, re-examining the all-too-frequent association of fashion with femininity.
"Globally menswear is enjoying a renaissance the likes of which hasn't been seen for generations," said MAAS Director and CEO, Dolla Merrillees. "Reigning Men both contextualises this trend and celebrates contemporary designers forging the way into the future of this often-overlooked market."
Featuring over 130 garments by renowned menswear designers including Tom Ford, Raf Simons, Gucci, Alexander McQueen, Craig Green, Burberry, Vivienne Westwood, Comme des Garçons, Giorgio Armani, Jean Paul Gaultier, Dries Van Noten, Louis Vuitton and Yves Saint Laurent, Reigning Men makes illuminating connections between history and high fashion.
Drawing primarily from the Los Angeles County Museum of Art's renowned collection, the exhibition traces cultural influences over the centuries, examines how elements of the uniform have profoundly shaped fashionable dress, and reveals how cinching and padding the body was, and is, not exclusive to women.
Beginning with the 18th century, the male aristocrat wore a three-piece suit conspicuous in make and style, and equally as lavish as the opulent dress of his female counterpart. The 19th-century "dandy" made famous a more refined brand of expensive elegance which became the hallmark of Savile Row, London's celebrated street of bespoke tailors.
The mid-twentieth-century "mod" relished in the colorful and modern styles of Carnaby Street, and the 21st century man – in an ultra-chic "skinny suit" by day and a flowered tuxedo by night – redefines today's concept of masculinity.
Exploring aspects of men's clothing and accessories over the past 200 years, Australian Men's Stylehighlights a selection of objects primarily from the MAAS collection to accompany the exhibition Reigning Men: Fashion in Menswear, 1715–2015. From gentlemens' attire in the early colonial period to post-World War II outfits and contemporary design, this display features some of the milestones in the evolution of Australian menswear.
Reigning Men: Fashion in Menswear, 1715–2015
Powerhouse Museum, 500 Harris Street, Ultimo (Sydney)
Exhibition: 2 May – 14 October 2018
Admission fees apply
For more information, visit: maas.museum for details.
Image: A man's suit ensemble from Jonathan Hartig of Libertine's fall 2009 collection (detail) – courtesy of Los Angeles County Museum of Art