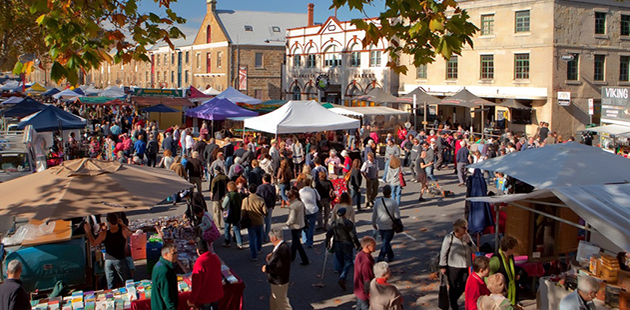 Tasmania is a place of wild and beautiful landscapes, friendly, helpful people with a relaxed island lifestyle, wonderful wine and food and a haunting history evoked by spectacular convict-era ruins. It's also Australia's smallest state and the most geographically diverse with over 40 per cent of Tasmania reserved as national park and world heritage area.
Hobart is Australia's southernmost city, built around the River Derwent and marked by the harbour and Constitution Dock, where luxurious cruising yachts are moored alongside trawlers and ships bound for Antarctica. The 19th-century convict heritage of Australia's second-oldest capital city is woven through modern Hobart. The city's central district surrounds the harbour, with the hand-hewn sandstone facades of Salamanca offering some of the city's liveliest restaurants and bars.
Beyond the waterfront, many of Hobart's grand colonial homes, public buildings, workers' cottages and heritage gardens are clustered around Battery Point, a preserved colonial-era suburb in Australia with plenty of antique stores and patisseries. The forested Mount Wellington, rising steeply behind Hobart, is a reminder that the state's vast World Heritage wilderness is just a few hours away.
The Museum of Old and New Art (MONA) provides a provocative and at times a shocking impact. Within its subterranean levels it houses Australia's largest private collection, from ancient Egyptian mummies to Damien Hirst. Enjoy the sights, sounds, flavours, action and colour of Australia's best outdoor market at Salamanca Place. It is also home to the public artwork, The Yellow Line which commemorates Tasmanian Gay community's struggle for equality.
Tasmania's North is a feast of historic streetscapes and heritage estates, rich farmland, premier cool-climate wines, fresh produce and a haven for designers and craft makers. Launceston is Tasmania's second largest city and a vibrant hub for food and wine, culture and nature. The cellar doors, vineyard restaurants and farmers' markets of Launceston and the north offer some of the best gourmet experiences in Australia.
The annual TasPride Festival takes place in November, celebrating Tasmania's Gay, Lesbian, Bisexual, Transgender, Intersex and Queer community, and providing opportunities for everyone to come together and share our pride.
Organisations:
TasPride
Image: Salamanca Market, Hobart