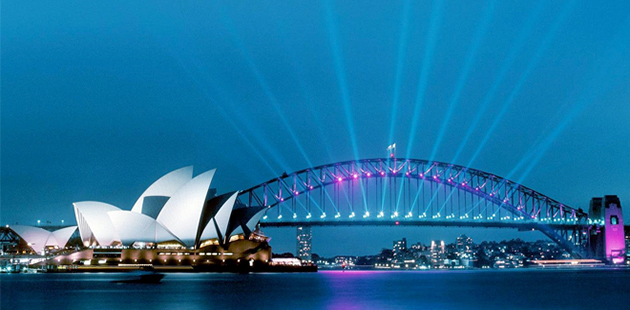 New South Wales (NSW) lies on the east coast of Australia. The state capital, Sydney, is Australia's premier gateway and the largest city in Australia.
Offering a world of astonishing natural attractions, NSW has plenty to offer – stunning wine regions in the Hunter Valley and Southern Highlands, beaches on the Central Coast and around Wollongong, and World Heritage national parks in the Blue Mountains.
Outback NSW has a mix of vast national parks, quirky towns, a thriving arts scene, rich and lasting Aboriginal heritage and the awe-inspiring magic of the desert, while the North Coast of NSW provides a taste of classic Aussie surf culture with great surf beaches and a relaxed lifestyle.
Summer in Sydney in is unbeatable! Stunning weather and a city that celebrates it's diversity makes Sydney Gay and Lesbian Mardi Gras the jewel in Sydney's party season crown. With a festival season spanning three weeks, you can experience everything from parties, performing & visual arts, and community and sporting events!
Tucked away in the far north eastern pocket of NSW is Lismore, Nimbin & Villages. An area renowned for its extraordinary natural beauty, amazing cultural diversity, relaxed lifestyles and quirky charms; a place where old school blends with new age and nature sets the pace.
Lismore is also home to the Tropical Fruits – the premier GLBTI community group in the Northern Rivers Region, who are famous for their New Years Eve Party and Festival.
Organisations:
Sydney Gay and Lesbian Mardi Gras
Tropical Fruits (Lismore)
Image: Sydney Opera House and Harbour Bridge at dusk