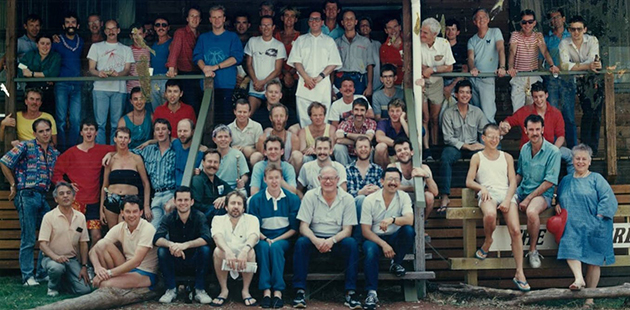 All your friends were getting sick. All your contacts, all your sexual friends and people that you drank with at the pub. You started visiting people in hospital and the wards had a lot of people in them and you knew them.
This is what Mac, a gay man I recently interviewed in a regional town, told me of the HIV/AIDS crisis that emerged in Australia in the early 1980s. It would last until September 1996, when the arrival of new medication transformed the experience of HIV/AIDS into a manageable and chronic condition, rather than one likely to be fatal.
Australia's response to the crisis has been recognised around the world as one of the best. This response was, in part, driven by thousands of people who volunteered at a time when prejudice was rife and stigma widespread. Theirs is a remarkable story of compassion that has yet to be fully acknowledged.
Volunteers are rightly revered in Australian culture. Surf lifesavers and country fire fighters are seen as the embodiment of Australian values. AIDS volunteers worked right at the very margins of life and death. But they have not been sufficiently recognised for two reasons: they came from marginalised groups and they worked with stigmatised individuals.
I am currently working on a major project with Robert Reynolds and Paul Sendziuk that aims to unearth the work of these volunteers through recording their oral histories. We've interviewed more than 50 people so far, and their stories form the basis for this essay.
For some gay men, volunteering provided a means of coping with a seemingly relentless epidemic, while others felt obligated to assist as people they knew fell sick. It was about making sure that friends and lovers were treated with the dignity society refused to give them. In his interview, Mac remembered "gay brothers caring for gay brothers, and gay sisters caring for gay brothers".
Gay, a lesbian woman who volunteered in Perth, reflected on her motivations and said simply, "it was all about the heart".
'Our World War I'
In October 1982, Doctor Ron Penny officially diagnosed the first case of acquired immune deficiency syndrome (AIDS) in Australia in a Sydney hospital. (HIV is the virus that causes the disease.) The arrival of HIV/AIDS here transformed the lives of many. Affected communities experienced loss on a scale that was comparable to wartime. One gay man I spoke to told me that it was "our World War I".
Historian Paul Sendziuk has pointed out that public health officials in the early 1980s feared that HIV/AIDS could kill more Australians than World War II. From the first death in Australia in 1983 to September 1996, approximately 16,000 people were diagnosed with HIV, 7000 were diagnosed with AIDS and 5100 people died from AIDS-related causes. The gay community was heavily represented amongst these statistics. A generation of men lost friends, lovers and partners.
By 1985, there were AIDS Councils in all Australian states and territories, all initially run through the efforts of volunteers, providing in-home care, educational resources and a range of other support services. The efforts of volunteers also drove a range of other Australian organisations such as Ankali and the Bobby Goldsmith Foundation, which provided friendship and practical support. They also helped people impacted by the virus to navigate a medical system that in preceding decades had been openly hostile towards homosexuality.
While some people volunteered for short but intense periods, others spent years helping to manage the epidemic. For these individuals, the arrival of HIV/AIDS completely altered their life course. One man spent so much time caring for people in palliative care that he ultimately decided to gain formal qualifications and became a nurse. Some struggled with the consuming toll of volunteering. Gay acknowledges that her volunteering "came at a really high" personal cost. "Like we didn't learn boundaries."
Australian volunteers modelled these organisations on those in US cities such as San Francisco and New York. In the US, volunteer efforts were hindered by official attitudes that were both cruel and neglectful. Ronald Reagan's spokesperson made jokes about people living with HIV and AIDS and Reagan himself did not mention the epidemic until 1987. In Australia, volunteers were recognised as playing a central role in containing the epidemic and were treated with more respect.
Mac, who was in Sydney during the early years of the epidemic and lost many friends to AIDS-related causes, took great care to acknowledge the assistance provided by the "unsung heroes" who stepped up and helped out by volunteering, often sacrificing much themselves. He told me that "the compassion there was immense. That was the success of the HIV epidemic in Australia I think."
Volunteering in the midst of an epidemic was a deeply emotional undertaking. Almost all volunteers lost people they had formed connections with. Sometimes they were there, supporting people they cared for as they died. Many of the people who performed this type of care had not encountered or dealt with death previously. Yet, in these challenging times, they found the strength to ease the passing of others.
Marginalised volunteers
In our interviews, we have heard accounts of the gnawing fear and anxiety felt in the early 1980s as Australians first heard of reports about a mysterious new disease. Little was known about the transmission of the virus in these early years. Tamara, who volunteered in Western Australia, remembers hearing in her initial carers' training "of nurses just pushing the food on a tray in to the room and not wanting to go in there where the guys were."
The gay community – including many men who were themselves HIV positive or very sick with AIDS-related illnesses – provided many volunteers. As Mac recalled, "the gay community, they really stepped up. Anybody who needed a carer got one." Tamara remembered broadly the contribution of marginalised volunteers. "Whether you're talking about sex workers or gay men or people who inject drugs … communities can stand proud of what they have achieved."
This volunteering was freely given at a time when sex between men was still illegal in many parts of Australia and when same-sex relationships lacked legal recognition or protection. This had particularly devastating consequences when partners died. Survivors could be kicked out of shared accommodation and denied access to joint funds.
Prejudice blighted the lives of many queer people at this time. In places such as Queensland, a homophobic state government neglected its obligation to support those from the gay community affected by HIV/AIDS. This increased pressure on volunteers, who worked in collaboration with the federal government and the Sisters of Mercy to provide individuals with the support they desperately needed.
Sister Angela Mary Doyle, who was then Head Administrator of the Mater Hospital, remembers these as "dark days." In her interview, she described the two year period where the Sisters of Mercy surreptitiously passed money from the federal government to the Queensland AIDS Council, as the Queensland government refused to pass on this funding.
Doyle said the Sisters had to avoid the state government finding out they were doing this, less they jeopardise the funding for the hospitals they ran. She told me she found out years later that the Sisters of Mercy had been described by Neal Blewett, the then federal minister for health, as the "most altruistic of money-launderers" for their role.
Apart from members of the queer community, there are accounts of other volunteers who were people living with Hepatitis C and haemophilia, intravenous drug users and sex workers. They were joined by members of the wider community, driven by a broad range of motives. These included heterosexual women with no previous relationship to the communities affected by the epidemic and family members of people living with HIV/AIDS.
One heterosexual woman, who had experienced bullying as a child, told me that she felt compelled to offer assistance to people who were being treated so unfairly as a result of social prejudice.
What can we learn?
Hearing these stories expands narrow popular conceptions of who volunteers are, what they do and what they have contributed to our society. As historian Melanie Oppenheimer has shown, Australia really is a nation of volunteers. Indeed in 2014, Lisl O'Dwyer estimated that volunteering was worth $290 billion each year to the Australian economy.
More recently there have been concerns that the rate of volunteering is falling. Looking at the historical experiences of volunteers can help us learn how we can better support these individuals.
The arrival of highly active antiretroviral therapy in 1996 transformed the experience of HIV/AIDS. However the disease does still affect Australians. About 25,000 people were living with HIV in 2017. In 2016, UNAIDS reported that 36.7 million people were living with HIV globally. Within Australia, we need to acknowledge the lives that have been lost and the people who still feel this loss. We must also continue work to remove the stigma that is still associated with the virus
Despite the scale of loss during the HIV/AIDS crisis, the Australian response – which involved an army of volunteers, close collaboration between doctors, scientists, government officials and affected communities and policies of education and harm reduction – means that the Australian model from this era is held up as one of the world's best.
At a time when HIV/AIDS was heavily stigmatised, volunteers stood shoulder to shoulder with those affected. They helped to manage what threatened to become Australia's biggest public health crisis of the 20th century, often paying a personal or professional price for their efforts.

Australia as a society has still not yet fully recognised their contribution. Yet, this is a part of our history of which we can feel justifiably proud.
Recognising the unsung heroes of Australia's AIDS crisis
Shirleene Robinson, Associate Professor and Vice Chancellor's Innovation Fellow, Macquarie University
This article was originally published on The Conversation. Read the original article.
Image: A Victorian AIDS Council volunteer training weekend in Kyneton Victoria, 1987 – Australian Lesbian and Gay Archives.