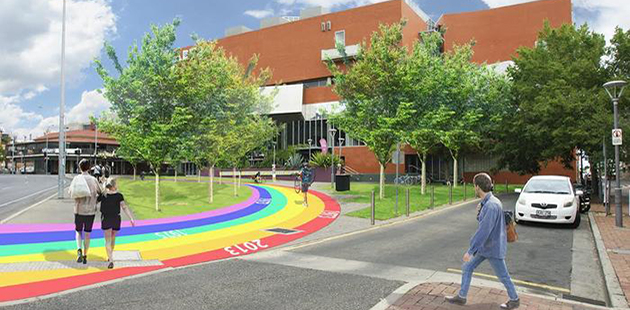 Adelaide City Council has endorsed the installation of a Rainbow Walk in the City's West End to celebrate South Australia's LGBTIQ history.
The Rainbow Walk project will include a timeline within the colour bands to highlight significant South Australian milestones, people and events in our state's history, providing meaning and further connection with the LGBTIQ community.
Lord Mayor Martin Haese said the City of Adelaide is proud to be a diverse, inclusive city and that Council was determined to honour its commitment to recognise this through the Rainbow Walk.
"Adelaide has a long history of legal, social and cultural innovation and reform, leading the way in celebrating diversity within the community," said the Lord Mayor. "In 1975, South Australia made history by becoming the first state in Australia to decriminalise homosexuality under Premier Don Dunstan."
"Last year we celebrated the 40th anniversary of gay law reform, and we're proud to celebrate our local LGBTIQ community which, collectively, makes a major contribution to the vibrancy of our city. Using the rainbow colours in a public space such as Light Square, along with flying the rainbow flag from the Town Hall during the Feast Festival, are just two of the ways we can demonstrate our support for and commitment to diversity."
The Rainbow Walk is proposed for the north western quadrant of Light Square adjacent the Adelaide College of the Arts and is set to include new trees, relocated seating and other amenities. Installation of the project would cost $86,000 and is expected to be ready for the Feast Festival and Pride March in October this year. The final name for the project will be decided after consultation with the community.
For more information, visit: www.adelaidecitycouncil.com Adelaide's Feast Festival runs 21 October – 6 November 2016. For more information, visit: www.feast.org.au for details
Image: An artist's impression of the new Rainbow Walk – courtesy of the Adelaide City Council