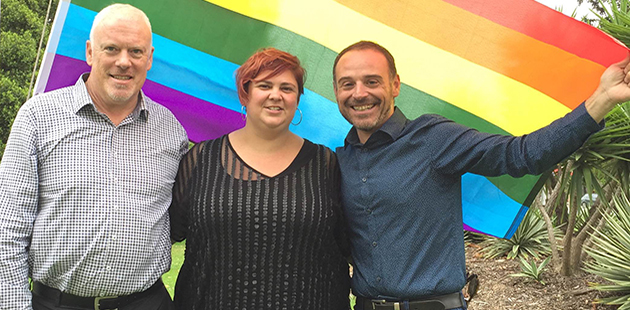 Rainbow flags have been raised over the City of Port Phillip to launch Pride March Celebrations for 2016. The annual Pride March down St. Kilda's Fitzroy Street, sees the LGBTI Community and their supporters from all over Victoria stand together to celebrate and empower the fight for equality.
At Thursday's flag raising, the Midsumma Festival will announce that for the first time the historic annual Pride March will focus on an issue of inequality for the LGBTI community. The theme for the 21st annual Pride March will be marriage equality.
Deputy Mayor of City of Port Phillip, Cr Serge Thomann joined representatives from the Midsumma Festival, and marriage equality campaigners: Australian Marriage Equality and Equal Love – who have both been forerunners in pushing marriage equality – will join forces to lead the Pride March.
Chair of Midsumma John Caldwell says that while Midsumma is a time to celebrate the diversity of gender and sexuality in our community, it is important to remember, support and thank those who work tirelessly to achieve equal rights in our community.
"Marriage equality continues to gain momentum in our community and it is fitting for it to be the theme of the 21st annual Pride March," said Mr Caldwell. "While we know that there are many other issues in the community, the time is right for this issue to be at the forefront of this historic march."
"We are glad to see Australian Marriage Equality and Equal Love marching together and being recognized for their tireless work in advocating this issue within our community. I can't even imagine the celebration that Midsumma will have when we have finally reached equality for all parts of our community."
City of Port Phillip Mayor Bernadene Voss said: "The City of Port Phillip is a strong supporter of the LGBTI community, and each year we look forward to celebrating our diversity and equality by taking part in the Midsumma Festival. We know the vast majority of our community wants to see marriage equality become a part of our society, and the Pride March is the perfect way for people to band together on this important issue."
"Each year we support the Pride March with $50,000 funding to help promote equality, diversity and sexual freedom and we hope this year's march can help by bringing us a step closer to those ideals."
The 2016 Pride March will be held on Sunday 31 January. More than 130 organisations have already registered to participate in the annual march down St Kilda's Fitzroy Street. For more information, visit: www.midsumma.org.au for details.
Image: Tim Peppard (Australian Marriage Equality), Tennille Moisel (Midsumma) and Anthony Wallace (Equal Love) at the City of Port Phillip Rainbow Flag Raising – photo courtesy of Midsumma