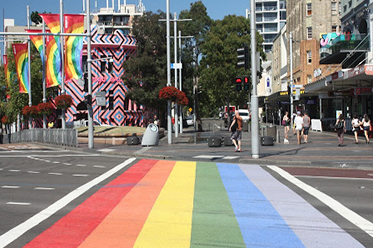 A rainbow flag will fly at Taylor Square until 2018, when a permanent public artwork acknowledging the city's gay and lesbian community is installed.
The City of Sydney Council has resolved to install the flag following an approach from Councillor Christine Forster, who has been pushing for an LGBTI marker in the area since the removal of the rainbow crossing on Oxford Street after the 2013 Mardi Gras.
"The rainbow motif is a recognised and potent symbol. This is something we can do while the artwork is being developed," said Forster.
"This will be a visible symbol celebrating the importance of the area to GLBTI community, culture and history."
Council's Chief Executive, Monica Barone said the rainbow flag currently flying at Town Hall could be reappropriated once Mardi Gras had finished.
Last month at the raising of the rainbow flag at Sydney Town Hall, Lord Mayor Clover Moore announced the installation of a permanent public artwork in Taylor Square to mark the 40th anniversary of Mardi Gras in 2018.
"Sydney has the largest GLBTI community in Australia. A permanent symbol will celebrate their contribution to our city over the past 40 years and will say loud and clear that Sydney is a safe, inclusive city for everyone," said Moore.
Image: Rainbow Crossing installed for the 2013 Sydney Gay and Lesbian Mardi Gras Festival