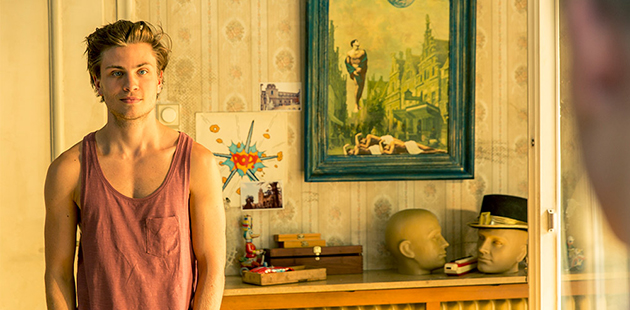 After the biggest Mardi Gras Film Festival in recent memory, Queer Screen is taking some of the biggest and best films on the road to Parramatta and Canberra. Catch up on films you may have missed or perhaps see a favourite for a second time.
Riverside Parramatta is Queer Screen's Western Sydney home. Screening from 31 March – 2 April, a great line-up of films has been scheduled. For the first time MGFF will take place in Canberra (7 – 9 April), with five films screening at Arc Cinema at the National Film and Sound Archive.
Parramatta: 31 March – 2 April 2017
Pushing Dead
Friday 31 March – 7.00pm
A fresh look at living with HIV in the modern day. Features great comedic performances from James Roday, Robin Weigert, and Danny Glover. Winner of multiple audience awards.
A Million Happy Nows
Saturday 1 April – 6.00pm
Filled with humour, romance, and the undeniable chemistry of its two leads, this is a bittersweet drama about long-term love, devotion, and the power of commitment during an unexpected crisis.
Something Like Summer
Saturday 1 April – 8.00pm
Ben, the only out boy in school, falls for popular jock Tim, who isn't brave enough to go public – until 12 years later when they meet again. But by then Ben is living with Jace. World premiere.
Out Run
Sunday 2 April – 5.00pm
Bemz Benedito dreams of becoming the first transgender person in the Philippine Congress. This uplifting documentary portrays an inspiring sense of camaraderie within the queer community.
Suicide Kale
Sunday 2 April – 7.00pm
Made on a shoestring budget, this lesbian comedy is a delicious serving of dark comedy. Two couples meet for lunch, but the discovery of a suicide note adds a hefty portion of awkwardness.
A Date for Mad Mary
Friday 7 April – 7.00pm
This Irish drama will make you laugh out loud. Young, brash Mary is fresh out of prison, and unhappy with the world. To make matters worse, she needs a plus one for her BFF's wedding.
Out of Iraq
Saturday 8 April – 6.00pm
Out of Iraq is the incredible true story of Nayyef and Btoo, two Iraqi soldiers who fell in love in the middle of war. Determined to be together, their romance is timeless.
Center of My World
Saturday 8 April – 8.00pm
Phil and his twin sister Dianne lead an unconventional life in suburban Germany. Enter the perfect, sculpted adonis, Nicholas, and life for Phil becomes heartachingly beautiful.
Real Boy
Sunday 9 April – 2.00pm
Bennett is caught between adolescence and adulthood, racing into a mature world that feels totally in flux. But his transition is affirming, it just leaves others struggling to understand his new identity.
Political Animals
Sunday 9 April – 4.00pm
A truly inspiring film that tells the story of four pioneering lesbian politicians and the battles they fought to pass a wide range of anti-discrimination laws. Dedicated to all future political animals.
Image: Center of My World (supplied)