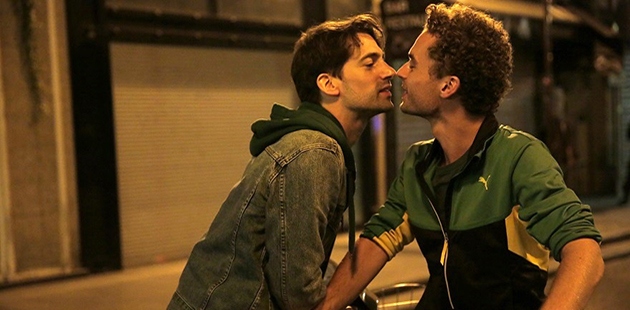 Back, bigger than ever, the popular Queer Screen Film Fest kicks off this Tuesday (20 September) featuring twelve sessions of exceptionally high calibre queer films and documentaries from around the globe.
OTHER PEOPLE by Chris Kelly (USA)
Tuesday 20 September – 7.00pm
A small-town tragicomedy revolving around a gay son (Jesse Plemons, Breaking Bad, Fargo) who returns home to take care of his dying mother. Molly Shannon (SNL) is a stand-out as his mother – alternating between humour and tragedy and sarcasm and warm smiles. Shannon excels in portraying the tender, funny moments with her son as well as the agony of cancer and chemotherapy.
FIRST GIRL I LOVED by Kerem Sanga (USA) 
Wednesday 21 September – 7.00pm
17 year old cool nerd Anne falls for the school softball star Sasha, in this award-winning and incredibly authentic lesbian coming-of-age film. As her feelings grow, Anne shares the news with her best friend Cliff and he unexpectedly lashes out, causing a ripple effect through Anne's life.
THE HANDMAIDEN by Park Chan-wook (South Korea)
Thursday 22 September – 6.15pm
Directed by Park Chan-Wook (Oldboy, Thirst), this is a thriller intertwined with an erotic lesbian love story. Adapted from Sarah Waters' novel Fingersmith, it premiered at Cannes Film Festival. In 1930s Korea, tasked with a secret plan, petty thief Sookee begins work as handmaiden to Lady Hideko. A game of deception and seduction soon begins as the women discover feelings for one another. The hypnotic soundtrack and sensual story will immerse you utterly in its tale of class, fraud and revenge.
PARIS 05:59 by Olivier Ducastel & Jacques Martineau (France)
Thursday 22 September – 9.00pm
Starting with a vivid and provocative twenty minutes set in an underground sex club, strangers Théo and Hugo leave and walk the streets of Paris at night. While talking the two men start to fall hard for each other. Their relationship blossoms with the hallmarks of first love, but then something happens which changes the course of their new relationship. An encore screening of the Mardi Gras Film Festival 2016 hit!
SOUTHWEST OF SALEM: THE STORY OF THE SAN ANTONIO FOUR by Deborah S. Esquenazi (USA) 
Friday 23 September – 6.30pm
Winner of the Outstanding Documentary Feature Award at Frameline 2016, this is the true crime story of four Latina lesbian women who were wrongly convicted of the gang rape of two young girls. Facing accusations of satanic ritual abuse, a homophobic legal system and questionable testimonies from the children, this documentary sees the tides turn as we follow the riveting and emotional journey of these women as they attempt to clear their names.
ALMOST ADULTS by Sarah Rotella (Canada)
Friday 23 September – 8.30pm
Mackenzie and Cassie have been BFFs since kindergarten, but as they approach university graduation they discover their lives are drifting apart. Mack is finally ready to come out but as she does, discovers everyone already knew. Well, everyone except Cassie. Starring Elise Bauman and Natasha Negovanlis, the leads of Carmilla, the most watched lesbian web-series of all time and coming from creators of the popular The Gay Women YouTube channel, Almost Adults is a comedy sure to put a smile on your face.
WEEKENDS by Lee Dong-ha (South Korea)
Saturday 24 September – 3.00pm
G-Voice is the first and only gay men's choir in South Korea. Every weekend for a decade, they have gathered to sing for equality and an end to discrimination towards the LGBTIQ community in their country. The only trouble is, they're not very good. This moving, funny and confronting documentary follows their preparations for a tenth anniversary concert event – a film about hope, kindness, friendship and love and ultimately about standing together in the face of adversity.
YOU'RE KILLING ME by Jim Hansen (USA)
Saturday 24 September – 6.30pm
George has a killer new boyfriend, but it might take a body count for him to shut up and notice. You're Killing Me is a sharp horror-comedy about West Hollywood gays so self-absorbed they don't realise their new friend is a serial killer. George, a narcissistic wannabe Internet star, has fallen deeply for a new man, the monotonous but gorgeous Joe. As the relationship develops, George seems to be missing more and more of his friends, and he hardly seems to care.
MIXED SHORTS (Various countries) 
Saturday 24 September – 8.30pm
Queer Screen's popular collection of international short films, Mixed Shorts returns with another round of outrageous comedies, quality dramas, and entertaining documentaries. This package features the 2001 Australian classic Saturn's Return, starring Joel Edgerton (The Great Gatsby, Zero Dark Thirty), and written by Christos Tsiolkas (Barracuda, The Slap). It also includes gay romance Tremulo, lesbian comedy Oh-be-joyful and three other great films.
DANNY SAYS by Brendan Toller (USA)  
Sunday 25 September – 1.15pm
What do The Doors, Patti Smith, The Ramones, Nico and countless other music greats from the USA in the 60s and 70s have in common? Each of them were guided on their journey to musical cult status by the out and proud Danny Fields. Featuring outstanding live concert footage, archival photos, and interviews with Danny and many celebrated musicians, this is a must for any music lover or fan of this hedonistic period of rock 'n' roll.
MAJOR! by Annalise Ophelian (USA)
Sunday 25 September – 3.30pm
Meet Miss Major Griffin-Gracy – transgender elder, Stonewall rebel, woman of colour and head of the Transgender Gender Variant Intersex Justice Project in California. Featuring touching interviews with queer former inmates who credit their lives to Miss Major's interventions, MAJOR! is humbling and inspiring in its depiction of someone so dedicated to a life of one-on-one social justice. An intimate portrait of an enduring and treasured pioneer of queer rights.
THE INTERVENTION by Clea DuVall (USA)
Sunday 25 September – 6.00pm
Fan favourite and out actress, Clea DuVall and her But I'm a Cheerleader co-star, Natasha Lyonne reunite to play an onscreen couple in this crowd pleasing, hilarious comedy about the complexities of modern adult relationships. On a weekend away with friends, they are swept up in a 'please get divorced' intervention for another couple but of course nothing goes to plan. As secrets are revealed everyone is forced to confront their own truths, with heartfelt, funny and poignant results.
In addition to the twelve session at Event Cinemas George Street, Queer Screen Film Fest includes a free screening of Inside Out at Sydney Park (18 September), and screenings in Canberra (1 October) and the Blue Mountains (21 – 23 October). For more information, visit: www.queerscreen.org.au for details.
Image: Paris 05:59