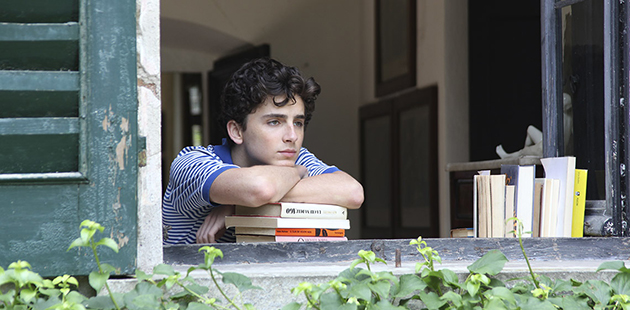 Kicking off this Wednesday for 12 days, this year's Sydney Film Festival (SFF) promises something for everyone with 288 films being screened over 400 sessions. With 19 feature films, short films and documentaries to choose from, queer cinema has never looked quite so diverse at SFF. The Australian pride Network takes a look at 8 films that are worth checking out…
A Modern Man
Young, handsome, immensely rich, a virtuoso violinist and a Hugo Boss model: meet the man who appears to have everything, in this surprisingly charming documentary. Whether he's driving an orange Porsche to his cliff-top Monaco mansion, ordering martinis or looking suave in a designer suit, Charlie Siem is a man on a mission. Whether it's performing on stage, recording albums, or selecting a suit, he demands the best, of himself and others. Danish filmmaker Eva Mulvad with patience and panache delves into this life of privilege to find commonalities of ambition and desire.
Call Me By Your Name
A sumptuous new romance by Luca Guadagnino, Call Me By Your Name is a sensual story of first love set in the Italian countryside. It is the summer of 1983, and teenager Elio is on holiday at his parents' Italian villa. His days are spent reading, swimming and flirting with girls. At first, when his professor father's new American assistant Oliver arrives, Elio is indifferent. As the days pass, the two spend more time together and grow irresistibly attracted to each other.

Chavela
The uncompromising life story of openly lesbian Latin American singer Chavela Vargas – an inspiration for director Pedro Almodóvar and others – is revealed for the first time. Criticised from an early age for her boyish behaviour, teenage Chavela left her Costa Rican home for Mexico. Initially billed as a ranchera singer, in heels and gown, it was only when she shook off convention and donned her iconic poncho, that Chavela became the darling of the cabaret crowd. Tragically, excessive drinking destroyed her career. Her re-emergence, sober after 20 years, and her soul-baring performances are achingly defiant.

God's Own Country
A sexually explicit romance about two sheep farmers in remote England that's earned favourable comparisons to Brokeback Mountain. Johnny works long hours on his family's remote hill farm. Isolated and frustrated, he numbs the daily frustration of his lonely existence with nightly binge-drinking at the local pub and casual sex. When Gheorghe, a handsome Romanian, arrives to take up temporary work on the family property, Johnny suddenly finds himself having to deal with emotions he has never felt before.
I Am Not Your Negro
Narrated by Samuel L Jackson, this mesmerising Oscar-nominated film channels the impassioned words of writer James Baldwin, one of the most incisive commentators on race in America. Taking its starting point notes for a book Baldwin intended to write about the lives and assassinations of his friends Malcolm X, Martin Luther King Jr., and Medgar Evers. That unwritten book finds life in this remarkable film which melds Baldwin's unpublished writing (powerfully narrated by Jackson), archival footage of his eloquent analysis of the times, and contemporary Black Lives Matter protests.
The Ornithologist
This cheerfully blasphemous and homoerotic modern take on the life of Saint Anthony by Portuguese visionary João Pedro Rodrigues puts on a dazzling display of no-holds-barred arthouse cinema. Fernando's an ornithologist studying storks in the wilderness. The first of many strange characters to cross Fernando's path are two devout Chinese female pilgrims who've strayed off the Camino de Santiago trail and stay long enough to tie him up in bondage ropes. The agony and the ecstasy, indeed. What follows is a queer and surreal, visually stupendous and frequently hilarious journey in which Fernando's story gradually transforms into that of Saint Anthony.
Pulse
The ambitious debut from Daniel Monks, who writes and stars in this body swap drama blending sci-fi with sexual teen angst and identity crisis. Olly is a gay teen with disability who discovers that his two straight best friends are dating each other. Frustrated by his body, he chooses to undertake a pioneering medical procedure. With its understated sci-fi underpinnings, Pulse is a highly sexed-up modern parable on what it is to be young, with disability and queer on the verge of adulthood.
Whitney 'Can I Be Me'
A gripping documentary on the all-too-short life of powerhouse performer Whitney Houston from UK documentarian Nick Broomfield and music video director Rudi Dolezal who brings us never-before-seen backstage footage from the height of the singer's career. Touching, intimate interviews with the star, friends and colleagues (including her real-life bodyguard), round out this impressive recounting of a life so promising, and ultimately so tragic. The film doesn't evade her drug taking, troubled marriage or rumours of her bisexuality, nor does it ignore her undeniable talent (including several music clips).
The 2017 Sydney Film Festival runs 7 – 18 June. For more information, visit: www.sff.org.au for details.
Image: Call Me by Your Name