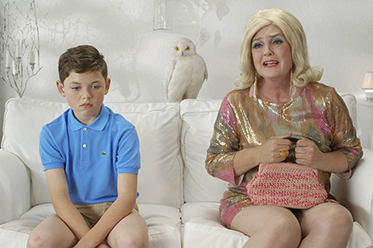 Celebrating its 31st anniversary in 2014, the St Kilda Film Festival is Australia's largest and oldest short film festival. This year, the festival is proud to host a specially curated program of films from the Palm Springs International ShortFest – including an incredible selection of LGBT shorts from around the world.
Introduced by Darryl Macdonald (Director of the Palm Springs International Film Festival and the Palm Springs International ShortFest), the eight short films making the line-up include:
Alaska is a Drag
Leo is the most flamboyant sight in his small Alaskan town, especially amongst the uptight co-workers at his cannery job. A new guy arrives in town and sees Leo for what he is – an international superstar.
Barbie Boy
Bobby is a young boy whose affection for dolls is driving his father to distraction. Though only seven, it's clearly time for the boy to choose between expectation and the things he loves.
Barry's Bespoke Bakery
Barry's lavish cake shop is a wonderland of refined baked goods where everything has its proper place, with the possible exception of Barry's talented employee Brian.
Hazel
Hazel is an imaginative boy who is driving his already looney mother even further off the rails with his 'feminine' ways, and as a last resort, she takes him to a therapist…
I'm Not Gay
So what if he grabs his buddy's balls during tackle football and cruises muscle boys in West Hollywood? J Pee is not gay, you guys! A comedic homo-bro rap song.
P.D.A.
As a gay couple goes for a walk in an L.A. neighborhood, a question arises between them: why is one of the pair so resistant to holding hands in public?
Sabbatical
Longtime lovers Sam and Phillip have been on a sabbatical. Awkward and unsure of where they stand as a couple, they agree to play a game in which they each get to ask each other one question at a time about their time apart…
Social Butterfly
An American woman crashes a French teenager's birthday party. When the guest of honor dismantles her cover story, the pair share an unexpected moment of intimacy.
The LGBT Showcase will screen at The Astor Theatre on Friday 30 May commencing at 6.30pm. For more information, visit: www.stkildafilmfestival.com.au for details.
Image: Tamer Ruggli's Hazel