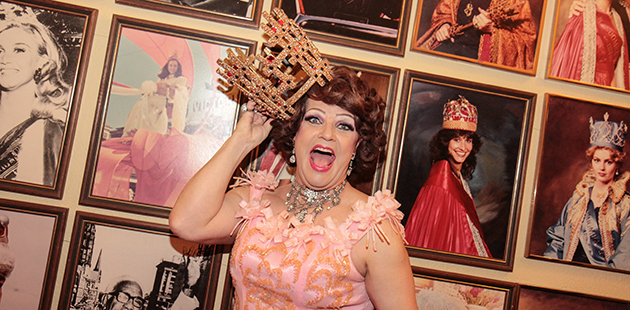 Now in its 29th year the Melbourne International Comedy Festival kicked off last week with a program that includes a record-breaking 559 shows taking place in 145 venues and featuring over 3,000 comedians. With so much on offer, Australian Pride Network takes a look at 12 shows that have a queer bent and are worth checking out:
Adam Richard #FGT
Imperial Hotel: continues to 19 April
A stand-up comedian since 1997, Adam has performed all over Australia, Britain and the USA. He has appeared as a guest on such embarrassing ventures as Celebrity Dog School, Celebrity Splash, and The Footy Show. He has also appeared in more classy fare, like Can of Worms, Chelsea Lately, Rove and Tractor Monkeys. He is the co-writer and co-star of the 2012 ABC TV comedy series Outland. In his latest show, Adam is tired of cyber bullying. Please attend, so he can do it to you in person.
Beau Heartbreaker
Melbourne Town Hall: continues to 19 April
One woman performing as one very endearing bloke. Multiple award-winning character Beau Heartbreaker delivers hilarious tales of worldly adventures and brilliantly composed songs. Selina Jenkins' astonishing vocal ability and depth and sincerity as character Beau Heartbreaker is remarkably convincing. No small feat for a woman in a beard, but one this artist has worked tirelessly to achieve.
Big Top Bob!
The Famous Spiegeltent: continues to 19 April
You'll laugh, you'll gasp, you'll laugh some more as Bob Downe and his mixed bag of lollies and his feathered follies bedazzle you in a comedy, cabaret, extravaganza, Tivoli Circus, arena spectacular at The Famous Spiegeltent. Incredible skills, surprise guest stars, wild beasts, sexy showgirls and boys, the coolest of hottest bands and laughs galore.
Dolly Diamond: The Real Queen of Moomba
Trades Hall: 7 – 19 April
Melbourne needs a new a Moomba monarch and this lady's been waiting impatiently in the wings for years. Comedy cabaret legend Dolly Diamond has reached that point in her life where success can no longer be measured by money alone. Only genuine adulation and a bona fide title will satisfy the beast of desire in this power-hungry diva.
Dean Arcuri: A Midsummer Nights Dean
Hare Hole: continues to 11 April
A queen falls in love with an ass thanks to a short (yet satisfying) puck! Shall I compare thee to a summer's gay? Sure, why not! Arcuri vs Shakespeare as comedy, cabaret and classic poetry collide, combine and sometimes clash. Ale will flow and fruit's getting thrown because something wicked this way comes. Cabaret comedian Dean Arcuri treats you to literary laughter laced with a kitsch and campy collision of musical melodies full of songs, skits, scandals and soliloquies.
Geraldine Hickey: Listen out for the Castanets
Melbourne Town Hall: continues to 19 April
Sometimes a difficult situation just needs a new face to diffuse it. This is the story of the time Geraldine thought she had that face. Ever found yourself reading a newspaper article about a tragedy and asking yourself "Why didn't anyone do anything?" Geraldine found herself in a situation where she was able to answer that question. The answer is, because it's terrifying, but Geraldine is pretty brave so she did something. It didn't work out the way she planned.
Hannah Gadsby: Picasso and Other Problems
NGV International: 4, 11 & 18 April
Hannah is back with a brand new lecture at the NGV International. This time she is going to take a look at Pablo Picasso and the birth of modern art. It will be more fun than a weeping woman and as funny as her sideways nose! Hannah's lectures have sold out the last six years – so book a ticket quick!
Miss Itchy's Lazy Susan
The Tuxedo Cat: continues to 18 April
Miss Itchy's Lazy Susan is a chat show. It's all about the Susans. There'll be nightly special guests, moist door prizes and semi-expert dentistry.  Also, Susan Renouf, Prince Sex Wee and foamy emulsions. But mostly, it's about the Susans. It's comedy (not) for beginners. Bring your friend Susan and let's get spinning!
Nath Valvo: Happy Idiot
Portland Hotel: continues to 19 April
Nath Valvo is quickly becoming a favourite of the Melbourne International Comedy Festival. His 2014 show, Boy Next Door, received critical acclaim and played to many sold out audiences. Happy Idiot sees Nath brilliantly take on his dysfunctional family, his quest for puberty, his hatred of cats and supermarket self-serve checkouts.
Thomas Jaspers: Always the Bridesmaid
Gin Palace: continues to 18 April
Thomas Jaspers spent the last six months tracking down everyone he has slept with in a quest to find out what went wrong. He hopes that he will be able to perfect his flaws and find 'the one', he just needs to weed through the couple hundred 'ones' he already met. Join Thomas on this camp romp of repressed memories and romantic dreams before he buys a B&B and retires in Daylesford.
Tomás Ford Electric Cabaret
The Tuxedo Cat: 9 – 19 April
Award-winning cabaret lunatic Tomás Ford is losing control. His computers are broken, his songs are too weird and his charisma is backfiring. The show is imploding! This is either the best party ever or a one hour nervous breakdown. Find out which.
Tom Ballard: Taxis & Rainbows & Hatred
Swiss Club: continues to 19 April
Tom Ballard is back with his new hour of stand-up about something bad and weird that happened to him in a taxi. His new show gets stuck into loneliness, labels, sex, love and finding the courage to be one's self. With many jokes.
The Melbourne International Comedy Festival continues to 19 April 2015. For more information, visit: www.comedyfestival.com.au for details.
Image: Dolly Diamond