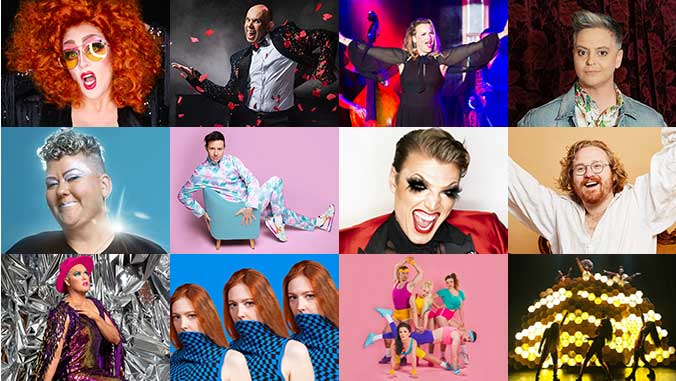 The city and surrounds have become a hive of happiness as the much-loved Melbourne International Comedy Festival returns for 2022. With a crammed program of comedy's biggest stars and all the next-big-things, it's time for audiences from near and far to come together and have a laugh. With so much on offer, the Australian Pride Network takes a look at twelve shows worth checking out:
Geraldine Quinn: BROAD
Trades Hall – The Quilt Room: continues to 10 April
Aunty Gerry's back. Agnes Moorehead. Rhonda Burchmore. Vivienne Westwood with a tit out. There is something heady about these kinds of brassy broads. So many (b)older women, so many (A)FAB icons to look up to. So what if these camp inspo glamour heroines feel a bit close to your own sagging jawline? Well, you write your own ridiculous story and paint your own ridiculous face in a cabaret about how anyone can find their inner Endora – bejewelled kaftan and all. Multi-award-winning rock cabaret artist Geraldine Quinn (winner of the 2011 Golden Gibbo Award, as seen on Spicks and Specks, Upper Middle Bogan, The Weekly) returns to Melbourne International Comedy Festival with her first show in four long years – BROAD.
Steven Oliver: Bigger and Blacker
The Malthouse – Merlyn Theatre: continues to 10 April
"What's this then sl*t?" You might know Steven Oliver from being sexy on ABC's Black Comedy. Or perhaps from hosting Faboriginal on SBS. But his talents don't end there. Get ready for a bit of a rap, a bit of a sing, a bit of a tap and a lot of shaking his ring. Bigger and Blacker has been described by Sydney Morning Herald as a "tour de force" comedy cabaret and is guaranteed to get you laughing, thinking and shimmying in your seats. With Michael Griffiths on keys and harmonies, Steven makes his Melbourne International Comedy Festival debut with this acclaimed show that has dazzled audiences all around the country.
Ali McGregor's Late-Nite Variety-Nite Night
The Famous Spiegeltent at Arts Centre Melbourne: continues to 23 April
Variety is back! Since 2006 Ali McGregor's Late-Nite Variety-Nite Night has been enticing audiences at Melbourne International Comedy Festival and beyond. It has become a cult late-night show that draws the biggest comedy acts, the sexiest burlesque, heart stopping cabaret and the most jaw-dropping circus acts from around the Festival. Hand-picked by Ali, this variety show is a carefully curated night of quality entertainment. This season promises to have more spontaneous headline guests, higher notes and more gin than ever before! As always Ali's show-stopping vocals will be backed by one of the finest jazz trios in town led by pianist Sam Keevers. Guests of previous years have included Tim Minchin, Hannah Gadsby, Denise Scott, Adam Hills, Rich Hall, Eddie Perfect, Jason Byrne, Ronny Chieng, Sammy J & Randy, Geraldine Hickey, Lady Rizo, Hamish & Andy and The Doug Anthony Allstars.
Geraldine Hickey: Now I've Got A Boat
Arts Centre Melbourne – Fairfax Studio: continues to 24 April
Not to brag, but Geraldine Hickey has had a pretty incredible few years. She got engaged, won some awards and now she has a boat. She can't start it yet but that hasn't stopped her from discovering some of the wonders of the ocean. An hour of smart, observational comedy at its absolute best. Winner Award for Most Outstanding Show 2021 Melbourne International Comedy Festival.
Kirsty Webeck: Silver Linings
Melbourne Town Hall – Cloak Room: continues to 24 April
Let's face it, it's sometimes hard to find the upside, but luckily for you, Kirsty Webeck's an expert on seeing the silver linings. After getting us through lockdowns with her hit 'Zoom Comedy Hour' shows, Kirsty is back on stage, spinning silver linings into comedy gold!
Nath Valvo: Back In The Habit
Max Watt's: continues to 24 April
Festival favourite and complete show off Nath Valvo arrives at Max Watts with his brand-new show! Pandemic schmandemic! Nath still achieved heaps in the last year – he recorded his stand-up special and nabbed himself some new Tupperware using reward points. He also has an onslaught of new jokes. Come witness this ex-high school drama captain in full flight.
Reuben Kaye: The Butch is Back
The Malthouse – Merlyn Theatre: continues to 24 April
After a whirlwind Australian tour in 2021, escaping lockdowns one by one, Reuben Kaye is coming back, with a bigger band and brighter lights. This star is rising and taking the comedy and cabaret world by storm. With acid wit and casual sensationalism, Reuben is fast, on the edge and brutally funny. Winner Best Cabaret 2021 Adelaide Fringe!
Sam Bowden: DandyLion
Trades Hall – Archive Room: continues to 24 April
DandyLion is a show – nay, a gospel – analysing why queerness can be for the everyman. Armed with great jokes and a particularly tasteful pair of shoes, comedian Sam Bowden will explore sexual, racial and political identity, why straight dudes need to give up their monopoly on sport and how trying to 'find yourself' can be both liberating and confining. Don't worry. It's still gonna get silly. Originally from Brisbane, Sam Bowden has performed alongside some of the biggest names in Australian comedy and opened for the likes of Danny Bhoy (UK) and Brian Posehn (US). His debut solo show The Epicurean Shark enjoyed a sell-out run at the Wonderland Festival in 2018, and was selected to open the inaugural comedy gala at the MELT queer festival in Brisbane, and performed at Queerstories and Best of Bris Showcase the following year. Now residing in Sydney, Sam is a regular performer at the legendary Comedy Store and has performed in multiple Sydney Comedy Festival Showcase shows in NSW.
Haus of Hans: Disco Spektakulär
Brunswick Ballroom: 8 & 9 April
International superstar, sex symbol and piano accordionist, Hans (America's Got Talent) is bringing his award-winning comedy cabaret show  Haus of Hans: Disco Spektakulär to the magnificent Brunswick Ballroom as part of the 2022 Melbourne International Comedy Festival. Dripping in glitter and diamonds and inspired by the opulent New York city club scene of the early '80s and '90s, Hans will transport audiences to a world where rules are thrown out the window across four dazzling performances! Come, enjoy an evening of disco, dance and drama inside Hans' magical music box at Brunswick Ballroom.
Lou Wall: Bleep Bloop
Trades Hall – The Quilt Room: 11 – 24 April
Britney gave us Toxic. Beethoven gave us Symphony No.5. And Ginuwine gave us R'n'B smash hit, Pony. Now multi-award winner Lou Wall brings you their magnum opus, a pop-culture comedy album about life's biggest BLEEPS and smallest bloops. A raucous night of pop bangers, high energy meta-comedy, breathtaking ballads and gossip. This album launch will have you screlting all the way homo. So cut your nails, hydrate and be gay. We'll see you at the concert. Winner Best Writing Cabaret, Best Production & Outstanding Online Acheivement in Cabaret 2021 Green Room Awards (Lousical the Musical)
Circus Trick Tease: Werk It
Forum Melbourne – Downstairs: 14 – 24 April
From the team that brought you Can't Face and Neon, Werk It is an all-new, late-night, high-energy, acrobatic comedy romp. Celebrating spandex, high-vis, vitality and vigor! The low carb love-child of a tradie, a spin instructor and a cross-fit fiend, Werk It is a riot of colour and movement – big tricks delivered by an all-star cast with more sass and swagger than a TLC videoclip. This over-the-top ensemble will be hip thrusting their way into an Aerobics Oz Style fever dream all Festival long! Featuring outrageous skills from an all-star cast, including award-winning Vincent van Berkel (Can't Face), hula hoop sensation Lisa Lottie (Neon), manipulation idol Richard Sullivan (Jug Life), real-life strong woman Cassia Jamieson (NICA) and fierce as hell Malia Walsh (Circus Trick Tease).
Hot Brown Honey: The Remix
Arts Centre Melbourne – Playhouse: 21 – 24 April
Rise and shine motherlovers! Hot Brown Honey is back with THE REMIX – Fierce! Femme! Global First Nations! Everything you love about the smash-hit show, with extra sweet treats filled with radical fierce love and joyous rage – centre stage. Steeped in the Word of The Mother and packing a punch of hip hop politics, Hot Brown Honey is an extraordinary production that spins tradition on its head, going above and beyond to challenge boundaries and embrace resilience. Equal parts theatrical masterpiece and social activism, a stellar posse of phenomenal world First Nations women smash stereotypes in an unapologetic celebration of our similarities and differences. Get ready to laugh until you cry, clap until your hands bleed, dance in the aisles and shake every part of what your mama gave you. It's time to be the change we want to see.
---
The 2022 Melbourne International Comedy Festival continues to 24 April. For more information, visit: www.comedyfestival.com.au for details.
Image: Artists performing as part of the 2022 Melbourne International Comedy Festival (supplied)