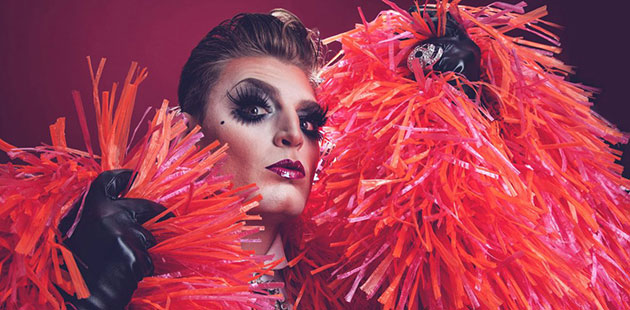 In the year of the impossible, Melbourne Fringe will deliver a festival full of weird, wonderful, thought provoking and boundary-pushing art. From 12 – 29 November, audiences can choose from 250 shows, all taking place either outdoors, digitally, in the home, via audio, behind glass or over the phone. The Australian Pride Network takes a look at ten events worth checking out:
A Red Square
Delivered to Your Home: continues to 29 November
A USB is delivered to your home. Your name is on the envelope. Inside is a hilarious, touching, filthy f*ck storm of a story. A Red Square jams nostalgic narratives, cartoons, and cultural taboos into a non-consensual semi-biographical PowerPoint about the life of a red square. A square that, under your command, will move, want, fail, dream, breathe and most importantly, die. For when this square realises it is part of a twisted long-form powerpoint presentation, it might just fight back.
Creepy Boys
Digital Fringe: 17 – 22 November
Twin orphans, The Creepy Boys, are throwing their very first birthday party. It will have everything, games, gifts, possibly Satan, and probably cake. These troubled and spooky twins will do whatever it takes to make their birthday dreams come true – even if it means blood sacrifice. Don't worry – their social worker, Karen, is here to supervise. There will be no fires this time. Join these horny little boys as they take you on an adventure into their origins, their dreams of the future & their darkest impulses. This is their perverted fantasy and today is the day they finally get everything they've ever wanted.
Frankenstein's Telephone
Digital Fringe: 12 – 28 November
Frankenstein's Telephone is a conceptual artwork created using artificial intelligence to examine how computer vision expresses gender classifications. On this site you can view AI Artist J. Rosenbaum's original works exploring gender as seen and created by computers, read about the techniques and algorithms used and have the opportunity to make your own works from a text prompt or an image upload. Play your own game of "telephone" and share the generated captions with your friends so that they can enter it in to keep the chain going and produce weird and wonderful AI artworks!
Macábaret
Digital Fringe: 13 – 27 November
Experience New York's weird cabaret underbelly that's not often seen outside of the seedy Big Apple – until now! Butch Mermaid and Thinkery & Verse are creating some sexy, spooky, safe fun for your Halloween season, featuring performers from a macabre cabaret scene that even New Yorkers are a little afraid of. Inspired by a 1920's fortune teller's shop in New York, Macábaret invites a Melbourne audience to peer through Zoom into a dusty crystal ball and see a variety of acts filled with spooky, strange, silly and downright sinister spirits. 

The People of Cabaret Variety Spectacular
Digital Fringe: 12, 13, 17 & 24 November
The People of Cabaret Variety Spectacular introduces the newly formed collective to the Melbourne Fringe scene. We uplift, celebrate and empower nearly 150 brilliant performers who are Indigenous and/or Bla(c)k and/or people of colour, and play within the sparkly and scintillating world of cabaret, burlesque and circus. Hosted by Miss Cairo and featuring a dazzling array of performances beamed in from interstate and around the globe, this show is a cavalcade of glitter, a rallying cry of fabulousness, and a constellation of superstars.
Queers on the Fringe
Digital Fringe: 16 – 22 November
Writer, director, producer, performer Maeve Marsden hosts Queers on the Fringe – a mixed bag of artists, writers, comedians and musicians for an experiment in intimate entertainment, delivering story, song and catharsis to an audience of strangers tuning in from their lounge rooms. Maeve offers up the unexpected – equal parts playful, personal and political. Queers on the Fringe celebrates Sydney's queer underground featuring performers Brendan Maclean, Jamaica Moana, Victoria Zerbst, Jojo Zaho and Nina Oyama.
Reuben Kaye Online
Digital Fringe: 28 November
The obscenely intelligent, beautifully filthy, and rib-crackingly funny, Reuben Kaye is gracing your screens in an explosion of high camp & filthy humour. See Reuben Kaye's live show, with full band, from the Edinburgh Fringe 2019 season, recorded live at Assembly Checkpoint.
SLIPSTREAM
Digital Fringe: 18 – 22 November
SLIPSTREAM is an experimental storytelling fusion of Dance, Cabaret, Performance Art & Theatre weaving past and present in a ritual reclaiming of the self from techno tracking and Viral contagions and into human tales from the intersectional travellers of time and place, nature and nurture in an essence personal expression. Starring Neville Williams Boney, Miss Tree & Glitta Supernova.
Take Over! 2020: I Miss You Antarctica
Digital Fringe: 19 & 26 November
The next r/evolution in Moira Finucane's globally acclaimed Art vs Extinction Suite – this austere and apocalyptic fever dream stitches live museum exhibition with submersive theatre and a mass-mortality event. Exploring grief, loss, isolation, stark beauty, deep time, ice melting and hope – at epic and intimate scale. You are invited into an imagined-Antarctica – the only place on earth with no permanent human habitation – to dream of a future together. Inspired by Finucane's recent trip to Antarctica to witness the majesty of what we have and what we can lose. I Miss You Antarctica is where mortality and hope collide. Make a penguin, mix a mojito and bring a bowl of ice.
Tomás Ford:… Come Have A Bath With Me
Digital Fringe: 14, 21 & 28 November
Run yourself a bath, set up a screen somewhere it can't electrocute you and join Perth cabaret cult icon Tomás Ford for an hour of bathtime fun. Live from a bath of his own, he'll serenade you with a collection of new songs designed for maximum wetness. He wrote this new show while cocooned in lockdown, so it features $2 shop drag, cheaply constructed punk songs, hand-drawn animation, and the best original synthy pop tunes this side of the Pet Shop Boys. He'll be broadcasting with a thousand semi-waterproofed webcams, damp cardboard greenscreens and a bag of costumes his Mum made for him.
---
The 2020 Melbourne Fringe Festival takes place 12 – 29 November. For more information and full program, visit: www.melbournefringe.com.au for details.
Image: Reuben Kaye (supplied)