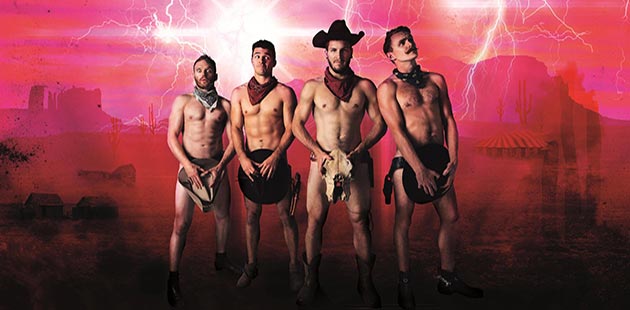 With over 455 boundary-pushing events from 2,718 participating artists across 140 venues, including the exciting new home of the Fringe Hub, Trades Hall, the 2019 Melbourne Fringe Festival runs 12 – 29 September. With so much on, the Australian Pride Network takes a look at twelve shows worth checking out:
Geraldine Hickey – Things Are Going Well
The Melba Spiegeltent: 12 – 14 September
Geraldine does things like mushroom hunting now, even though she doesn't really like mushrooms. Clearly things are going well. As seen and heard on RRR Breakfasters, MICF Oxfam Gala and ABC Next Gen. Don't miss your chance to see the sell-out hit of this year's Melbourne Comedy Festival. Get your tickets before they're gone!
Head First Acrobats: Railed
Wonderland Speigeltent – Federation Square: 12 – 25 September
Well known for their international sensation, Elixir – smash hit of 2018 and winner of Best Circus and Physical Theatre Award at Adelaide Fringe (along with a slew of sold-out shows all over the world) – the boys from Head First Acrobats premiere their latest high voltage offering, Railed, at this years' Melbourne Fringe Festival.
A Western-themed Circus Spectacular combining trademark physical talents, finely chiselled bodies, and impeccable comic timing, prepare yourself for a collision of bare-chested Circus and bare-knuckle bar fights. Directed by Debra Batton and John Walton, Railed is a racy, heart-stopping display of the finest acrobatics, leave your expectations at home, come to the wrong side of the tracks, and let the boys of Head First steal your hearts.
Lake Disappointment
Stables – Meat Market: 12 – 21 September
Who's your celebrity doppelgänger? Could you make a living impersonating them? How about being their stand-in on the set of a film? Kane is one of the world's biggest movie stars. And his body double is every bit as important, sharing more than just looks with his famous counterpart. But just how intertwined are their lives?
Directed by Gavin Roach (My Wife Peggy, The Measure of a Man) and featuring Tim Quabba, this one-person play of mirrors and mannerisms explores the strange world of the body double – it makes unique contributions to timeless theatrical concepts of images and representation. Written by two Australian theatre powerhouses, Lachlan Philpott and Luke Mullins, Lake Disappointment is an unusual new work about ego, self-fashioning, and illusions.
Let Me Show You My Hole
Stables – Meat Market: 12 – 28 September
As far back as Ali Choudhry can remember, he has always been for one reason or another, that guy on the outside looking in. He's always been that guy who wasn't quite included. Much of his personal work deals with identity through the use of portraiture. With this series, he wanted to explore this concept further in a more abstract way. Ali is a Melbourne based photographer, born in Pakistan, schooled in America and Canada, before moving back to Pakistan and eventually journeying to Australia.
twenty-something
Hares & Hyenas: 12 – 14 September
Gay & straight BFF's in their twenties, navigating early adulting and dating. What could go wrong? As told from the perspective of a gay, cis, white male. I'm sure you know the one. In its premiere Fringe season, twenty-something follows everyday friendship struggles and the terrifying idea of commitment in this semi-autobiographical, semi-coming-of-age, queer tale.
Along the same vein of Josh Thomas' Please like me or Issa Rae's Insecure, this is a stripped back exploration of the struggles of twenty-something's that seemingly never stop; of broken friendships, late nights and ghosting your dates.
Of trying to figure out life without a road map.
YUMMY DELUXE
Fringe Hub – Trades Hall: 12 – 29 September
After touring the globe, the legendary cabaret YUMMY is back in Melbourne! Join the ever fabulous and multi award-winning ensemble as they take you on the most delicious and unpredictable ride of your life.
YUMMY DELUXE is a mix of new acts and YUMMY favourites with some electric new group numbers. Winners of "Best Production" and "Best Ensemble" (Cabaret) at the 2018 Green Room Awards, YUMMY has become synonymous with breath-taking drag, music, circus, and burlesque. Come and join the stars of YUMMY as they lead a new wave of outrageous, joyful, and innovative cabaret.
Society
Wonderland Spiegeltent – Federation Square: 17 – 22 September
Fringe Hub – Trades Hall: 25 – 29 September
An opulent Adults Only evening inspired by the French Quarter of New Orleans, the ever elusive Circus Society now invite Melbourne audiences to their electric and flamboyant parade. Blending Cajun party culture, French exuberance, Creole voodoo, masquerade and breath-taking acrobatics.
Society serves up an extroverted lighting design and unique styled soundtrack featuring live and original 'nawlins' party tunes from dirty south hip hop, to the big easy jumping jazz numbers. An all alluring, all-encompassing onslaught on the senses, nothing is off limits in this indulgent Circus Cabaret.
The Will To Be
The Butterfly Club: 23 – 29 September
One lonely night in 1962, a young university lecturer weighs up his life. The career of his dreams is no more. His secret is out. Will he choose love or the law? In a time when homosexuality is illegal in Australia, a man of reputation must ask the everlasting question: 'to be or not to be?'
Written and performed by Mark Salvestro, The Will To Be is a one-man show exploring legacy, sexuality, and shame, married with the words of William Shakespeare and music of the 1960s. Does a life filled with fear and denial make for any life at all?
All I See Is You
Stables – Meat Market: 24 – 28 September
Bobby works on Woolies record counter. Ralph dreams of being a teacher. One kiss and they're hooked. But it's England 1967 and their love is illegal. Ciarán Griffiths (The Bill, Shameless) and Christian Edwards (Cyrano, Les Misérables) play two ordinary lads caught between lust, self-doubt and arrest. Can they defy the odds and find a way of being together?
This smash hit British show is a rollercoaster love story inspired by real accounts of queer life 50 years ago. It's won the UK National Octagon Prize and Brighton Fringe International Touring Award plus the Oscar Wilde Prize for Best New Writing and the Micheál Mac Liammóir Award for Outstanding Performances at the 2019 International Gay Theatre Festival in Dublin.
The Loneliness Project
Meeting Room – Meat Market: 24 – 28 September
We can all feel alone, but we rarely speak about it. Drawn from interviews conducted with people across diverse gender, sexuality, age and cultural backgrounds, The Loneliness Project explores what it is to feel lonely in an ever fluctuating world, which we struggle to keep up with.
A piecing together of recorded voices, musical score, and ambisonic soundscape, and composed specifically as an immersive, surround-sound piece; The Loneliness Project is a live art experience designed to run for 20 minutes for an intimate audience of 20. Individuals are invited to enter the auditory landscape by sitting, lying down, moving about the space and sharing the experience, in the hope that you… me… we, will no longer feel so alone!
Transgression
Stables – Meat Market: 24 – 28 September
Be sinful. Break the rules. Be authentic. And if you can't freely take a piss then take the piss freely out of those who hurt you. Transgression is the premiere show by human rights advocate, Jacob Thomas, that explores the lived experience of being gender diverse after Australia passed marriage equality.
Jacob is non-binary, a Queen's Young Leader and a human rights advocate, who was the interim-Coordinator of the Commonwealth Youth Gender & Equality Network. Jacob has represented the network at numerous international levels, including working with UN Women's Commission on the Status of Women and ECOSOC Youth forums in New York, the Duke and Duchess of Sussex in London and AIDS2018 in Amsterdam.
Your Silence Will Not Protect You
Stables – Meat Market: 24 – 28 September
Do you remember the panic attack you had the first, and only, time you fisted someone? Gavin does. And it was hilarious. Having tackled bullying and body image, language and love, acclaimed queer artist Gavin Roach has caved into demand and is finally offering up a more "happy" and "fun" show. This surely will not end well.
The third and final installment of The Anxiety Trilogy – Your Silence Will Not Protect You is a joyous and illuminating adventure about coming to terms with mental illness, navigating alcohol abuse and trying to figure out why the hell you didn't say something sooner.
The 2019 Melbourne Fringe Festival runs 12 – 29 September. For more information and full program, visit: www.melbournefringe.com.au for details.
Image: Thomas Gorham, Harley Timmermans, Cal Harris and Adam O'Connor McMahon star in Railed – photo by Frank Packer