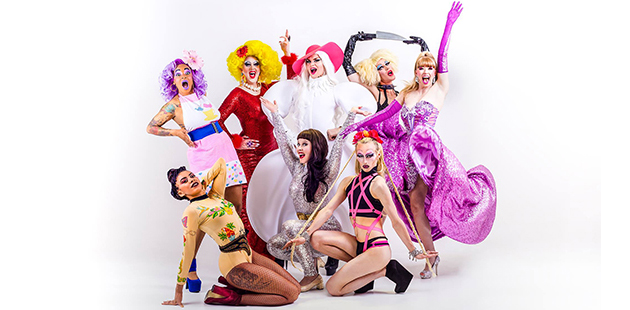 The 2018 Adelaide Fringe kicked off in spectacular style over the weekend, as North Terrace was transformed into a Parade of Light – an animated corridor of colour, light and wonder! With more than 1200 events on offer, the 2018 Adelaide Fringe program boasts another record number of attractions to delight, inspire and challenge audiences. With so much on offer, the Australian Pride Network takes a look at ten queer delights worth checking out:
A Visit With Nan In A Caravan
The Caravan – The Garden of Unearthly Delights: 21 February – 18 March
A few audience members – in one caravan – with three spiteful old grannies – for 15 minutes. Australia's most irreverent grannies; Edith Vale, Maureen McGillicuddy and Caroline Springs have been travelling around Australia, and they want to tell you all about it. These nasty old ducks won the Golden Gibbo award at the Melbourne International Comedy Festival and they're thrilled to be taking their caravan cross country to treat Adelaide to one of the most intimate shows you'll ever see. Fair warning – getting intimate with these ladies may offend a delicate nose.
BI-CYCLE
A Space Called Thelma – Raj House: 20 – 25 February
Soulful, sweaty and fun. This fourth-wall-spinning solo performance tells the story of one of the most unique characters to hit the Adelaide stage. Written and performed by Sam Anderson (Canal Rd, Drown, Underbelly Two). BI-CYCLE invites you to sign-up for the most exciting spin class you'll ever take!
Blonde Bombshell
Corona Theatre – The Garden of Unearthly Delights: 5 – 11 March
Australia's Crown Prince of Comedy, Joel Creasey, has whored himself across Australian TV screens from comedy galas, panel shows, celebrity interviews and even the depths of the African jungle. He is the protégé of the late great Joan Rivers, and this past year alone presided over commentary duties at Eurovision, released his first memoir, won GQ Comedian of the Year, made his debut in a TV drama… and played a slut on Neighbours. Strap yourselves in for a night with this blonde bombshell as he slices, dices, sasses and smashes celebrities, pop culture and himself. As Joel's rule always stands… anyone not in the room… is a target!
Granny Flaps – Hanging Out
Various Venues: 2 – 10 March
Adelaide's dirty little secret is back and this time she's coming to you! Join the ukulele toting grandma on her latest life journey through love, lust and body parts. A night of side-splitting comedy that will have you slipping off your seat. Just don't sing along! Lori Bell is an Adelaide based, award winning comedian. She has just finished an Australian tour of State Theatre's Popular Mechanicals and recently starred in the ABC TV show Lost in Pronunciation.
Lucky: Songs By Kylie
The Box – The Garden of Unearthly Delights: 5 – 18 March
Helpmann award winner Michael Griffiths explores the songs, stories and locomotion of our very own impossible princess, Kylie Minogue. Put your hand on your heart and step back in time, Kylie wouldn't change a thing! Winning the Helpmann Award for Best Cabaret Performer in 2016 for his Cole Porter tribute, Michael's one man cabaret shows In Vogue: Songs By Madonna, Sweet Dreams: Songs By Annie Lennox and Adolescent have delighted critics and audiences across every cabaret festival in Australia and beyond – receiving 5 star reviews and standing ovations.
Parade of Light
North Terrace: continues to 18 March
For every night of the 2018 Adelaide Fringe, North Terrace will be transformed into a Parade of Light – an animated corridor of colour, light and wonder! The Parade of Light will feature architectural projections and breathtaking laser displays from illuminart, Electric Canvas and Dan Acher which will create an interactive passageway between the East End and Riverbank precincts of Adelaide.
PO PO MO CO
A Space Called Thelma – Raj House: 6 – 18 March
Embracing all things queer and queer allied, PO PO MO CO have been wreaking havoc across the country with stupidity firmly in mind – creating neo-vaudeville shows, grounded in slick and saucy contemporary clowning. Now it's Adelaide's turn to get all queered up as shameless ass puppetry is front and centre in this hilarious cheeky horror show created by a risque troupe of queer clowns. Audiences will shriek, gasp and shout 'He's behind you!' in what is the campest, vampest, adults-only show this side of Uranus.
Rouge
The Octagon at Gluttony – Rymill Park: 20 February – 18 March
A decadent blend of sensational acrobatics, operatic cabaret and tongue in cheek burlesque. This is a non-stop celebration of the astonishing, the surprising and the downright sexy, Rouge is circus for grown ups. This brand new adult circus cabaret from the creators of Australian circus cabaret sensation Papillon! – Rouge is set to take the world by storm.
Show Pony
Campanile – The Garden of Unearthly Delights: continues to 18 March
Best known for his razor-sharp, fast-paced and hilarious live shows, Nath Valvo's charm and brutally honest confessions are winning him fans across the globe, including TV superstar Graham Norton, who recently tweeted his fandom to his millions of twitter followers. Now, the complete show-off is asking the big questions. Should I get married? Should I donate sperm? Why do night markets exist? Why do people play mixed-netball? How the hell do you pronounce acai bowls?
YUMMY
The Box – The Garden of Unearthly Delights: continues to 4 March
The Melbourne powerhouse of drag, dance, circus, and music, YUMMY has been serving smash-hit events at numerous festivals including Melbourne's Midsumma and the Sydney Gay and Lesbian Mardi Gras. Directed by James Welsby (Briefs, Glory Box) the show features Karen From Finance, Valerie Hex, Jandruze, Beni Lola, Hannie Helsden, Benjamin Hancock and Joni in the Moon. Absurd, fascinating and outrageous!
The 2018 Adelaide Fringe continues to 18 March. For more information, visit: www.adelaidefringe.com.au for details.
Image: YUMMY (supplied)