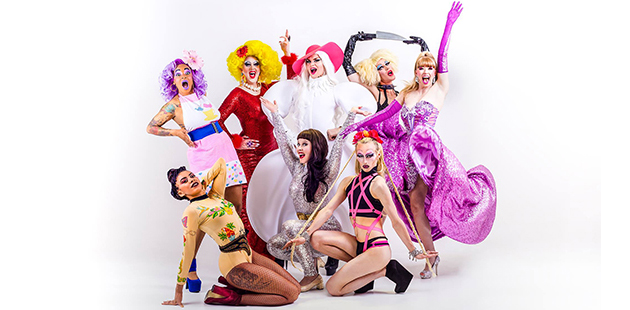 Now in its 31st year, the 2017 Melbourne International Comedy Festival kicks off tonight with a program that includes more than 540 shows taking place in over 100 venues and featuring over 2,000 performers. With so much on offer, the Australian Pride Network takes a look at a selection of shows worth checking out:
All The Songs I Can't Sing
Tasma Terrace: continues to 8 April
Gavin can't sing. Well, maybe. He sometimes hits the notes. Rarely though. He's tone deaf and has no concept of pitch. Nor does he have any appealing vocal quality. But dammit, that's not going to stop him from trying. Marking the Melbourne International Comedy Festival debut of the critically acclaimed Gavin Roach, All The Songs I Can't Sing is a celebration of one man's limitations and his yearning to take to the stage and share with an audience all the songs that have touched his soul.
A Visit With Nan In A Caravan
The Caravan – Trades Hall: 30 March – 23 April
Five audience members ­– in one caravan ­– with three spiteful old grannies ­– for 15 minutes. Australia's most irreverent grannies Edith Vale (Thomas Jaspers), Margaret River (Kyle Minall) and Caroline Springs (Scott Brennan) have been travelling around Australia, and they want to tell you all about it. These nasty old ducks have been entertaining throngs of people at their monthly comedy night 'Granny Bingo' and are thrilled to be bringing an actual caravan to Trades Hall to create a more intimate show. Fair warning – getting intimate with these ladies may offend a delicate nose.
Craig Hill: Up and Coming! (UK)
Chapel Off Chapel: 18 – 23 April
After 16 sold-out years at the Edinburgh Fringe and hot on the heels of last year's sell-out Australian tour, your favourite jet-fuelled kilty pleasure shoots back to Melbourne like a rocket full of fun! Craig is certainly 'up' and most definitely coming, so book early!
DeAnne Smith: Post-Joke Era (CAN)
Taxi Riverside: 30 March – 23 April
This Canadian/American, Barry-nominated gentleman elf returns with the intelligence, spontaneity and sideswipe punchlines you love her for. It's hard to stay positive in a world filled with misogyny, racism and rising nationalism but gosh darn it if we ain't gonna try! As seen on NBC, CBS, ABC and Comedy Network. The comedy you need when the world is a joke.
Gillian Cosgriff: 8 Songs in 8 Weeks
The Butterfly Club: 29 March – 9 April
Award-winning musical comedian Gillian Cosgriff sets herself a challenge to write one song a week for eight weeks, to combat her extreme procrastination. Proof of each song's completion must be presented by midnight on Sunday of each week and you are invited to follow along via #8songs8weeks on the social medias. This show is a fascinating insight into comedy and songwriting and gives the audience hot behind the scenes access into the method and madness of the creative process.
Hannah Gadsby: Nanette
Melbourne Town Hall: 30 March – 23 April
In this past year Hannah has decided to embrace solitude, determined to see what harvest may come from nurturing her left field life. And what a strange little harvest, as her new show Nanette will attest. As one of Australia's most applauded and beloved comedians, don't miss your chance to be spellbound by the inner workings of Hannah's unique mind.
Isaac Lomman: Comedy Hypnosis! Entranced
Athenaeum Theatre: continues to 23 April
See the show or be the show in this hypnotic experience. Audience volunteers become the stars of the show going on an hilariously entrancing journey through the power of their unconscious minds. No one is forced on stage as Isaac only works with volunteers who want to be hypnotised from the audience – first on stage become the stars of the show. With a 100% audience participation show, each show is naturally different to the last.
Joel Creasey: Poser
Max Watts: 30 March – 23 April
Australia's Crown Prince of Comedy, Joel Creasey, returns with his brand new show Poser. In 2016, Joel's show sold out around Australia and played to packed houses in New York, Montreal and Los Angeles. He also whored himself across Australian TV screens from comedy galas, panel shows, celebrity interviews, the depths of the African jungle, and will soon be seen hosting Eurovision for SBS.
Kirsty Webeck: Good One
Imperial Hotel: 29 March – 9 April
Described as the "hottest new name on the comedy circuit" (LOTL), Kirsty Webeck has been delighting sold out audiences across the country with her cheerful comedy that always punches up. Now she's back for her third year running at Melbourne International Comedy Festival with her hilarious, brand-new stand-up show tackling what it means to be a good person.

Nath Valvo: Not In This House
ACMI Studio: 30 March – 23 April
Bored parents, scary sex, weird chest hair, swallowing prawn crackers, hating friends who are buying houses, lying to his boyfriend and pretending to like cool music. Being Nath Valvo is exhausting. Not in This House is the follow-up show to Nath's incredible 2016, which saw him storm the Melbourne Comedy Festival TV Gala, host the ABC's Comedy Up Late program, headline the Sydney Opera House's Just For Laughs Gala, record his debut TV stand-up special and be nominated for Best Newcomer at the world's biggest comedy festival, the Edinburgh Fringe.
Rural Ranga & Strawberry Siren: Wank Bank & Pussy Play
The Butterfly Club: 29 March – 9 April
Rural Ranga and his cousin burlesque legend Strawberry Siren join forces to bring you a "stimulating and possibly life-changing show" (Broadway Baby, UK). Informative, interactive and playful masterclasses of original techniques to perfect the art of handling your partner's pleasure bits (or even your own). As seen on ABC's Luke Warm Sex, Gogglebox and triple j's 'Hack'. Week 1 (to 2 April) – Wank Bank. Week 2 (3 – 9 April) – Pussy Play.
Soap
The Coopers Malthouse: 30 March – 22 April
The indisputable hit of the Adelaide Fringe and after sell-out seasons at Sydney Opera House and Brisbane Festival, returns to Australia in 2017 to delight Melbourne audiences with its striking originality. Immediately enthralling and accessible for all ages, SOAP is an intelligent and splash-filled fusion of contemporary circus, comedy, physical theatre and cabaret. A dazzling range of water-soaked routines performed to an exciting and eclectic soundtrack delivers 70 minutes of genuine showmanship with seemingly effortless grace.
The Sparrow Men: Murder on the Pacific Diamond
The 86: 13 – 23 April
There's been a murder, and it's up to you to solve it! The Sparrow Men (Marcus Willis & Andy Balloch) play all the guests, entertainment and staff of luxury cruise liner 'The Pacific Diamond', aboard which the star attraction, Dame Elizabeth Heinrich, has just been murdered! Solve the case in this hilarious choose-your-own-adventure for the whole family, where the audience gets to play detective!
Tom Ballard: Problematic
Melbourne Town Hall: 30 March – 23 April
Tom Ballard doesn't like to brag, but he is desperate for validation, so let's talk about his achievements. 2016 brought him nominations for Best Show at both the Melbourne International Comedy Festival and the Edinburgh Festival Fringe, aka the two biggest live comedy awards in the world. He also nabbed the inaugural Pinder Prize. Don't miss seeing one of the country's most exciting and insightful voices live onstage as he tackles everything from PC to outrage culture to race relations. A funny show about whether anything can be funny anymore.
YUMMY
Melba Spiegeltent: 12 – 22 April
Serving up a delectable powerhouse team of drag, circus, dance, and burlesque performers, YUMMY makes its Melbourne International Comedy Festival debut. Having become something of a phenomenon, offering drag cabaret that grew out of the alternative drag and neo-burlesque scenes in inner Melbourne, it's set to leave its mark on Australian cabaret history. Directed by James Welsby (BRIEFS, Finucane and Smith), YUMMY features Karen From Finance, Tanzer, James Andrews, Beni Lola, Hannie Helsden, Benjamin Hancock, Valerie Hex, and Zelia Rose, and some surprise special guests.
The 2017 Melbourne International Comedy Festival runs 29 March – 23 April. For more information, visit: www.comedyfestival.com.au for details.
Image: YUMMY (supplied)