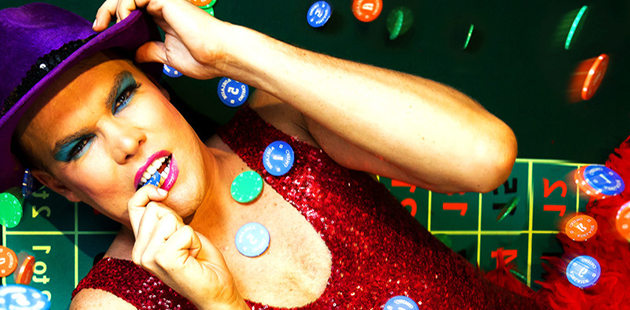 Now in its 57th year, the Adelaide Fringe has become the Southern Hemisphere's largest open access arts festival! With more than 1100 events, featuring more than 5250 artists, the program boasts another record number of attractions to delight, inspire and challenge audiences. With a blessing of unicorns, and so much on offer, the Australian Pride Network takes a look at twelve queer delights worth checking out:
Beccy Cole with Libby O'Donovan and Special Guests
MainStage at LIVE on 5 – Adelaide Oval: Friday 10 March
Beccy Cole is the real deal, a working mother, a comedienne, a multi instrumentalist, an author, a passionate supporter of Aussie rules Football and as honest, funny and genuine in real life as she comes across on stage. Her ability to laugh at herself and write her songs and stories with such brazen truth is refreshing. Her live show has an indelible impression. Joining her on stage for this one performance show is Libby O'Donovan and other special guests! Imagine listening to them perform as the sun sets behind the Adelaide Oval.
Club Briefs
Royal Croquet Club: 22 February – 5 March
Cult cabaret hooligans and mischief-makers Briefs present a wild romp of disco dancing, circus, variety, and burlesque featuring a hand picked selection of guests from all over the Adelaide Fringe. The Briefs Factory is an Australian creative collective who manufacture, cultivate and present evocative physical performance, paying homage to the traditions of circus, the extremities of physical theatre, the artistry of drag, the guts of burlesque, the imagery of theatre, the debauchery of speakeasies and the showmanship of cabaret. Experience for yourself the club night that spawned the international hit Briefs.

Dolly Diamond: The Lady is a Tramp
The Speakeasy at Gluttony: 21 – 26 February
Dolly Diamond premieres at the Adelaide Fringe Festival with tales of her life, loves and lascivious behaviour. This UK comedy cabaret diva sings live, combining comic timing with a razor sharp wit. She is an audience favourite from Melbourne to Mandurah and back again. Dolly's new show features this cabaret diva romping through a collection of well-known songs with a cabaret twist as she changes lyrics to tell her own story and to poke fun at a multitude of others.
Elixir
The Peacock at Gluttony: 21 February – 18 March
Fresh from their sold out, award winning tour of the United Kingdom, Head First Acrobats are back in Australia with their internationally acclaimed show Elixir. They've delighted audiences all over the world and are ready to take Adelaide by storm. Follow three (very handsome) scientists as they attempt to create the elixir of life and escape from trouble in the ensuing circus madness. It's uninhibited, it's bold and it's hilarious. Acrobats fly 5 metres into the air on the teeterboard, spin upside down on the mesmerising roue cyr wheel, perform incredible one arm handstands and balance on their heads on a swinging trapeze. Can't picture it? Come brave it yourself.
Hannah Gadsby: Nanette
The Factory at The Garden of Unearthly Delights:21 – 26 February
Hannah is an award-winning Australian comedian who thinks quickly and moves slowly. She is sardonic, laconic and, after numerous bone crunching accidents, bionic. Her droll delivery, delightful wordplay and heartbreakingly funny, self-deprecating observations have delighted audiences all over the world. This show was inspired by a woman who goes by the name Nanette. Although we did not exchange a single word or even a glance, Nanette has changed my life. She hasn't at all, but she did prompt me to think about some things and those things I thought have become this show.

Hans: Mein Camp
The Octagon at Gluttony: 21 February – 5 March
In this world of political and social upheaval, only one German has what it takes to turn things around. Boozier than Oktoberfest, more drive than a Volkswagen and with more sausage than a Bratwurst convention, Hans comes armed with his accordion, hot pants and razor sharp wit and is ready to save the day with a swag full of pop hits.
Nath Valvo: Not in this House
Campanile at The Garden of Unearthly Delights: 21 February – 19 March
Bored parents, scary sex, weird chest hair, swallowing prawn crackers, hating friends who are buying houses, lying to his boyfriend and pretending to like cool music. Being Nath Valvo is exhausting. Not in This House is the follow up show to Nath's incredible 2016, which saw him storm the Melbourne Comedy Festival TV Gala, host the ABC's Comedy Up Late program, record his debut TV stand up special and be nominated for Best Newcomer at the world's biggest comedy festival, The Edinburgh Fringe.
On One Condition
Tandanya Theatre: 22 – 26 February
Growing up in rural South Australia, Dan Daw first set foot on the stage when he was 12. Knowing no limitations, he then went on to forge an international career in London. Now 33, Dan takes time to reflect on the rollercoaster ride that has led him here… Drawing on stories from Dan's lived experiences, On One Condition asks us to question our own perceptions of normal while offering a bare bones, stripped back look at the world we live in. We invite you into Dan's childhood home and on a journey overseas to share in one man's undying search for perfection, as he attempts to hold the world on his shoulders in all its beauty and grotesqueness.
Reuben Kaye: Success Story
Le Cascadeur – The Garden of Unearthly Delights: continues to 19 March
Reuben Kaye: Success Story is in no uncertain terms, his original story to becoming the gay superhero necessary for the modern age. Described by the British Theatre Guide as "the evil love child of Liza Minelli and Jim Carrey" – Kaye sweeps his audience away on a journey from tears to hysteria. Beautifully filthy, obscenely funny and with the voice of a fallen angel, Reuben Kaye is what happens when you tell your children they can be anything. With costumes that would give Liberace a haemorrhage, the world premiere of Reuben Kaye: Success Story is an explosion of sequins, lashes and haute-couture humour.
Scorch
Holden Street Theatres: continues to 19 March
For those who don't feel like they're in the right life the web is a place to be yourself. 'Happiness. Aching, constant, consuming – on there it's more real than real life. I'm honest on there. I'm being honest. That's important.' Out in the real world though, things can be very different. A story of first love through the eyes of a gender-curious teen, Scorch examines how the human story often gets lost amidst the headlines. Inspired by recent court cases, Scorch has been awarded a Scotsman Fringe First and Best New Play at the 2015 Irish Times Irish Theatre Awards.
Seen & Heard
The Henry Austin: 7 – 19 March
Strippers speak, musicians muse and drag queens dare to share. Hosted, curated and directed by burlesque artist and storyteller, Becky Lou, Seen & Heard will feature a line-up of some of Australia's finest variety artists doing what they do best, as well as sharing true tales of their lives behind the limelight.

The Chemsex Monologues
The German Club: 7 – 19 March
Explicit, funny and touching, The Chemsex Monologues displays a realm that is sometimes dark but populated by very real, loveable people. A nameless narrator meets a sexy boy on a Vauxhall night out, who introduces him to G's pleasures; a club night poster boy gets taken to Old Mother Meth's place by a porn star; Fag Hag Cath is finding the chillouts have become more about the sex; Daniel is a sexual health worker who does community outreach in the saunas; and the nameless narrator meets up with his sexy boy again. Direct from multiple sell-out runs in London, The Chemsex Monologues makes its international debut at the Adelaide Fringe.
The 2017 Adelaide Fringe continues to 19 March. For more information, and complete program, visit: www.adelaidefringe.com.au for details.
Image: Hans stars in Mein Camp (supplied)