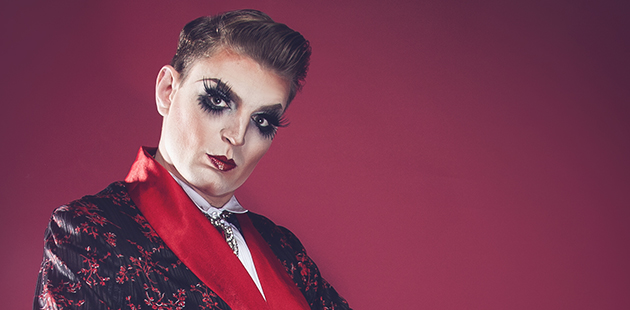 Over 16 days and nights, Adelaide Cabaret Festival Artistic directors Ali McGregor and Eddie Perfect have served up a program of 430 artists in 147 performances. Discover new venues and old friends and expect to feel upturned, challenged and delighted by incredible performers that could change your world view. The Australian Pride Network takes a look at 12 shows worth checking out:
Alan Cumming Sings Sappy Songs
Her Majesty's Theatre: Sunday 11 June 2017 – 4.00pm / 8.00pm
Named one of the most fun people in show business by Time Magazine, Olivier and Tony Award winning actor, singer and author Alan Cumming makes his Cabaret Festival debut with his raucous one-man show – a wildly entertaining mix of intimate stories from the sentimental to the sassy and witty reinterpretations of pop songs and stage classics. Inspired by his infamous Club Cumming in his dressing room during the revival of Cabaret on Broadway, joining him on stage for a night of irreverent humour and mischief-making is long-time collaborator and Emmy Award winning musical director Lance Horne and band.
Catherine Alcorn: Cathartic
Space Theatre: 23 & 24 June 2017
Catherine's intimate new show sizzles with craftily concocted interpretations of songs by our decade's demigods that boldly blur between rock and rap, blues and bluegrass, Blondie to Beyonce. Backed by a smoking-hot trio who lend intricate instrumentation and velvet harmonies to her voluptuous voice and killer wit. A masterclass in song interpretation.
Kim David Smith: Morphium Kabarett
Magic Mirrors Spiegeltent: 17 & 18 June 2017
It's David Bowie meets Marlene Dietrich with a little Peter Allen on the side: Kim David Smith conjures the glitter, doom and decadence of 1920s Berlin with a cabaret fantasia that pitches the music of Hollaender, Weill and Spoliansky up against Kylie Minogue and The Supremes. Perfect voice. Perfect body. Perfect entertainment.
Le Gateau Chocolat: Black
Dunstan Playhouse: 22 & 23 June 2017
A musical phenomenon, Le Gateau Chocolat is renowned for his drag shows and contemporary opera performances. This Nigerian cabaret legend has given show-stopping performances across the globe including at the Queen's Jubilee, the Royal Opera House, La Clique and La Soirée. In this intimate and confessional show, Le Gateau Chocolat's repertoire ranges from Wagner and Purcell to Nina Simone and Whitney Houston to relate his hopes, his fears and his struggle with depression.
Lucky: Songs by Kylie
Space Theatre: 10 & 11 June 2017
First Madonna. Then Annie Lennox. Now, Helpmann Award-winner Michael Griffiths and writer/ director Dean Bryant reunite to explore the songs, stories and locomotion of our very own impossible princess, Kylie Minogue. Backed by a three-piece band, Michael gives a five-star ride to all the songs you can't get out of your head. Put your hand on your heart and step back in time.
Meow Meow: Souvenir
Her Majesty's Theatre: 17 & 18 June 2017
Global audiences have been hypnotised, inspired and terrified by her 'kamikaze cabaret'. Now, it's our turn once more to surrender to the sultry charms of actress, singer, dancer and diva, Meow Meow, whose previous genre-busting collaborations include Pink Martini, Barry Humphries, Amanda Palmer, the Dresden Dolls, and symphony and philharmonic orchestras. For this exclusive performance, Meow Meow joins forces with the Orchester der Kleinen Regiment to summon the ghosts of Her Majesty's Theatre, past, present and future.
Michael Feinstein
Her Majesty's Theatre: Friday 23 June 2017 – 2.00pm / 7.30pm
Five-time Grammy, two-time Emmy nominated Ambassador to the Great American Songbook, Michael Feinstein returns to Adelaide Cabaret Festival to perform a stunning tribute with a 17 piece big band. Paying tribute to Frank Sinatra and his friends, Feinstein will draw on inspiration from his own close personal friendships such as Liza Minnelli, Ella Fitzgerald, Peggy Lee, Rosemary Clooney, Sammy Davis Jr, and many others – allowing him to offer a very different perspective and point of view in this dazzling celebration of the era.
Naomi Price: Lady Beatle
Dunstan Playhouse: 10 & 11 June 2017
Starring one of Australia's leading cabaret and theatre performers – Naomi Price (The Voice Australia) – who wowed audiences as Adele in Rumour Has It last festival. This fantastical tale, grown out of real stories, is about a woman who inspired The Beatles' biggest hits, including Eleanor Rigby, Penny Lane and Yesterday. Get back to this magical mystery tour through their immortal catalogue, re-imagined and reinterpreted with scintillating original arrangements performed by this world-class vocalist and a band of Australia's top musicians.
Reuben Kaye: Journey to the Centre of Attention
Artspace: 23 & 24 June 2017
He's been described as obscenely intelligent, beautifully filthy and rib-crackingly funny… by himself, naturally. Because where vanity meets desperation and self-awareness meets a brick wall, that's where you'll find Reuben Kaye. After travelling the world from spiegeltent to spiegeltent, drink to drink and man to man, the winner of Best Cabaret in the 2017 Adelaide Fringe and star of London's infamous home of cabaret, Café De Paris, relates his rise from the butt of school bullying to gay superhero in defence of a world gone completely insane.
Ryan Gonzalez: iHispanic Attack! 
Artspace: 14 & 15 June 2017
As a singer, dancer, telenovela star, three-time Eurovision Song Contestant and seven-time Latin Grammy nominee, Ryan Gonzalez's idol life is a blur of ladies, parties and pomade. After the sudden cancellation of his arena tour, the superstar has consented to bring his legendary Hispanic passion to Cabaret Festival. This extra-special, up-close-and-personal show features music from Latin legends including Gloria Estefan, Enrique Iglesias, Jennifer Lopez and even Ryan's former Menudo bandmate (and now sworn enemy) Ricky Martin.
Strange Bedfellows
Artspace: 22 – 24 June 2017
Their last outing earned a Green Room nomination at the 2015 Melbourne Cabaret Festival and some time in a padded cell. So, flouting all medical and legal sanctions, the Strange Bedfellows have fled the nuthouse for the asylum of centre stage. Underfunded, over-lubricated and outrageous, opera's enfants terribles Kanen Breen and  Jacqueline Dark present more lithium-laced musical shock therapy backed by Daryl Wallis on keyboard. You won't believe what notes – and words – come out of their mouths. Miss this and you're as crazy as they are.
Tapestry: The Songs of Carole King
Dunstan Playhouse: 23 – 24 June 2017
Carole King is revered as the most successful female songwriter in pop history. Her masterpiece, Tapestry, still stands as one of the world's best-selling albums. Now, 46 years after its release, it's been re-imagined as the centrepiece of this concert performed by two of Australia's most loved and admired vocalists, Vika Bull and Debra Byrne. With its string of mega-hits, I Feel the Earth Move, You've Got A Friend, (You Make Me Feel Like) A Natural Woman and It's Too Late, Tapestry was number 1 on the Billboard chart for 15 weeks and sold over 25-million copies worldwide.
The 2017 Adelaide Cabaret Festival continues to 24 June. For more information, visit: www.adelaidecabaretfestival.com.au for details.
Image: Reuben Kaye – photo by Ayesha Hussain