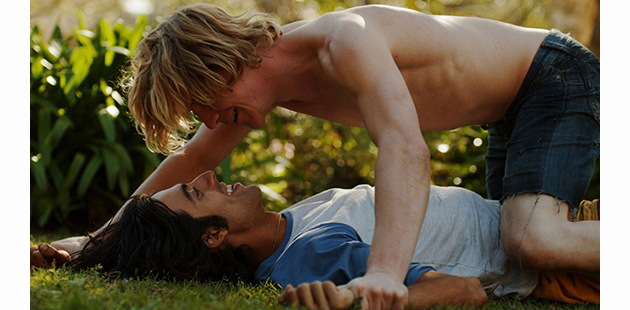 Now in its 63rd year, the 2016 Sydney Film Festival kicks off tonight presenting 244 films from 60 countries including 25 world premieres, representing hundreds of fresh perspectives and new stories from across Australia and around the world. The Australian Pride Network takes a look at some of the queer delights to be found within the program.
Being 17
Two boys explore their confusing but undeniable attraction to each other in this drama by French master André Téchiné, set in the stunning landscapes of the Pyrenees. More than two decades after his now classic gay-awakening drama Wild Reeds, veteran Téchiné has made one of his most accomplished and youthful films yet. (France)
Closet Monster
Flashes of horror and a talking hamster voiced by Isabella Rossellini elevate this idiosyncratic Canadian gay coming-of-age tale well above this familiar genre. Blessed with inventive streaks of magical realism, an explosive soundtrack and a masterful sense of visual storytelling, Closet Monster establishes 26-year-old Newfoundland filmmaker Stephen Dunn as a talent to watch. (Canada)
Desde allá
'Desde allá' translates to 'from afar', a title that aptly captures the literal and figurative distances that characterise this impressive debut feature from director Lorenzo Vigas. Wealthy, closeted Armando cruises the streets of Caracas looking for young men to pay for look-but-don't-touch sexual activities. When one of these clients assaults and robs him, he decides to track him down rather than report the incident. (Venezuela)
Lovesong
Indie darling Jena Malone and rising star Riley Keough shine in this exploration of the ambiguous close bond between a lonely soft-spoken woman and her free-spirited friend. Filmmaker So Yong Kim skilfully uses naturalism and minimalism to capture intimacy and express unspoken, sometimes unformed emotional truths. Summoning beautiful performances from her actresses, she has crafted a bittersweet, elliptical love story about muted desire and the grey areas that can define a relationship. (USA)
Neon Bull
A Brazilian rodeo worker dreams of designing fabulous frocks in this sensual and evocative Brazilian film, winner of a Special Jury Prize at the Venice Film Festival. Director Gabriel Mascaro's wildly sensual widescreen scenes conjure colour and beauty in a macho world of muscle and sweat, dust and dung. Challenging gender norms, Neon Bull celebrates the unsung poetry of manual labour, the primal link between man and beast and the transformative power of art and creativity. (Brazil)
Presenting Princess Shaw
An unlikely viral sensation is born when YouTube mash-up artist Kutiman encounters a troubled New Orleans singer, in this uplifting documentary from Israeli director Ido Haar. By day, Samantha, a.k.a. Princess Shaw, works in an old people's home. By night, she writes, records and posts songs on the Internet. Her heartfelt unaccompanied lyrics reveal a difficult past and an uneasy present. (Israel)
The Queen of Ireland
An uplifting documentary about Ireland's superstar drag queen Panti Bliss as she rises from 'giant cartoon woman' to one of the highest-profile activists in the LGBTIQ community. Within mainstream media, Rory O'Neill and his drag alter-ego Panti Bliss are commentators on the fringes, standing on the outside, looking in and saying the unsayable. Five years in the making, Conor Horgan's documentary follows Rory's journey of self-discovery against the backdrop of Ireland's 2015 referendum on marriage equality. (Ireland)
Spa Night
A young Korean-American attempts to define his cultural and sexual identity in Andrew Ahn's perceptive debut, which invites viewers into a community rarely portrayed on screen. Introducing a bold new talent in writer-director Andrew Ahn, Spa Night subtly explores an immigrant family's dreams and the overlap of personal desire, regret and sense of tradition. (USA / South Korea)
Strike a Pose
25 years after the controversial documentary In Bed with Madonna, the 'Blond Ambition' dancers – now out of the celebrity spotlight – are re-united and re-exposed. 'Blond Ambition' highlighted the pop star's commitment to gay liberation and the fight against AIDS. The good-looking troupe became poster boys for the cause. Now, the surviving performers discuss the fallout from the 1990 film, their lives post-Madonna, and painful, long-buried secrets, in this candid and tender documentary. (Netherlands / Belgium)
Teenage Kicks
In this powerful new queer Australian drama, 17-year-old Miklós navigates the many minefields of adolescence and sexuality, in the wake of a family tragedy. Teenage Kicks beautifully captures this whirlwind period in Miklós' life, dealing with themes of guilt, friendship, cultural and familial loyalty, and burgeoning sexuality. Craig Boreham's unique voice is an exciting addition to Australian queer cinema. (Australia)
The 2016 Sydney Film Festival runs 8 – 19 June. For more information and complete program, visit: www.sff.org.au for details.
Image: Teenage Kicks