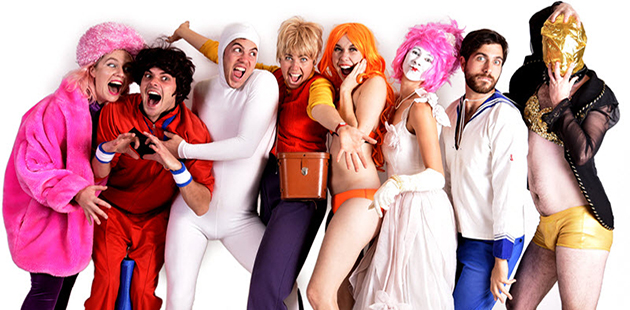 Now in its 34th year, Melbourne's longest running and most popular independent arts festival once again takes over the City and surrounds in a spirited celebration of cultural democracy and art for everyone. With more than 400 events on offer, the Australian Pride Network takes a look at ten queer delights in this year's Melbourne Fringe program.
5 Lesbians Eating a Quiche
Lithuanian Club: 24 September – 1 October
It's 1956 and the Cold War is at its peak, but even the threat of nuclear annihilation won't stop the charming widows of the Susan B Anthony Society For The Sisters Of Gertrude Stein from getting together and celebrating their annual Quiche Breakfast. 5 Lesbians Eating A Quiche is the uproarious, award-winning, Off-Broadway smash, about sisterhood, community, and the best way to eat a quiche: deliberately and face first.

Cosmonaut
Arts House: 16 September – 1 October
A show about love, relationships, broken hearts, male feminists, and what happens when Cosmopolitan magazine becomes your guide in love. Cosmonaut is set to be another provoking, challenging, heartbreakingly beautiful show from New Orleans-based actor, writer and director, Ryan Good – whose previous solo show at the Adelaide Festival Fringe, Sex With Animals at the Garden of Unearthly Delights, was nominated for a Best Comedy Award.
GAYBIES: We Are Not A Hypothetical
Queensbridge Square: 27 September – 3 October
From world-renowned photographer Jez Smith, NYC-based artist/Ford model Casey Legler and the team behind controversial film, Gayby Baby – comes a public photo exhibit. Displayed on a large shipping container at Melbourne's Queensbridge Square for the 2016 Melbourne Fringe, the public will be engaged in a conversation about 'what makes family' in today's Australian society.
Larry Paradiseo & The Fabulous Dame Farrar
National Theatre: 23 September
A one woman show on steroids. Written and performed by Carita Farrer Spencer and her piano accompanist. A cabaret tour de force, Carita brings you her alter-egos… theatrical cyclone The Fabulous Dame Farrar and International sex symbol Larry Paradiseo in this world class Double Act (with herself).
Mama Alto: Extravaganza
Lithuanian Club: 16 – 23 September
Acclaimed jazz cabaret diva, returns to Melbourne Fringe for an extravaganza of luscious vocals, sumptuous song and delicious storytelling. Her unique and idiosyncratic voice interprets poignant torch songs, lush ballads and scorching blues standards, accompanied by musical directress extraordinaire Miss Chief on a variety of instruments. Fierce, femme and fabulous, Mama Alto subverts the dominant and affirms the marginalised through song and storytelling.
PO PO MO CO
Hares & Hyenas: 15 – 17 September
Melbourne darlings of weird comedy put their best material into one wild hour for three nights only. PO PO MO CO aka Post Post Modern Comedy redefine the comedy night, by dosing up on theatrical flair and artistry. Audiences must expect the full gamut – contemporary clown, neo burlesque, performance art, sketch comedy, character guises, cult vaudeville, seething parody, drag, menacing mask work and political satire.
Super Musician by Die Roten Punkte
Gasworks Arts Park: 21 & 22 September
Fresh from supporting Amanda Palmer at The Roxy in LA, the Prince and Princess of the Berlin Underground Indie rock and Europop scene are set to tour Australia! Astrid and Otto are Die Roten Punkte (The Red Dots). Orphaned as kids, the brother and sister duo found shelter in a Berlin squat and never rockin' well looked back. A wild, rock 'n' roll cabaret ride, full of hilarious, truly catchy and award winning pop songs, constantly interrupted by the squabbling of the dysfunctional siblings.
Tina Del Twist – Gold Class
Arts House: 24 September – 1 October
Loved by audiences and critics alike, this gin-soaked velvet draped madame has been described as the lovechild of Dame Edna and Amy Winehouse. Tina was the cherub and comrade to the likes of Judy Garland, Bette Davis, Marilyn Monroe… But she never quite made it to be a household name. Or did she? In Tina's eyes, she did. She was there, and is still here to tell the tale. Not their tales though. Hers. With a voice as smooth as honey, a comedic wit that could shred brie, and backed by a guitar maestro, you will have a ball enjoying the talents of Tina Del Twist.
William Elm: Cocoon
Hares & Hyenas: 29 September – 1 October
Exploring the depths of contemporary queer psyches through original compositions of instrumental music, Cocoon is an internal journey exploring themes of hope and detachment, of discovery and loss, of love and self and of self-love. Join instrumental wunderkind William Elm for this intimate chamber cabaret.
YUMMY Up Late
Arts House: 29 September
A deliciously twisted cabaret of queer-lesque delights. James Welsby (BRIEFS, The Burlesque Hour), presents a mouth-watering camp cabaret of non-stop pop, colliding high fashion, avant-garde drag, enthralling dance, circus and music. YUMMY will have your taste buds drooling, catering to the late night crowd with new frills for your midnight thrills. Featuring performances by James Welsby, Beni Lola, Hannie Helsden, James Andrews, Karen from Finance, and Tanzer. How delicious…
The 2016 Melbourne Fringe continues to Sunday 2 October. For more information, visit: www.melbournefringe.com.au for details.
Image: PO PO MO CO (supplied)