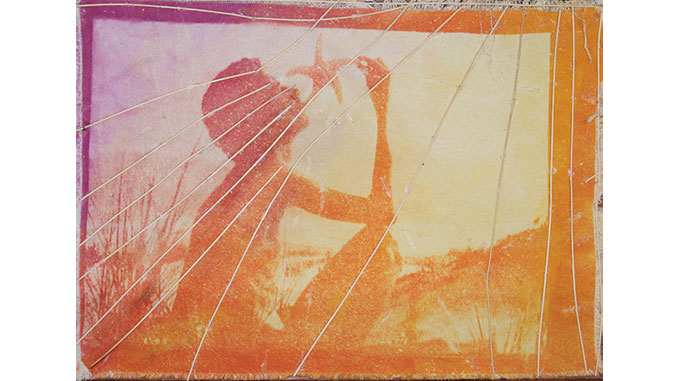 Australia's largest photography biennale has returned to the streets and galleries of Melbourne and regional Victoria, honouring 123 local and international artists and photographers across 90 exhibitions, with 50 world premieres including 24 specially commissioned projects. At the heart of PHOTO 2022 are Queer stories – intersectional, intergenerational and international.
Queering the Frame: Community, Time, Photography
Centre for Contemporary Photography, Fitzroy: continues to 12 June 2022
Presenting Australian LGBTQ+ artists across generations, this exhibition considers how the community narrate their histories—how voices are celebrated, how the queer community shift otherwise heteronormative readings of history and information. Moving across generations, from the late 70s through to now, these artists come together in a celebration of queer community, and consider the ways in which stories are passed down, how lives are remembered. From Amazon Acres, a female-only commune of the 70s and 80s, to capturing moments of queer Indigenous joy in the 90s and portraits of contemporary queer bodies, the exhibition reflects on the impact and ongoing importance of queer ancestors and connections across generations.
Paul Mpagi Sepuya
Centre for Contemporary Photography, Fitzroy: continues to 12 June 2022
One of the most distinctive voices in 21st century visual culture, Paul Mpagi Sepuya reveals the dynamics and mechanics of portraiture and photography, positioning queerness and Blackness at the core of the medium. Following critically-acclaimed presentations at MoMA and the Whitney Biennial, PHOTO 2022 brings together recent works that foreground the elemental conditions of Sepuya's practice, including the photographer's tools and studio, mirrors and velvet backdrops, and the interrelationship of photographer and subject. The use of mirrors has long been a staple of Sepuya's practice. In his recent work, the camera almost always records a reflection in the mirror, sometimes including fragments of test prints affixed to its surface, and smudges on the glass, a memory of touch that establishes a boundary between viewer and image. The images in this show demonstrate a range of Sepuya's interconnected interests, zooming out on stages and drop scenes and focusing in on intimate spaces, evoking dark rooms both of photography and queer culture.
Martine Gutierrez: Internet Immigrant
Centre for Contemporary Photography, Fitzroy: continues to 12 June 2022
The work of American photographer and performance artist Martine Gutierrez subverts conventional ideals of beauty to reveal how deeply sexism, racism, transphobia and other biases are embedded in our culture. The exhibition moves from the chaotic and bombastic to the anthropological, including a large-scale wallpaper designed specifically for the exhibition, and Neo-Indian studio portraits incorporating indigenous textiles of Gutierrez's Mayan heritage. Playfully, Gutierrez reworks the very conduits of advertising that sell the identities she disassembles. Hybridizing the industry's objectification of sex with the individual's pursuit of self, Gutierrez satirically undermines the aesthetics of what we know. Gutierrez entered the world stage with Indigenous Woman, a 124-page magazine and photographic series with the artist starring as editor, model, stylist, photographer.
New Photographers
James Makin Gallery, Collingwood: continues to 22 May 2022
Photo Australia's showcase of Victoria's most exciting emerging photographers returns with seven artists who bring new perspectives to the human experience, photography and visual culture. Pitta Pitta woman Jahkarli Romanis unpacks the continuing negative impacts of colonisation, uncovering biases in contemporary mapping technologies. Jake Nemirovsky's practice blurs the distinction between the real and the fictional, reassessing documentary image-making conventions for a post-truth world. Inspired by his Indigenous Brazilian heritage, João Marco Deloie works to decolonise the camera, synthesising cultural practice into his artistic practice, while Olivia Mròz examines themes surrounding identity, sex and queerness. Rachel Main offers an insider's view of Australia and Aotearoa's female Krump dance communities, J Davies reveals queer intimacy and bodies, and Isabella Darcy investigates the value we place on objects to explore material culture and human consumption.
Jeremy Eaton: Beach Boys
LON Gallery, Richmaond: continues to 21 May 2022
In Beach Boys, Jeremy Eaton presents a series of prints, drawings and sculptural elements that loosely retell Edmund White's first novel Forgetting Elena through imagery gleaned from a series of queer 8mm films from the same period of the novel (1960s and 1970s). The exhibition engages with experimental artistic films, erotic films and home videos to collage vignettes influenced by Edmund White's mannerist and surreal narrative. Recalling a time when queer visibility was becoming more prominent, the exhibition looks at love, poetics, eroticism, and the newly awakened consciousness that precipitated a period of experimentation. This creates a narrative flow to immerse the viewer in a textural series of washed out coastal imagery.
The Huxleys: Gender Fluids
Southbank Promenade, Southbank: continues to 29 July 2022
As artists, The Huxleys are often drawn to nature for inspiration. Nature is full of colour, beauty and the bizarre. Nature is non-judgmental and full of possibility and rarity. The surreal shapes and colours of sea creatures are of particular interest to The Huxleys with their lurid colours and unusual bodies. The Huxleys' work often plays with ideas of gender and body type and subvert those concepts into something magical and unique. They have created images and costumes in which they emulate gender fluid sea creatures, star fish and nudibranch are both considered gender-fluid. Nature is so advanced and has always adapted and created its own magical path.
Scotty So: Shungay
Tianjin Gardens, Melbourne: continues to 22 May 2022
In this series of portraits inspired by Asian erotic paintings, European Chinoiserie art, Instagram makeup trends, and contemporary gay culture, Melbourne artist Scotty So challenges the notion of cultural aesthetic appropriation of Asian cultures. Dispersed amongst the Tianjin Garden above Parliament Station on Spring Street, each image in Shungay incorporates clothing styles of the Song and Ming dynasties in images recalling historical events, queer folk tales like the Rabbit God and the split peach, and Asian queer films such as M. Butterfly.
Henry Wolff: Together
Parliament Gardens, East Melbourne: continues to 22 May 2022
Together is a series of speculative images that articulate human-to-human intra-action and entanglement. Through visual evocations of these philosophies, Henry Wolff contemplates the importance of care, compassion, and love to our future/s. The fleeting gestures of these images enunciate existing relational complexities between the artist and their collaborators. The varying maturity of these connections founds the vulnerability of each act. Through the language of the body as a conduit to our interiority, Wolff brings forth physical translations of care, compassion, and love. These images exist in the space between the portrayal of pre-existent relationships and performative imaginings of connection. This tension speaks potently to the nature of pursuing virtue. These images recognise that togetherness is built upon moral decisions, and is something we must continue to strive towards, to imagine, and foster – that it does not exist without our active and vulnerable participation.
Florian Hetz: Haut
Parliament Gardens, East Melbourne: continues to 22 May 2022
When encephalitis, an inflammation of the brain, put an abrupt end to his career producing opera and dance, German artist Florian Hetz started a visual diary to stave off memory loss, starting his career as a photographer. Haut (skin in German) is a deeply tactile series, offering a sense of touch, intimacy, and evoking a deep sensuality. Close crops and contorted bodies create a playfully visceral series of images to awaken our imaginations. Displayed around the Coles Fountain in Parliament Gardens, the subtle details of skin in these images are emphasised by the fountain's spray and the large scale of the prints. The result is intimate and ethereal.
"These exhibitions respond beautifully to the PHOTO 2022 theme: Being Human and can be viewed alongside other PHOTO 2022 exhibitions in Fitzroy and Collingwood, and throughout Melbourne and regional Victoria, for audiences to build a picture of the contemporary human condition as interpreted by some of our leading artists and photographers," said PHOTO 2022 Artistic Director, Elias Redstone.
---
PHOTO 2022 continues across Melbourne and beyond to 22 May. For more information, visit: www.photo.org.au for details.
Image: Jeremy Eaton, Untitled (Test), UV exposure dye print on canvas, wicker, 49.5 x 39.5
Note: The exhibitions come with a warning that it contains nudity and explicit imagery, and is not appropriate for minors.