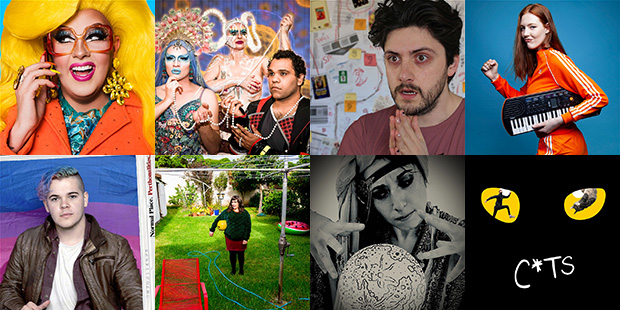 In the year of the impossible, Melbourne Fringe Festival will present a varied program of wild and wonderful performances and events from LGBTQIA+ artists.
With dangerously high levels of anarchic comedy, glittering cabaret, experimental theatre and drop-dead gorgeous drag, Melbourne Fringe Festival's LGBTQIA+ program features innovative adaptations of life and art for the community. No less than 38% of the performers in Fringe this year identify at LGBTQIA+, and 9% identify as non-binary or gender fluid.
CATS: The Movie, The Musical, The Production, The Artist sees multi award-winning theatre practitioners Jean Tong, Lou Wall, James Lew and Rachel Lee team up to produce an EGOT-worthy mockumentary following an amateur theatre collective. When the collective's production of smash hit musical CATS was cancelled due to COVID-19, the group was left with no choice but to pivot – with a non-existent budget and a complete lack of technical expertise. Will their immense passion for the work of Andrew Lloyd Webber get them through to stage a purrfect show… or will it end in a CAT-astrophe? 26 – 29 November.
Sydney's much-loved Dollar Bin Darlings present Mind The Dancer – an immersive nightclub and guided dancefloor meditation featuring cabaret, comedy and drag, to be lived through by participants in the dark and conjure up the dancefloors as we knew them. A guided experience to a party in your mind. 16 – 28 November.
Karen From Finance is Out Of Office. Say goodbye to the 80-hour work week and jump on board the Finance express for this one-woman journey of selfdiscovery… and self-annihilation. Beloved Australian Drag Queen Karen From Finance presents her debut one woman show Out of Office which was filmed LIVE at Fringe World Perth in January 2020 and features all of her trademark high-camp and hilarious mashups, plus all the tomfoolery you can poke a presentation pointer at. 10 – 29 November.
Writer, director, producer, performer Maeve Marsden hosts Queers on the Fringe – a mixed bag of artists, writers, comedians and musicians for an experiment in intimate entertainment, delivering story, song and catharsis to an audience of strangers tuning in from their lounge rooms. Maeve offers up the unexpected – equal parts playful, personal and political. Queers on the Fringe celebrates Sydney's queer underground featuring performers Brendan Maclean, Jamaica Moana, Victoria Zerbst, Jojo Zaho and Nina Oyama. 16 – 22 November.
A digital exchange between Tom Bradley (internationally acclaimed dancer) and David Woods (theatre-maker, 'Ridiculusmus'), homoDeathfuck is a three-part response to Plato's Symposium with four interpretations (I-speak-you-dance-you-speak-I-dance) merging into a pre-recorded experimental video performance about gender. 12 – 16 November.
Slipstream – an experimental storytelling fusion of Dance, Cabaret, Performance Art & Theatre weaving past and present in a ritual reclaiming of the self from techno tracking and Viral contagions and into human tales from the intersectional travellers of time and place, nature and nurture in an essence personal expression. Starring Neville Williams Boney, Miss Tree & Glitta Supernova. 18 – 22 November.
In Patrick Collins – The New Nine, Patrick attempts to convince the world that we need to change the symbol for the number nine. Taking the form of a sleep-deprived, impassioned Ted Talk with the help of projected images and graphics, this multi award-winning comedian explores "labelling" and their recent transition to a non-binary gender identity. 19 – 28 November.
Jackson Canny was born in the year 2000, both the smartest and dumbest generation as he explores in Gen Z Gen Dread. Through musical comedy, sketch and stand-up Jackson shares on being a bisexual, self-awareness, satire, knowing and will help audiences make sense of a nonsense world. 12 – 19 – 26 November.
Inspired by a 1920's fortune teller's shop in New York, Macábaret invites a Melbourne audience to peer through Zoom into a dusty crystal ball and see a variety of acts filled with spooky, strange, silly and downright sinister spirits. For each performance a different poor, lost soul will call into Madame Macábaret to seek advice from the spirit world. In response, a different line up of macabre performers from New York (and around the world) will be conjured to share their 'spirited' performances live on Zoom. 13 – 27 November.
Lousical the Musical is an original, pop, comedy musical about To-Do List anxiety from award-winning artist Lou Wall. A nuanced and electrifying foray into the world of procrastination and its roots in mental health, but in a hilariously fun, mini-pop-concert kind of way. Lou has a mortifying 923 items left unfinished from 2002. In this 60-minute, manic-musical-combustion, Lou will complete all 923 unfinished tasks. 26 – 29 November.
Australian cabaret and music artists Sarah Ward and Bec Matthews (Yana Alana, Queen Kong and the HOMOsapiens, Circus Oz) leads Over 60 Under 10 – a unique song writing project amplifying the voices of younger and older members of our community. Workshops are available for four children under the age of 10 (between 3 and 10) and four adults over the age of 60. Participants do not need song writing experience, Bec and Sarah provide a safe, and open creative process that encourages a natural flow of ideas and a playful interaction. In the final performance, Sarah and Bec perform the songs created through one-on-one song writing workshops with individuals aged Over 60 and Under 10. 27 November.
---
The 2020 Melbourne Fringe Festival runs 12 – 29 November. For more information and full program, visit: www.melbournefringe.com.au for details.
Image: A selection of Melbourne Fringe 2020 shows (supplied)