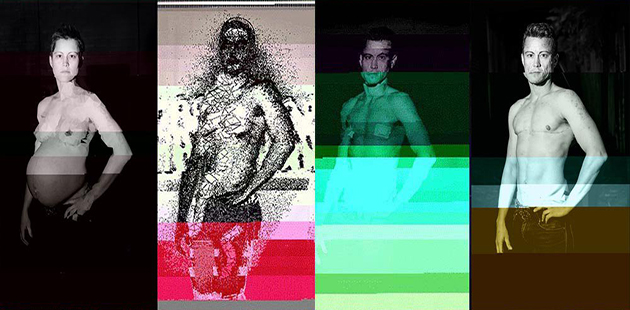 Several art forms will come together for one evening during Midsumma at Melbourne's premier free outdoor art space, Testing Grounds on Thursday 29 January.
The night will feature Alison Bennett's work Inverto – a series of time lapse photographs that bear witness to an individual undertaking the process of physically aligning gender identity and embodied presence.
The images demonstrate the impact of hormone therapy (testosterone) and gender reassignment surgery (double mastectomy, aka 'top surgery') following pregnancy. Inverto was part of the Forever Now project that was beamed into space at the conclusion of the MONA FOMA Festival in Hobart on Sunday night.
Chris Watts is an Indie Folk/Pop musician from Melbourne. Kicking off his career with the debut album Back Down, Chris offers a set of irresistible indie-pop tunes underpinned by catchy riffs that stay with you.
The songs on Back Down have drawn favourable comparisons to artists such as Jordi Davieson (San Cisco) and First Aid Kit. One part power pop, one part melodic folk, they are full of infectious chords, robust rhythms and soaring vocals.
The bar will be open until late, so drop in before or after a show, grab a drink or a bite to eat, pull up a hunk of left-over building rubble and chill out under the stars in Melbourne's coolest pop-up bar.
Testing Grounds is a place for new works of art and creative ideas to be developed and shared. It is a place for experimentation and testing ideas, for public gatherings and educational opportunities in the heart of Melbourne's arts precinct.
Midsumma's Testing Grounds takes place on Thursday 29 January from 7.00pm. For more information visit www.midsumma.org.au for details.
Image: Stills from Inverto by Alison Bennett