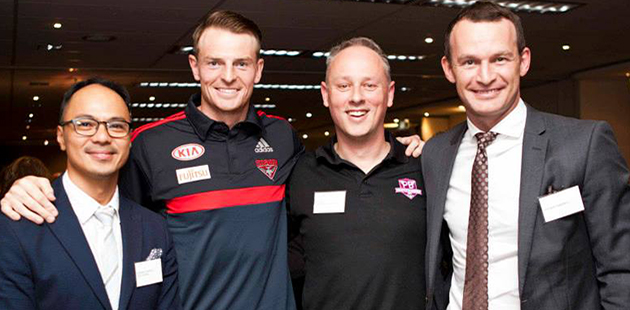 After months of planning, the Essendon Football Club has officially launched its latest supporter group, the Purple Bombers at a function on Monday 30 March.
Purple Bombers player representative, Brendon Goddard and Essendon Football Club CEO, Xavier Campbell were amongst the 150 guests on hand to celebrate the launch, as Purple Bombers President, Jason Tuazon-McCheyne gave an impassioned speech about his love of the Essendon Football Club, his experiences of homophobia and how the new group intends to make change in the AFL.
Brendan Goddard says he had no hesitation lending his name to the message. "Everyone deserves to be treated equally regardless of race, religion, beliefs, sexuality. Hopefully one day we can all be treated equally and they're not looked at as being different from anyone else. It's important the support the club is giving them in their push to be heard."
The Purple Bombers are hoping to create a pride round and Goddard says a match up against his former club St Kilda would help promote the cause. "They're a great supporter and advocate of the gay community.  It'd be ironic but it'd be really good."
Established in 2014, the Purple Bombers are one of the many supporter groups that make up the diverse and rich culture of the Essendon Football Club family, and are committed to removing homophobia from football and are striving towards our ultimate goals of establishing a pride round and assisting other AFL clubs to establish their own LGBTIQ supporter groups.
The Purple Bombers aim to assist the Club and the AFL in being leaders of change by creating a safe environment for LGBTIQ supporters and players, by encouraging and promoting diversity, tolerance and acceptance within the wider football community.
For more information or to become a member, visit: www.purplebombers.com for details.
Image: courtesy of the Purple Bombers / Essendon Football Club