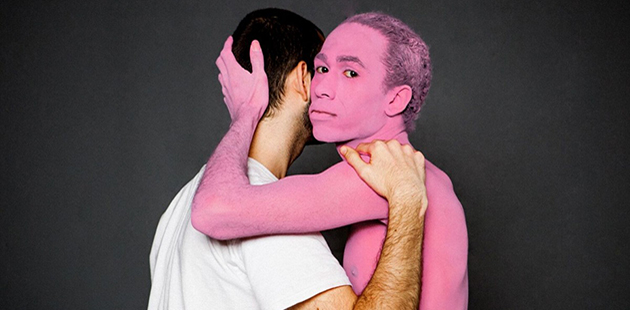 Nine eclectic artists from across Australia make Perth's inner city precinct Cathedral Square home for 12 days from 26 September 2017 for the fifth installation of the Proximity Festival.
For the first time Proximity Festival will take over multiple buildings and the outdoor surrounds in the heart of Perth's historic precinct, Cathedral Square. Audiences can experience three separate programs of 20-minute performances across private and public spaces in the Perth Town Hall, The State Buildings, St George's Cathedral and surrounds, each offering unique and intimate encounters.
"Aligning with Cathedral Square is a bold step into collaborating with multiple venues, says co-curators for the Festival, Kelli Mccluskey and Sarah Rowbottam. "Get ready to search for love in high places, celebrate black matriarchy through power-laden rap, search for Warhol's tragic muse, and ride backseat on a motorcycle as you become an extra on a film set."
From Brisbane-based artist Hannah Bronte whose work is deeply influenced by hip-hop and female protest culture, Sydney's Nat Randall who brings a cinematic edge to durational performance practice, through to Perth based Mike Bianco who offers a bespoke audio experience with an urgent environmental critique – the 2017 Proximity artists are at the forefront of a national dialogue on live-art that will be fostered in WA over the coming months.
The full list of artists selected for the 2017 performance program include Cigdem Aydemir (NSW), Hannah Brontë (QLD), Mike Bianco (USA/WA), Liam Colgan (WA), Rachael Dease (WA), Jen Jamieson (WA), Nat Randall (NSW), Martyn Coutts (VIC) and Tyrone Robinson (WA).
Audiences can select from three different 70 minute programs A, B or C that provide a unique experiences throughout the buildings and outdoor surrounds of Cathedral Square, or book to see all nine performances over four hours in one day.
In celebration of the Festival's fifth year the performance archives will be unlocked in a documentary display Proximity in Pictures. View over 40 unique Proximity Festival performances that took place between 2012 – 2015 at The Blue Room Theatre, Perth Institute of Contemporary, Fremantle Arts Centre, and the Art Gallery of WA.
This is a rare opportunity to cosy up for an intimate viewing experience at the Perth Town Hall and develop an appetite for the uniqueness of this art-form. After the Festival the Proximity archives will become part of the UK's Live Art Development Agencies Study Room, an international open access research facility used by artists, students, curators, academics and arts professionals all over the world.
As always, running alongside the Festival is a public program of caffeine-fuelled discussions, workshops and intimate walking tours led by artists and thinkers from around Australia. This year's program offers Guerrilla Botanics with Mike Bianco, a covert night-time incursion into the city inviting you to fertilize botanical inhabitants and Fempress Flex Workshop where you can learn some some fiercely deep DJ lessons with Brisbane-based DJ BABYMAMA aka Hannah Brontë, RTR FM's Full Frequency host Rok Riley in partnership with local record and bookshop Highgate Continental.
Proximity Festival is now in its fifth year after highly successful Festivals at the Art Gallery of WA, Fremantle Arts Centre, Perth Institute of Contemporary Arts and The Blue Room Theatre. Led by Director/Curator Sarah Rowbottam and Curator Kelli McCluskey the 2017 Festival presents final outcomes from the highly acclaimed Proximity Lab, which brought curated artists together December 2016 to develop concepts in-situ at Cathedral Square through Proximity's new biannual model.
Joining Proximity is the festival's guest Provocateur Jeff Khan. As a curator, writer and current Artistic Director of Performance Space in Sydney, Jeff has a particular interest in interdisciplinary, site-specific and socially engaged practices, as well as nurturing artworks that present new ideas about gender and sexuality. As part of the Festival Jeff will host an intimate discussion, Cocktails with Khan on curating experimental arts in unusual locations across Australia at The State Buildings on Thu 28 Sep.
"As an independent Festival, the shift from arts institution to a precinct in the heart of Perth's centre is a first for Proximity, allowing artists freedom to occupy multiple sites and creating intimate experiences inside some of Perth's most iconic buildings," said Rowbottam.
"This is the first time Cathedral Square has been used in this way and I think this particular group of artists will provide some curious and immersive experiences for audiences that challenge how we are accustomed to engaging with art."
The 2017 Proximity Festival runs 26 September – 7 October. For more information and full program, visit: www.proximityfestival.com for details.
Image: Tyrone Robinson, 2017 – photo by PAVLOVA