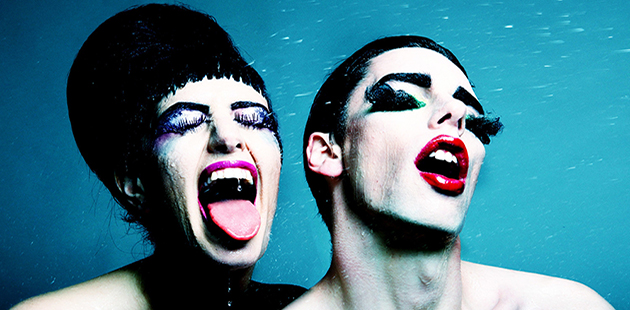 It will be Chapel Street – but not as you know it. For ten days and nights from Thursday 20 July, Melbourne's iconic Chapel Street will transform into Provocaré – a festival of the arts that no other shopping district in Australia has ever dared to stage.
Leap into a provocative world of music, theatre and mind-altering art. Featuring world-renowned acts and artists performing across the entire precinct and taking the diverse day and intriguing after-dark world of Chapel Street to an unexpected new level.
Each night from 7.00pm, the throbbing heart of the festival will burn bright, a spectacular marquee assembled atop a secret rooftop location. Mistress of Ceremonies, Art Simone will reign supreme as she introduces astounding cabaret and world class acts that have honed their performances for a discerning Melbourne audience. Highlights of Provocaré include:
This Boy's In Love
The MC Showroom: 20 – 29 July
Gaulier-trained actor and clown, Adriano Cappelletta will have you feeling the love in this one-man gay rom-com absolutely bursting with heart. Hilarious and heartfelt songs meet physical comedy and candid story-telling in one man's final shot at finding love in the urban gay jungle. Grindr and instant hook ups are obstacles on his way to tasting true romance, with story and songs about past boyfriends and 'zombie gays' who tan, workout, bleach, party-hard and generally all look and act like one another.
Finucane & Smith's Glory Box: Provocare
Grattan Gardens Main Tent: 20 – 30 July
Step into the surreal and sexually-charged provocative variety world of Glory Box – an explosive live-art experience that has already redefined the limits of theatre for over 300,000 people worldwide! Glory Box brings its seductive, sensational brand of cabaret, circus, and spectacle to the Main Tent every night of Provocaré. So get ready for a mind-blowing, transcendent experience that blurs the lines between the avant-garde and the surreal!
The Little Death Club
Grattan Gardens Main Tent: 20 – 30 July
Hosted by the deliciously salacious, utterly hilarious, multi-award winning Queen of kink Miss Bernie (EastEnd Cabaret). Join us for an hour of dangerously funny Kabarett, sideshow and burlesque featuring notorious strumpet and hula hooping sensation Jess Love (La Soireè), Melbourne's own burlesque superstar Miss Bettie Bombshell (Burlesque Hall of Fame), 'Queen of Corporate' Karen from Finance (Ru Paul's drag con) and gender-bending contortionist Jared P. Dewey (Circus Oz), this is Weimar punk Kabarett at it's most inappropriate and hilarious best.
Terror Australis
The MC Showroom: 20 – 30 July
Australia's own psycho-siren Leah Shelton returns to Melbourne with her award-winning show, Terror Australis. This f**ked-up outback contiki tour is a frothing hot mess of black comedy, anti-burlesque and hills-hoist pole dance. Trapped inside a sweltering pulp film mash-up, Shelton trawls through the roadkill of the Australian national identity to reveal a litany of brutality and paranoia, drenched in sweat and beer. Welcome to a sunburnt country where cars rule, hitchhiking kills and dingoes eat babies.
Bourgeois & Maurice
The MC Showroom: 20 – 30 July
Critically acclaimed musical satirists Bourgeois & Maurice make their Melbourne debut with their out-of-this-world Edinburgh Festival Fringe smash hit at Provocaré. Digging their shellac nails deep into our postmodern, post-gender, post-Brexit world the demented duo deliver their most hilarious, scathing and joyfully cynical show yet. Riotous original songs meet hyper surreal, high fashion, in this provocative and hysterical catwalk through the quagmire of current affairs.
Art Walk
Mars Gallery: 22 & 29 July
Chapel Street is teaming up with local art galleries during Provocaré to create an Artwalk for lovers of contemporary art and street art. Over the two consecutive Saturdays of the festival and as the clock strikes 3.00pm, the surprises start the moment the event begins at MARS Gallery's new rooftop sculpture garden. Attendees will discover the art in the galleries and laneways which stretch along Chapel Street through Windsor, Prahran and South Yarra.
The Provocaré: Festival of the Arts runs 20 – 30 July 2017. For more information and complete program, visit: www.provocare.com.au for details.
Image: Bourgeois & Maurice – photo by Kamil Kustosz