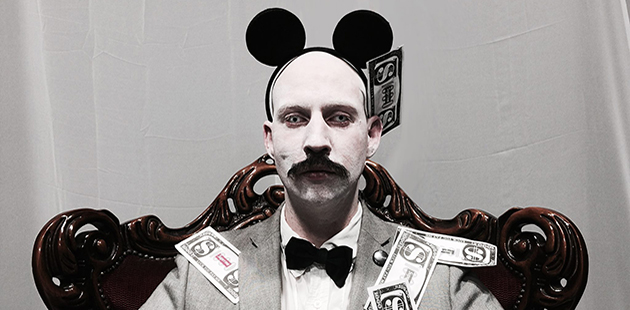 Back for its second year, this July, Provocaré: Festival of the Arts will transform Melbourne's iconic Chapel Street Precinct into a provocative world of music, theatre and mind-altering art.
Featuring world-renowned acts and artists performing across the entire precinct and taking the diverse day and intriguing after-dark world of Chapel Street to an unexpected new level. Highlights include:
Spencer Tunick
Spencer Tunick returns to Melbourne to creating a series of temporary site-specific installations specifically for Provocaré. Involve up to several hundred nude figures arranged in public places, Tunick's photographic installations follow on the tradition of land art and performance art. Working directly in the architectural landscape, the artist uses the nude body as raw material to intervene and transform a chosen site, documenting the installations with photography and video.
Empty Bodies
Empty Bodies is our journey from birth to death, examining our representation of self through language and clothing. Featuring six, elite level NICA graduates, who will amaze and astound with their assortment of provocative solo and group acts, director Zebastian Hunter seeks to challenge the combination of physicality and text while Stephanie Howe's set and costume design – including a giant aerial net – arouses questions on the colourful uncertainty of identity, reflecting chaos in conflict with order.
Club Provocaré
The sexiest and sassiest show in Melbourne, where everything glitters and anything goes! With hilariously filthy original songs, breath taking circus and killer burlesque acts from around the globe including drag superstar Karen from Finance and Japan's naughtiest export the gorgeous Yusura. This is one show you won't want to miss!
Whatever You Dream
Experience an open air exhibition like no other for an exclusive David Bromley installation. Watch how his art has given new life to automotive classics. Once destined for the junk yard, now part of art history.
Reuben Kaye
Ladies and Gentlemen, introducing the obscenely intelligent, beautifully filthy, and rib-crackingly funny Cabaret superstar Reuben Kaye! The British Theatre Guide said he was "The evil love child of Liza Minnelli and Jim Carey is a dazzling explosion of songs, lashes and teeth!" Deliciously conceited and gloriously camp!
I Want To Know What Love Is
Join The Good Room on an emotional ride through love's gritty collision course, in this no holds barred exploration of 800 anonymous stories – submitted by people just like you. From the giddy highs of first love to the painful sting of brutal rejection, I Want To Know What Love Is throws a spotlight on long-buried memories, unspoken pain, and bedroom fantasies, as secret and honest confessions are transformed into magnificent declarations center stage.
The Death of Walt Disney
An adrenaline charged odyssey, a supersonic portrait of the man who forever changed the American Dream, and an unforgettable fantasia. New York writer Lucas Hnath's hit play premieres in Australia care of l'enfant terrible, MKA Theatre. Aided by a pack of cigarettes, a litre of vodka, three actors and countless dead lemmings, Walt Disney reads you a screenplay he wrote. About himself. And his death.
The 2018 Provocaré: Festival of the Arts continues to 15 July 2017. For more information and complete program, visit: www.provocare.com.au for details.
Image: MKA presents The Death of Walt Disney – photo by Wilson Liew