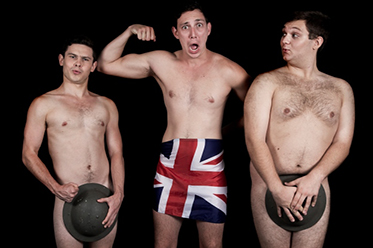 Young and innocent Private Steven Flowers is posted to Singapore to entertain the British troops during the Malayan Emergency in 1948. As part of the 'Song And Dance Unit South East Asia' (SADUSEA), he finds himself in a company of military misfits.
The star of the troupe is flamboyant Captain 'Auntie' Terri Dennis, a civilian soldier who much prefers lipstick and a feather boa to a rifle and fatigues and delights in running the gamut of drag from Carmen Miranda to Marlene Dietrich to Vera Lynn.
With a penchant for sailors and a heart of gold, he benevolently guides this group of shy, sexually inexperienced young lads, straight and gay, as they journey from boys to men, far from home fighting a ruthless enemy in a jungle guerrilla war.
Peter Nichol's delightful coming-of-age comedy is underpinned by a darker and more poignant reality. Political themes of colonialism, revolution, homophobia and racism and personal stories of fear, loneliness and falling in love, are all served up in a camp concoction of songs, dance, blokes in frocks and very naughty laughs.
Privates on Parade is based on Peter Nichol's own experiences of doing his National Service as part of an entertainment unit in Singapore (a unit which included Kenneth Williams of Carry On fame). The play won the prestigious Lawrence Olivier Award for Best New Comedy when in debuted in 1977. A film, starring John Cleese, soon followed, and it has enjoyed many revivals over the years since.
New Theatre first produced the play in 1989; and in 2012, it was the inaugural production for the new Michael Grandage Company in London, with Simon Russell Beale in the bravura role of 'Terri Dennis'.
"We're really excited to be bringing the play back to the New Theatre stage," says Director, Alice Livingstone.
"It's more than time that Sydney audiences can once again enjoy the cheeky humour of the script and the marvellous songs that pastiche the styles of the 40s, as well as the strong heart of the story."
"Nichols has created a tribute to the great traditions of British entertainment – music hall, vaudeville, end-of-pier variety shows, panto – and packaged it into a satirical revue-style play that bookends the dramatic scenes with terrific song and dance numbers."
"New Theatre's annual Mardi Gras production is always one of the highlights of the festival, and Privates on Parade will continue that tradition – and with a bit of drag, a bit of skin and hot guys singing and dancing, it's sure to be a favourite with the crowds."
"But really anyone who is looking for a good night out in the theatre will enjoy this show."
Director: Alice Livingstone  Cast: Matt Butcher, Jamie Collette, Peter Eyers, David Hooley, Morgan Junor-Larwood, James Lee, Henry Moss, David Ouch, Diana Perini, Martin Searles, Gerwin Widjaja
Assistant Director: Mark Croasdale  Musical Director: John Short  Choreographer: Trent Kidd  Set Designer: Allan Walpole  Lighting Designer: Tony Youlden  Costume Designer: Famke Visser  Sound Designer: Ashley Walker  Dialect Coach: Gabrielle Rogers  Stage Manager: Jo Jewitt
Privates on Parade
New Theatre, 542 King Street, Newtown
Season: 11 February – 8 March 2014
Bookings: or online at: www.newtheatre.org.au
For more information, visit: www.newtheatre.org.au for details.
Image: by Bob Seary