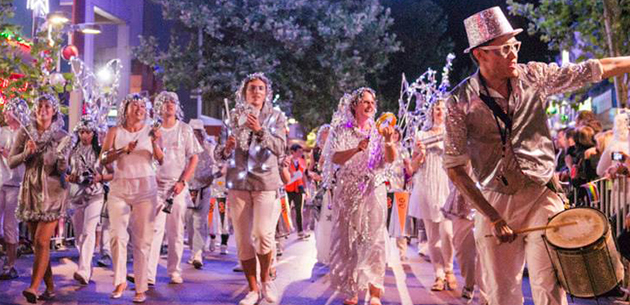 Pride Western Australia Incorporated (Pride WA) will paint Perth silver in its 25th anniversary year – with this year's PrideFEST to be themed Silver City – celebrating 25 fabulous years!
The festival will celebrate the massive contribution Western Australia's lesbian, gay, bisexual, trans, intersex and queer community has made to arts and culture in WA over the last quarter of a century, and is set to include more than 100 arts, culture and community events, including the spectacular Pride Parade and Urban Orchard after party in Northbridge on Saturday 21 November.
As well as symbolising the silver anniversary, the Silver City theme recognises the special and historic links that inner city Perth has had with the Pride community and the valuable support the City of Perth and City of Vincent have shown to Pride WA over the years, as well as the organisation's growing relationship with the Metropolitan Redevelopment Authority.
"We're really excited to launch this theme and start preparing for Pride WA's biggest and most vibrant festival program yet," says Pride WA President Andrew Barker. "Twenty five years is definitely worth celebrating, so we're encouraging everyone to join us and help to turn the city 'fabulously' silver!"
With PrideFEST 2015 fast approaching, Pride WA is now inviting artists, performers and community groups to apply to stage an event in this year's festival. Applications are now open and will be received up to 5.00pm on Friday 4 September 2015. Applications to participate in the Parade will be announced shortly.
The 2015 PrideFEST will run from Friday 6 – Sunday 22 November. For more information, visit: www.pridewa.com.au for details.
Image: Performers in the 2014 PrideFEST Parade – photo by Court McAllister (courtesy of Pride WA)