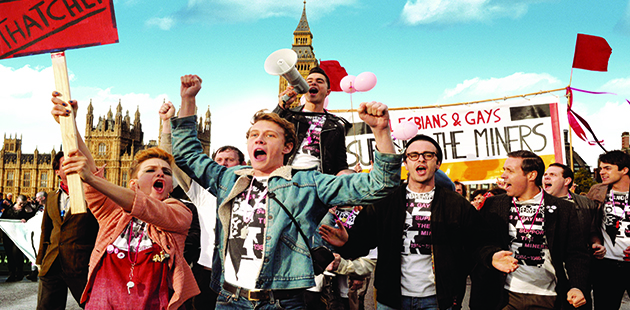 A rousing British crowd-pleaser in the spirit of Billy Elliot and The Full Monty, and based on an incredible true story, Pride is a film about two seemingly disparate communities who form a surprising and ultimately triumphant partnership.
Set during the Thatcher era, the Welsh mining community of Dulais face dark days as they struggle to make ends meet during the 1984 mineworkers strike. Recognising the sting of marginalisation and driven by a sense of solidarity, a group of gay and lesbian activists in London decide to raise funds for the striking miners and their families.
The group call themselves 'LGSM' – Lesbians and Gays Support the Miners – and approaches the Mineworkers Union to pledge their support. But there is a problem – the Union seems unwilling to accept their help. Undeterred, the LGSM members travel to a small village in Dulais to make their donation in person.
Initially, they are met with scepticism. But championed by an open-minded few, including local leader Dai and the formidable village matriarch Hefina, the two communities soon overcome prejudice to forge an extraordinary bond.
Written by Stephen Beresford, and directed by Matthew Warchus, the film's ensemble cast includes Bill Nighy, Imelda Staunton, Dominic West, Paddy Considine, Andrew Scott, George Mackay, Joseph Gilgun and Ben Schnetzer, who portray an array of richly drawn characters in this tender portrait of the real people who stood up and fought for their place in society.
The concept of tough, no-nonsense working class miners teaming up with a pack of flamboyant, outspoken gay and lesbian activists may not seem too far-fetched in 2014 but it was revolutionary in 1984. And it's a reminder of how great the chasm was between the largely rural and suburban working class and the metropolitan gay and lesbian community.
"The sight of miners arriving in buses at Gay Pride in London was a huge landmark in social history at the time," says writer Stephen Beresford. "The incredible gulf between those two communities is hard for us to fathom. What is interesting is that all the LGSM had left working class communities and thought that they could never go back once they'd come out, as they wouldn't be accepted."
"There are all sorts of things that we now take for granted and we forget what it was like. That was very challenging and I had to make very clear that the 1984 Gay Pride was a political event, not Mardi Gras, and a man in a dress was a political act."
"The Pits and Perverts gig was one of the first big events where gays and straights came together. We also wanted to illustrate the spectre of AIDs as a developing crisis. An HIV diagnosis was devastation and attitudes to AIDs were very, very different then. None of the barriers had been broken down."
With any film based on a true story, it is always a boon for cast and crew to have the input of the real people who were involved. Pride enjoyed the enthusiastic collaboration of some of the surviving members of the LGSM. Mike Jackson, Sian James, Reggie Blennerhassett, Ray Aller, Jonathan Blake and Gethin Roberts visited the set many times and were only too happy to help the actors playing them. They even took part in the recreation of the Gay Pride marches in the film.
The miners who were portrayed in the film also had a positive response to the events they participated in being turned into a film, as miner Dai Donovan explains: "as a participant to the events of the miner's strike of 1984/5 I will always remain proud of the stand the miners and their families made in defence of their industry and communities."
"The strike could not have been sustained without the support of thousands of people across the UK who came together to give support to the miners and their families. All were committed, all were generous. However, I know that the most significant in terms of its generosity of spirit was 'Lesbian and Gays support the Miners'."
Those involved in this group set aside their own oppression to support the mining communities who were experiencing for the first time what it was like to be vilified and attacked in Thatcher's Britain. Those in LGSM could have stood on the sidelines and done nothing."
Pride
Director: Matthew Warchus
Country: United Kingdom
Classification: M (Mature themes, coarse language, sexual reference and brief nudity)
Genre: Comedy, Drama
Running time: 120 mins
Pride is currently screening nationally. You can view the trailer below.
Image: production still from Pride