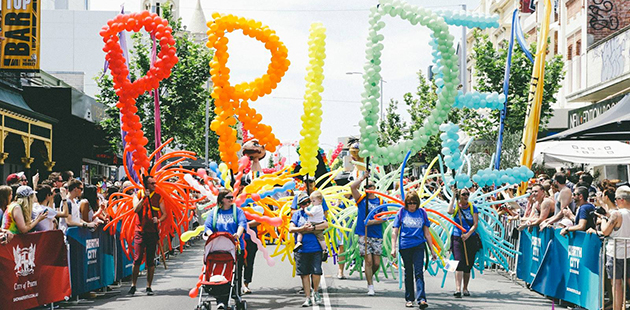 Pride WA has announced the theme for this year's PRIDEFEST as Reflect, Rejoice, Renew – recognising the organisation's origins, acknowledges the progress that has been made in LGBTIQ rights to date and celebrates the future direction Pride WA has recently unveiled.
"Reflect, Rejoice, Renew embodies the current state of the organisation in a positive and exciting way while saluting those who lead the way and those who have contributed so much over the last 25 years," says Pride WA Co-President Michelle Rigg.
"The foundations of Pride WA were laid in October 1989 with a 300-person strong group rallying on the steps of Parliament House, opposing laws discriminating against WA's gay and lesbian population.  Pride's formation as a recognised group occurred in July 1990 with the formation of the Pride Collective (WA) and the first Pride month as such took place in October 1990.
"While the 1989 protest may not have truly been seen at the time to be a 'Pride' event as we would know it today, the protest rally paved the way for the formation of the organisation we now call Pride in WA."
At the same time, Pride WA acknowledges there is still much work to be done in achieving full equality and legal recognition for people of diverse sexuality and gender identity and addressing the far too frequent occasions of hate and discrimination that still occur in our community.
"Full equality for LGBTIQ people is yet to be achieved in Australia, bullying still takes place in schools, discrimination is still widespread in the workplace and hate crimes against members of the LGBTIQ community continue to take place," explains Ms Rigg.
"A visible and active Pride ensures our message is not lost or overlooked so that future generations can continue the conversation of coexistence."
In 2014, it remains illegal to engage in same-sex conduct in 76 countries and in at least seven countries – including Iran, Mauritania, Saudi Arabia, Sudan and Yemen – the death penalty prevails.  Forty of these 76 countries are members of the Commonwealth.
In line with its core value of Inclusion, Pride WA is inviting the entire community to join with the organisation throughout the PRIDEFEST program this year to Reflect on how the organisation and the Pride movement began in Western Australia.
"Twenty five years on from the original protest rally, Pride will Rejoice in the significant gains achieved by the lesbian, gay, bisexual, transgender, intersex, queer (LGBTIQ) community in Western Australia over that time.
"And, at what is a pivotal time for Pride WA following the Strategic Review findings and the announcement of a new 2014 – 2016 Strategic Plan, we Renew our commitment to encourage the cultural expression, celebration and human rights of lesbian, gay, bisexual, transgender, intersex, queer and all people of diverse sexuality and gender and their supporters living in Western Australia," said Ms Rigg.
Pride is also encouraging as many LGBTIQ community groups and individuals as possible who have participated in the PARADE in the past to consider supporting the PARADE again this year on Saturday 22 November at 8pm to ensure the future of the PARADE is secure.
"Pride WA is reinstating the PARADE Prize categories this year, which were missing from last year's day-time PARADE, and we would be delighted to see as many groups as possible participate to add even more colour, vibrancy and diversity to this year's PARADE," Ms Rigg said.
Although Perth's now premiere gay and lesbian culture and arts festival began as a protest march against discriminatory laws, 25 years later it celebrates the achievements the Pride community has made in that time and just how far we have come as a society.
2014 Pride WA Key Dates:
PRIDEFEST Programme release: 16 October 2014
PARADE Float entry applications close: 31 October 2014
PRIDEFEST: 14 – 23 November 2014
PRIDE PARADE: Saturday 22 November 2014
For more information, visit: www.pridewa.com.au for details.
Image: courtesy of Pride WA