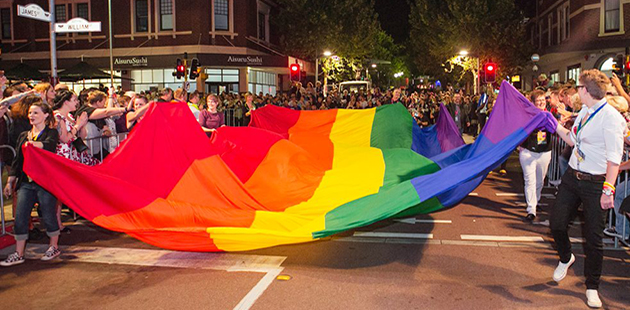 Pride WA is pleased to announce that registrations for the 2016 PrideFEST and Pride PARADE will open this Thursday 15 September with the theme this year being #LoveWins.
The 2016 PrideFEST will run from Friday 11 to Sunday 20 November, while the Pride PARADE 2016 will be held on Saturday 19 November commencing at 8.00pm. Pride WA is encouraging LGBTIQ community groups, artists, performers and/or supporters of the LGBTIQ community to register an event during 2016 PrideFEST, or to participate in the 2016 Pride PARADE.
For the first time, Pride WA is pleased to announce an allocation of funding available to regional LGBTIQ groups to hold an event during 2016 PrideFEST. A limited number of grants of up to $5,000 will be made available to support community activations designed to celebrate PrideFEST in locations outside the Perth metro area. Interested groups or organisations should send a proposal outlining the planned event and the amount being requested to Pride WA.
Pride WA President Andrew Barker thanked Community Partner, Lotterywest for their ongoing support of Pride WA in 2016 for provision of a grant that included a specific of funds for regional activations. This means for the very first time, in 2016 PrideFEST will truly be a statewide event.
"The Pride WA committee is delighted to once again be working with Lotterywest, the City of Perth, City of Vincent and other corporate partners to be delivering a festival and Parade that acknowledges and celebrates the contribution made to the wider Western Australian community by LGBTIQ people, their families and supporters," said Mr Barker.
"Pride WA wouldn't be able to undertake the work we do on behalf of the LGBTIQ community in Western Australia without the generous support of community and corporate partners and the supportive members of Pride WA."
The hugely popular and spectacular Pride PARADE will once again follow the route it has taken in the past, starting at the corner of William and Bulwer Streets, moving down William Street to James Street and along James Street to finish at Russell Square.
Pride WA is aiming for the 2016 Pride PARADE to build on the enormous success of last year's 25th anniversary parade, which saw 64 entries take to the streets of Northbridge making the 2015 Pride PARADE one of the biggest in the events history and, in fact, the largest community street parade in Western Australia in 2015.
"The target this year is for at least 70 – 80 groups to participate and to see the crowds once again flock to Northbridge in support of WA's LGBTIQ community," said Mr Barker. "I would encourage anyone who has ever wanted to get involved in the Pride PARADE to make the effort this year as we really want to see the event grow and create a sense of excitement and ongoing support for the LGBTIQ community."
To register an event for PrideFEST, email: festivalmanager@pridewa.com.au To register an entry in the Pride PARADE, email: parade@pridewa.com.au For more information, visit: www.pridewa.com.au for details.
Image: Pride PARADE – courtesy of Pride WA