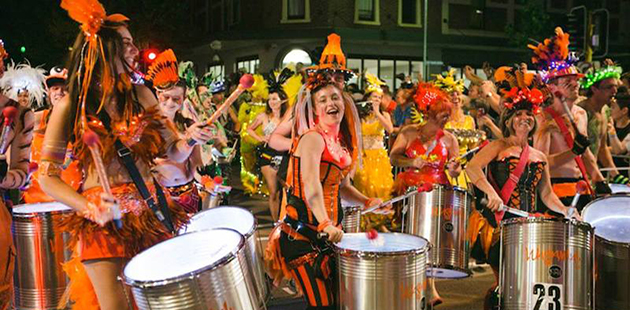 Pride Western Australia Incorporated has announced key dates for the celebration of its 25th year. In November 2015, Pride WA will celebrate the massive contribution Western Australia's lesbian, gay, bisexual, trans, intersex and queer community has made to arts and culture in WA over the last quarter of a century.
To celebrate its silver anniversary, Pride WA will stage an expanded PRIDEFEST to include events in various locations throughout Northbridge and around the state, including music, theatre, visual art, dance, film and comedy.
"This is an important milestone to celebrate, and we plan to make PRIDEFEST even bigger and better than before," says Pride WA President Michelle Rigg. "Once again, the festival will combine community, performance and arts events, culminating in the annual Pride Parade.  This year, we are hoping to double spectator numbers at the Parade, bringing more people into Northbridge to celebrate with us."
PRIDEFEST will run for 16 days from Friday 6 November to Sunday 22 November 2015.  The Pride Parade will be staged on Saturday 21 November – the second last day of the festival, commencing at 8pm.
The award winning and increasingly popular FAIRDAY will again be staged in Hyde Park as a part of FRINGEWORLD on Sunday 7 February 2016.
Ms Rigg said this Pride WA aimed to further develop the spirit of inclusion and diversity within PRIDEFEST as well as continue to grow the festival's arts and culture content.
"By its very nature, PRIDEFEST challenges boundaries, gets people talking and makes the community think about the real meaning of diversity and inclusivity, whether it be gender, sexuality, age, ethnic background, colour, religion or social status, in a contemporary community setting," Ms Rigg said.
Pride WA plans to elevate the Pride Parade by adding high-quality acts and artists, precise stage management and additional lighting, seating and sound to create the world-class event it deserves to be.
"The Pride Parade has traditionally attracted tens of thousands of people to the streets of Northbridge and is one of the main events for Pride WA and the Pride community itself," Ms Rigg concluded.
For more information, visit: www.pridewa.com.au for details.
Image: courtesy of Pride WA