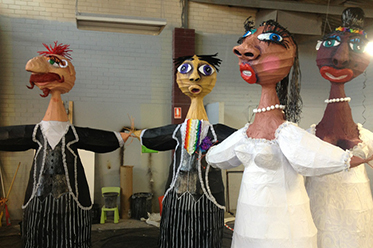 Organisers of Saturday's PRIDE PARADE will call on the Barnett Government to follow the lead of the Australian Capital Territory and legislate for same-sex marriage.
Pride Western Australia Incorporated will stage the 24th annual PARADE in Northbridge at 1pm.  It is expected to attract more than 50,000 spectators and feature up to 45 Parade entries.  This year will see the event staged during the day for the first time in more than 20 years.
Pride Co-President Daniel Smith said the event would have a strong focus on marriage equality.
"Support for marriage equality continues to grow within Australia and it is time our politicians recognised this," Mr Smith said.
"With the Federal Parliament unable to resolve the issue, and Tony Abbott showing no signs of changing his opposition to marriage equality, we believe Australian States and Territories should take the lead.
"We admire the strength and courage of the ACT government for legislating for same-sex marriage and we believe the Barnett Government should give gay and lesbian West Australians the same rights.
"Marriage equality would provide loving and committed gay and lesbian couples with the public and legal recognition they deserve and would be a positive and affirming reform for all gay and lesbian people.
"Western Australia would be admired around the country and around the world if we took this progressive step and legislated for same-sex marriage."
Mr Smith said to celebrate the ACT's historic decision, the PRIDE PARADE would be led by four giant caricatures of same-sex couples, dressed to wed.
"PRIDE PARADE spectators won't be able to miss our happy couples, and we encourage everyone to attend and show their support for marriage equality."
The PARADE will end at Russell Square where there will be a huge party, including two stages featuring both local and national musicians, headlined by Sneaky Sound System.
For more information, visit: www.pridewa.asn.au for details.
Image: courtesy of Pride WA