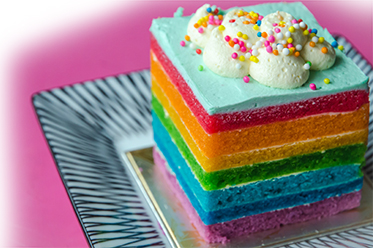 What's the easiest way to support Pride March's 20th anniversary? Get baking! Richmond's DTs Hotel will once again host the annual Pride March Bake Off fundraiser, where your skills in the kitchen could see you crowned as the baking king or queen of Melbourne.
There have been some glorious and elaborate cakes in the past, so the bar has been set high. Grab yourself an apron, whip out the food colouring and beat those eggs! The competition is sure to be fierce.
Midsumma understand that not everyone is fluent with their fondant or inspired by icing, but don't let that stop you from competing. There will be a separate section for those who wish to compete the easy way, by purchasing their cake!
If baking isn't your scene, then come along to the auction from 4.30pm for your chance to take home a show-stopper. All cakes competing in the competition will be auctioned off – with all funds raised supporting the running of Pride march in 2015.
With a judging panel consisting of Andrew Prior, MasterChef contestant and operator of Queenies Food Tours, the daring Sexy Galexy and Midsumma darling Kaye Sera, it's sure to be a great Saturday afternoon! These lucky judges will taste, smell and inspect entries from every angle to determine the winning entries in the following categories:
Best Novelty Cake
Wow us with your skills, technique and baking prowess. Novelty cakes are those that are home made, but beyond the novice baker's abilities. This is the category with the big-ticket prizes, so don't feel intimidated, get creative!
Best Home Made Cake
This is the section of lovely Sunday tea cakes, voluptuous sponge cakes, homely chocolate mud cake and regular home made delicious baked treats of all kinds.
Best Store Bought Cake
Short on time, but still want to play along? You're not alone! This category is for purchased cakes and baked goods of all kinds.
So whether your passion is baking or eating cake, be sure to come along and support this much-loved community event!
Pride March Bake Off
DT's Hotel, Church Street, Richmond
Saturday 9 August 2014 – from 2.30pm
Free entry to attend / $10.00 to enter a cake
For more information, visit: www.midsumma.org.au for details.
Image: courtesy of Midsumma Festival