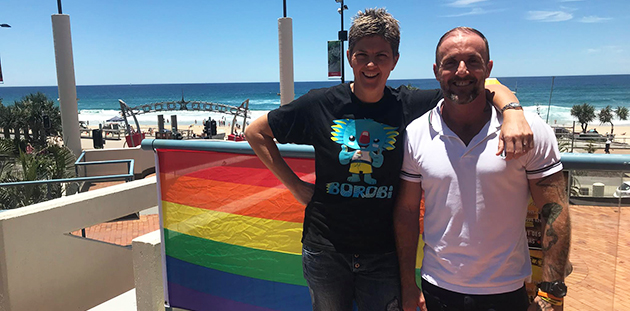 Just as the 21st Commonwealth Games gets ready to open on the Gold Coast this week, a Pride House has also opened at Rise Bar for the duration of the Games.
The first ever to be hosted in the Southern Hemisphere, the Pride House is modelled after a traditional Olympic hospitality house and is a space welcoming of Lesbian, Gay, Bisexual, Transgender, Intersex and Queer athletes, fans, and their allies during large-scale international sporting events.
Pride House's are welcoming places to view the competition, experience the event with like-minded others, learn about LGBTIQ+ sport and homophobia in sport, and build a relationship with mainstream sport in a safe environment.
The first Pride House was organised for the 2010 Winter Olympic and Paralympic Games (Vancouver and Whistler). The concept proved so powerful that subsequent Pride Houses were organised for the 2012 London Olympics, 2014 Glasgow Commonwealth Games, 2016 Rio de Janeiro Olympics, and the recent Winter Olympics at PyeongChang.
The entity responsible for organizing the Pride House during the Commonwealth Games is Team Rainbow Inc – a not for profit Incorporated Association that exists to promote and facilitate LGBTIQ sporting opportunities in Queensland. Olympians Nat Cook and Ji Wallace have been named Pride House Gold Coast Ambassadors.
2018 Pride House Gold Coast will be a welcoming space for LGBTIQ+ athletes, fans, tourists and their allies during the Games. A daily schedule of events has been planned highlighting a separate issue daily relating to each letter from the LGBTIQ+ Community.
The aim is to raise awareness and education on important topics such as Lesbian, Gay, Bisexual, Transgender, Intersex, Queer, Youth, Legal and Mental Health issues. Visitors will also have the opportunity to view two exhibitions: LGBTI People of the Commonwealth and Australian LGBTIQ+ Sporting Trailblazers.
Pride House Gold Coast is hosted at Rise Bar & Club, 2 Cavill Avenue, Surfers Paradise until 15 April 2018. For more information, visit: www.facebook.com/2018pridehousegc  For more information about the 2018 Commonwealth Games, visit: www.gc2018.com for details.
Image: Pride House Ambassadors Nat Cook and Ji Wallace – courtesy of Pride House Gold Coast