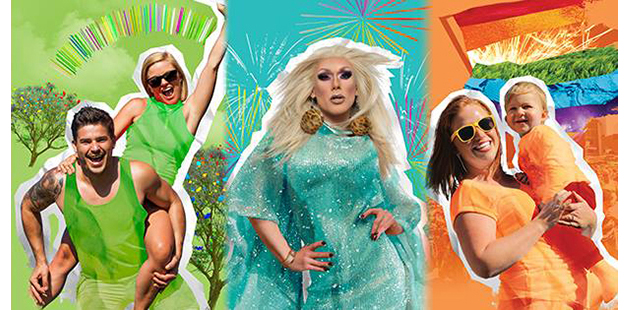 Craft stores across the city are bracing themselves for a run on all things glitter and rainbow as a huge line-up of fabulous events and scintillating stars have been revealed in this year's Brisbane Pride Festival calendar.
With events starting this week, Brisbane Pride Festival has raised the bar with a total of twenty events including dance parties, talent quests, comedy, and cabaret set to paint the town rainbow. Brisbane Pride Festival President, Deeje Hancock, said the breadth of the festival demonstrates Brisbane's LGBTIQA+ coming of age.
"Twenty events in the line up is a massive achievement, not just for the Brisbane Pride Festival but for the Brisbane LGBTIQA+ community. We have so much going on in our local culture from all walks of the rainbow pantheon, it really has demonstrated that the Brisbane scene has turned a corner," said Deeje Hancock.
Unprecedented financial support from commercial sponsors for this year's Fair Day has the Festival Management Committee tipping records crowds for Brisbane's biggest LGBTIQA+ event.
"We're going to knock it out of the park this year. We've been very fortunate to have generous support from four financial sponsors this year whose assistance has gone directly to amping up our entertainment offering," said Deeje. "Huge thanks go out to our sponsors The Beat Megaclub, The Wickham, Queensland AIDS Council and Brisbane City Council. We'd also like to thank our media partner, Queensland Pride."
The Fair Day line-up includes headliners Raja Gemini of RuPaul's Drag Race fame plus home-grown heartthrob, Joel Creasey. They will be joined by a host of DJs, bands, drag stars and community heroes that will transform New Farm Park into a LGBTIQA+ playground.
"An important message we want to convey for Fair Day is that there will be limited cash at the gate, with EFT transactions favoured so we can move the thousands of people through quickly," said Deeje. "There will be mobile ATMs available on the day, however we encourage festival goers to pre-purchase their tickets for express entry."
Brisbane Pride Festival is a not-for-profit association and funds raised go towards the Kal Collins Memorial Fund, which awards much needed financial assistance to community groups who focus on LGBTIQA+ mental health and suicide prevention.
The Festival runs throughout September with Fair Day on Saturday 17 September 2016. Tickets and full details of the festival line-up is available on the Brisbane Pride Festival website at: www.brisbanepride.org.au.
Image: courtesy of Brisbane Pride Festival