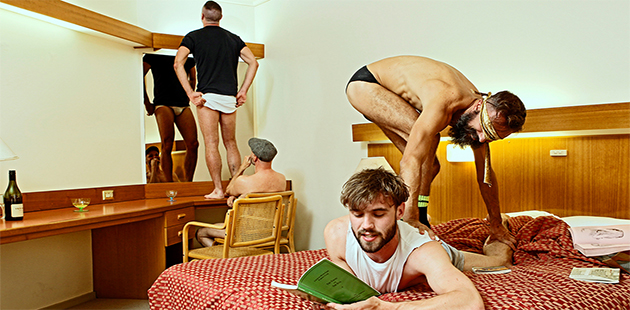 A vital communal structure and close connections between art, life and sexuality are explored in Phillip Adams BalletLab's new work, Kingdom presented as part of Dance Massive at Arts House Meat Market for a limited season from 18 March.
Four men: poof, queer, homo, fag – who also happen to be choreographers, come together to articulate how their individual and collective desires intersect with art, life and sexuality. Phillip Adams, Matthew Day, Luke George and Rennie McDougall each make a work, perform in all works and work together on one interactive work: Kingdom.
The work of art, the choreography of work, queer literatures dismantled, streams of unconsciousness rendered, a noise choir, entanglements of orgasmic breathing, ecstatic energy, radical intimacies, a manifestation of gold.
Presenting a close association with the queer body, Kingdom is an attractive inquiry of processes of personal performative exchanges and responses. Penetrating each other's artistic territories, hierarchies contested, and maps continually redrawn towards an encounter with otherness, Kingdom engages an openly utopian process where the dancers experience themselves in alternative communal configurations.
Phillip Adams BalletLab was established in 1998 by Phillip Adams as artistic director after a successful decade-long international career as a dancer. The sell-out Melbourne season of Amplification in 1999 was BalletLab's debut production (which included a return season at Dance Massive 2011) – others include Lamb with Mexican dance company Lux Boreal; and Aviary – developed in association with The Australian Ballet for the 2011 Melbourne Festival at Arts House.
Concept / Curation: Phillip Adams BalletLab  Choreographers / Designers / Performers: Phillip Adams, Matthew Day, Luke George, Rennie McDougall  Lighting Designers: Paul Jackson & Danny Pettingill  Crown Designers: Paul Yore, Mikala Dwyer & Devon Ackermann
Kingdom
Arts House Meat Market, 5 Blackwood Street, North Melbourne
Season: 18 – 22 March 2015
Bookings: (03) 9322 3713 or online at: www.artshouse.com.au
For more information, visit: www.artshouse.com.au or www.dancemassive.com.au for details.
Image: Kingdom by Jeff Busby