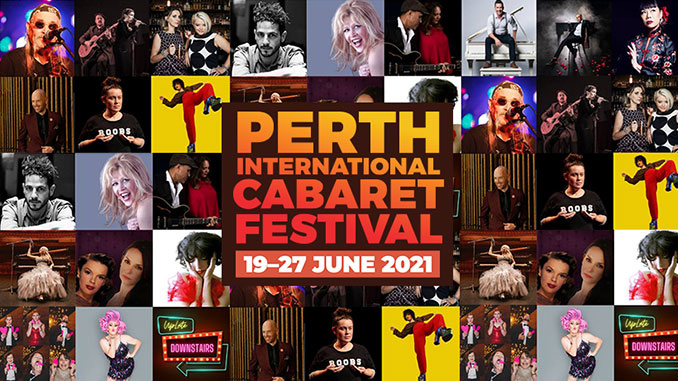 Featuring a diverse selection of stunning cabaret artists from across the nation, Perth International Cabaret Festival (PICF) has revealed its inaugural programme of events to be held at His Majesty's Theatre from 19 – 27 June 2021.
International cabaret diva sensation Meow Meow, the master of intricate guitar tapestries and textural arrangements Lior and exquisite Noongar singer Gina Williams and award-winning guitarist Guy Ghouse are amongst the artists set to activate all of the spaces throughout His Majesty's Theatre during the week of cabaret shows.
KOORLANGKA: REIMAGINED by Gina Williams and Guy Ghouse, complete with on stage smoking ceremony (a first for His Majesty's Theatre) and Welcome to Country, is programmed as the Opening Night event to the inaugural festival.
Perth International Cabaret Festival Artistic Director Michael Griffiths (Jersey Boys, In Vogue: Songs By Madonna) says it is only fitting that we begin the inaugural cabaret festival with stories from the world's oldest living culture.
"Cabaret is all about story-telling, and Gina and Guy welcome you to sit at their campfire and share songs and stories, matched with rare Noongar language all to the glorious strings of the Dolce Ensemble and the piano genius of Russell Holmes," said Griffiths.
"We are very excited by the programme for 2021.  It's West, its East, its vibrant, its fresh, it nods to the old and champions the new and I couldn't be prouder."
Highlights of the inaugural Perth International Cabaret Festival includes:
Bigger and Blacker
From ABC's hit TV series Black Comedy, Steven Oliver brings his critically acclaimed cabaret show direct from Sydney Opera House. Weaving comedy and contemplation though stories of love and loss, Oliver mines his own life to reflect on fame, friendship and the power of music – accompanied by festival Artistic Director Michael Griffiths. (WA Premiere)
BOOBS
A ground-breaking tale of mammary proportions that follows one woman and her twoboobs through a life changing decision, a million opinions, a natural disaster and an 'Australian first'. This is a funnybut moving story from Selina Jenkins. (WA Premiere)
Carlotta: The Party's Over
Australian icon, political activist and living legend, Carlotta has led an extraordinary life: good times, bum times, she's seen them all, my dear, and she's still here. Announcing her retirement this year on her 78th birthday, this is your very last chance to see her under the bright lights of the stage where she has wreaked havoc for almost 60 years. (WA Premiere)
Dragon Lady – The Many Lives & Deaths of Anna May Wong
From immigrant's daughter to Hollywood's first Chinese movie star to international style icon, Anna May Wong's career spanned silent film, talkies, Broadway, cabaret and television before she was thwarted by alcoholism and an industry unwilling to see past her Asian face. Fiona Choi (The Family Law, Golden Shield) captivates as Anna May in an intimate performance as she travels through May's past and tackles herdemons. (WA Premiere):
Greatest Hits
Helpmann Award winner and Downstairs at the Maj repeat offender Michael Griffiths, has dusted off his LPs and perused his one-man shows to curate a solid gold line-up of his favourite tunes for your listening pleasure. From Madonna to Cole Porter, Kylie Minogue to A-ha, Eurythmics to the Violent Femmes, every song's a feel-good winner, with a three-piece band. (WA Premiere)
Life's A Drag
What do a Global pandemic, tinder date from hell and a primary school cleaner have in common with a Drag Queen? You're about to find out as Perth Drag performer Dean Misdale takes you on a reality shaking behind the scenes look at what it really takes to be a QUEEN and survive life's twist and turns amongst the glamour filled world of DRAG.
Simply Meow
Multi-award winning international Cabaret Diva, MEOW MEOW, returns to Perth for one night only to close the inaugural Perth InternationalCabaret Festival. Meow Meow's unique brand of subversive and sublime entertainment has hypnotised, inspired and seduced audiences worldwide from London's glittering West End to the Lincoln Centre New York, to the Hollywood Bowl, to the Sydney Opera House.
That's Not Your Light, John! 
Celebrating 20 years in showbiz, this downstairs favourite is back with a brand-new show; an intimate evening of story and song, sharing all the best (and sometimes worst) bits of a life spent on the road. Presented by His Majesty's Theatre as part of the Downstairs at the Maj programme. (World Premiere)
---
The 2021 Perth International Cabaret Festival runs 19 – 27 June at His Majesty's Theatre. For more information and full program, visit: www.perthcabaret.com.au for details.
Image: Perth International Cabaret Festival Artists (supplied)