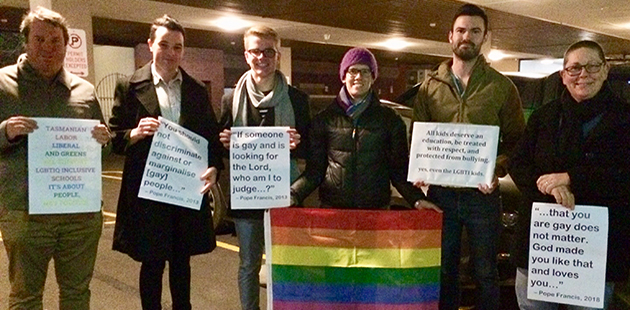 LGBTI community members put Safe Schools opponents on the spot by telling their personal stories of classroom discrimination during a public meeting convened by Catholic Liberal MP Kevin Andrews at Hobart Town Hall last week.
Mr Andrews and Catholic Archbishop, Julian Porteous, addressed the meeting about the dangers of Safe Schools. About 35 people attended including 10 who were LGBTI people or allies.
Before entering the meeting, supporters of LGBTI inclusion held a vigil outside at which they held up pro-LGBTI signs and distributed LGBTI inclusion materials for schools produced by the Catholic education network, Edmund Rice Education Australia.
Sam Watson, a young gay man who attended a Catholic High School until two years ago, said, "I attended the lecture because I believe respectfully engaging in debate is essential to our democracy. It was clear Mr Andrews misunderstands the purpose of Safe Schools and is trying to discredit it by wrongly associating it with Marxism."
Another LGBTI community member who attended the meeting, Olivia Hogarth, said, "Many of the comments and questions came from young LGBTI people and their family members, including the mother of a transgender child, who wanted to know what the Catholic education system is doing to support and include LGBTI people. Their personal stories were very compelling. Unfortunately, there were no satisfactory responses from the speakers."
Young gay man, Ben Dudman, moved many people when he spoke about his struggle as a gay student at a Catholic school. "I said I understand they oppose Safe Schools, but I also asked what support are we going to give to LGBTI young people instead? "I talked about my personal experience."
"While I appreciated my Catholic education very much, it became a struggle when I felt I had no support from my school and community. I prayed constantly throughout the day to be straight, but I realised I wasn't going to change because sexuality isn't a choice."
"The response from the speakers at the meeting was that pastoral care was needed, but I don't believe this is enough. There needs to be education for teachers and students about how schools can be fully inclusive of LGBTI young people."
In 2017 the Tasmanian Government launched an inclusive schools program that includes funding and resources for LGBTI teacher training and student support. There is no equivalent program in the Tasmanian Catholic education system.
Image: Supporters of LGBTI inclusion hold a vigil outside Hobart Town Hall (supplied)