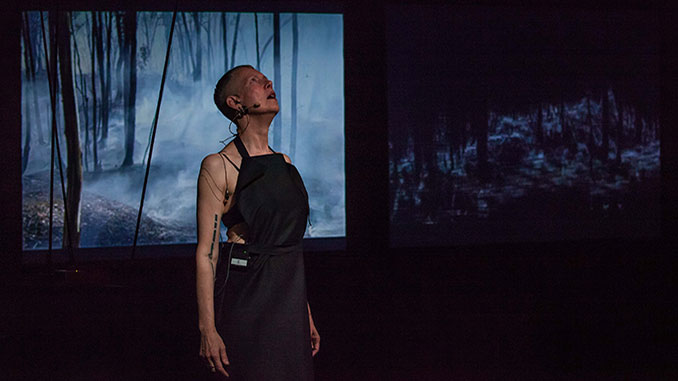 Performance Space has announced the program and artist line up for its eighth year of the Liveworks Festival of Experimental Art at Carriageworks and online from 20 – 30 October 2022.
"I couldn't be more excited that we're throwing open the doors – both in-venue and virtually – and returning to a full-scale Liveworks Festival program this year," said Jeff Khan, the outgoing Artistic Director, Performance Space.
"I hope this year's Liveworks will be a refreshing and revitalising experience for audiences and communities, inviting us to consider new perspectives and offering us the rush of creativity at its boldest and most adventurous."
Now in its eighth year, Liveworks 2022 follows two years of Covid-impacted programming which transformed the way that the Festival was curated, including the introduction of an innovative digital program which debuted to acclaim in 2020.
This year, the Liveworks program combines the best of these new programming developments with a spirited return to presenting full-scale physical works across the Carriageworks spaces – including a range of accessible online events as well as an exhilarating array of in-person installations, performances and experiences created by some of our most visionary contemporary artists.
"Carriageworks is delighted to welcome Performance Space's Liveworks Festival of Experimental Art back in 2022," said Blair French, CEO of Carriageworks.
"Taking place across the Carriageworks' spaces as well as online, Liveworks 2022 delivers an astonishing suite of experimental art projects that span diverse genres and offer visitors a glimpse into the future of the arts."
"Carriageworks is a proud presenting partner for Liveworks and we look forward to welcoming audiences to the Festival in October," said French.
For Liveworks 2022, Performance Space broadens its commitment to supporting artists to create progressive, risk-taking, new experimental work and for audiences to experience the latest and most exciting new contemporary performance.
The Festival this year sees the return of national and international artists travelling to Sydney to perform live from across Australia, Asia and the Pacific, including Singapore, Taiwan, Japan, New Zealand, the Pacific and more.
"Breaking from the border closures and restrictions of recent years, we're welcoming back artists from across Australia, Asia and the Pacific to offer a wide array of new artistic works – from the intimate to the epic," added Jeff khan.
"Liveworks 2022 is full of joyful ways to come together and collectively experience something extraordinary – from bold new music to stunning contemporary dance and performance, captivating installations, artists' experiments and conversations about our future."
Liveworks 2022 will present three program streams:
LIVE NOW – the presentation of captivating, bold new experimental art from the Asia-Pacific, expanding our perspective on what's possible
LIVE DREAMS – a dynamic platform for works-in-progress, exploring the art of tomorrow
LIVE FUTURES – a curated series of artist-led conversations about the future
The LIVE NOW program stream includes a diverse and inclusive roll call of bold creatives working across the multi-arts sphere:
Raghav Handa Australian-Indian, Sydney based dance artist will perform the world premiere of Follies of God – an astonishing full-length performance exploring the Baghavad Gita – an ancient Sanskrit text considered to be one of the holiest scriptures of Hinduism. Sharp and inventive choreography is set against sung and narrated Sanskrit verses, manipulated live to create a sonic expansion of space.
Amrita Hepi, award winning Australian artist of Bundjulung/Ngapuhi Territories premieres her full-length dance work Rinse – an intimate yet epic solo performance based on a dynamic improvisational score which explores the romance of beginnings and what happens next, when those initial thrills begin to fade and inertia takes over. What is it about the beginning that remains intoxicating? The work is co-commissioned by Performance Space, the Keir Foundation and Carriageworks, and produced by Performing Lines.
Jon Rose, legendary Australian experimental musician and composer presents Night Songs – a remarkable sonic exploration drawing from musicologist Dr. Hollis Taylor's extensive field recordings of the Australian Pied Butcherbird and performed by eight human musicians, Sydney's premiere new music group Ensemble Offspring.
Daniel Kok (Singapore) & Luke George (Australia), long-time collaborators perform their major new work HUNDREDS + THOUSANDS (an evolving project with a growing number of participants and collaborators across the globe), an extraordinary performance for humans and plants, blending choreography, experimental music and installation – with an array of plant species as collaborators, mediators and audience. Audiences are invited to bring their favourite plant to watch the performance with them!
Sophie Penkethman-Young's witty digital performance examines what loading bars – those digital icons that appear when we wait for our apps to load – mean and how their personality, quirks, smell and function have changed over time. In Progress: The Wait of Expectation is a diary-like live video essay that looks at the techno-psychology of the loading bars that placate us as we wait for our apps to load and our technology to come online. Developed through Performance Space' LIVE DREAMS platform in 2021, the work makes its world premiere for Liveworks 2022.
Day for Night – the acclaimed queer dancefloor party experience, returns for Liveworks 2022. With awe inspiring performances and an explosion of queer joy and togetherness, tickets are on sale now, with the full line-up announced mid-September.
This announcement will also include further details across Liveworks 2022 other streams LIVE DREAMS – Clositerd, Tidal, IRL – and LIVE FUTURES – Future Toolbox, Future Truths, Nui Beginnings, Keynote with Yuriyal Eric Bridgeman. Bringing audiences the future of experimental art and creative thinking.
Liveworks 2022 will present a series of free events and experimental art experiences to welcome audiences back to its home at Carriageworks including: Rainbow Chan and Sui Zhen alongside DJ Krystel Diola will celebrate the opening night of Liveworks 2022 with experimental pop sounds for Liveworks Opening Sounds to mark our collective return to liveness, performance and experimental art. Liveworks Closing Sounds will gently close out the Festival on the final Sunday, with the captivating, atmospheric music of Haco & Lisa Lerkenfeldt.
Yuriyal Eric Bridgeman Australian-Papua New Guinean artist will premiere a major new work, A barrow, a singsing, 19 large-scale shield paintings with sculpture, photography and installation in the public space at Carriageworks; a major new commission by Performance Space and HOTA as part of a new three-year partnership.
Virginia Barratt, Jessie Boylan & Linda Dement are pioneering experimental artists who have been performing since the nineties and known together as the collective Bone Dirt. Their work Rupture is an affecting video and performance installation, revealing the ways in which the body and the world mimic each other in states of panic and crisis. Rupture explores how symptoms of environmental and human 'disorder' can be seen as an appropriate response to personal traumas and global disaster.
Field Theory are an intrepid art collective who have created a new work RUSH in collaboration with a diverse group of queer people from different generations. RUSH lovingly and hazily reimagines our experience of the queer club.
After surveying queers across Sydney about their nights out – what they love most, what they dream about and what is missing from their club lives – RUSH offers audiences an array of different experiences and invites you to pick and choose the ones you love best, creating your own perfect night out.
After nearly 12 years leading Performance Space, Jeff Khan announced in early August that he would step down from his role of Artistic Director and CEO at Performance Space, with Liveworks 2022 a final celebration of his legacy. Jeff moves into the role of Creative Consultant from August 31 until October 31 to oversee the artistic vision for Liveworks 2022.
---
Liveworks Festival of Experimental Art 2022 is at Carriageworks from 20 – 30 October – tickets now on sale now. For more information, visit: www.performancespace.com.au for details.
Image: Bone Dirt, Rupture – all the stars unshining, Liveworks Festival of Experimental Art 2022 – photo by Cynthia Sciberras